Doubts About the Doubtless .:. #MyHiveGoals 2023
It is very hard to stay focused when things are going bad... It's hard to stay calm when everyone is freaking around you... It's hard to sit on your hands and not sell when everyone around you is selling... Having experience from some previous difficult times can help, but nobody is made from stone, and everyone can get stuck and fall...
A few days ago, I saw a comment on one Splinterlands post where the author (an old SL player) said that he is selling all his assets and quitting the game... When you see new people coming and after a few weeks/months leave, you don't pay too much attention, but when you see some "big accounts" doing it, you notice... Of course, people have their reasons, but they sometimes have "common" reasons for their actions... When I say "common", I think about the general status of crypto, the bear market, and the lack of interest (or the image of it)...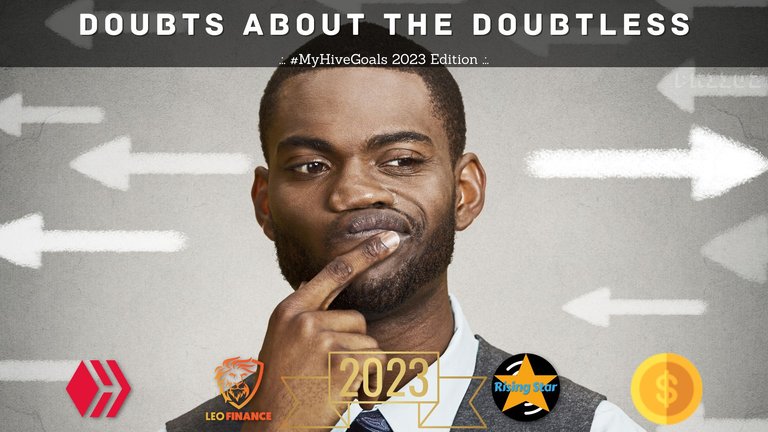 Created in Canva.com
Okay, Splinterlands is just a game, it's not a crypto in general, but still, I do have assets there, and one of my goals is the GLX token accumulation, which was launched by the same team... That's the moment when I began to have my doubts about it... Maybe the arguments that the guy shared are valid, the developers will fail to deliver their promises and the game fail... Maybe, I should cash out and leave, too?
The next level of doubt is spreading into HIVE and even bigger crypto blockchains like Ethereum or Bitcoin... Maybe I'm just too much involved and extremely subjective about crypto. Maybe the world doesn't need crypto at all?
In the end, I always have to remind myself that I'm not alone in this... Maybe I am wrong, but there is no chance that other thousands and thousands of extremely smart and intelligent people are also wrong about it! I'm just having doubts about the doubtless... It's time to wake up and continue accumulating!!!

It's time to go back to other numbers for #MyHiveGoals... In the beginning, let's check out HiveStats...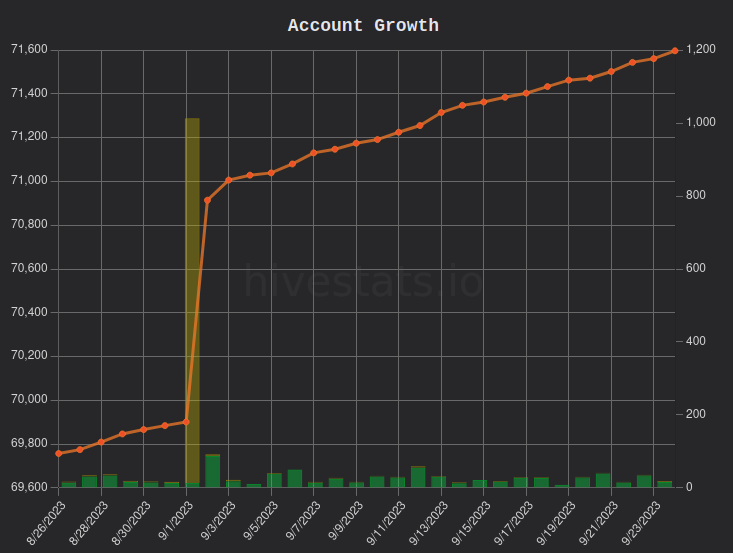 screenshot from hivestats.io
I didn't have a bad week in my content creation journey as I did 5 posts including last week's #MyHiveGoals post, which in total, is my maximum... I had a nice engagement on some of the posts, and I count that as another 2 days of posting... 🙂
All in all, I have accumulated an additional 243 HivePower in the last 7 days, which is "inside" the margins that I need to hit my yearly goal... With ongoing HiveFest, I have "pumped up" my motivation and I'm thinking of some bigger goals for the next year... (yes, I know that I said that I will slow down next year... 😃)
---
The price of LEO tokens went down a bit, which I was expecting to happen (and I secretly wanted 😃) and that could be a nice trigger to buy some... If other crypto tokens go down, I suppose that LEO will, unfortunately, follow... It's like a conflict of interests... I do HODL a nice amount of LEO and I would like to see the token moon, but on the other side, I would like to accumulate more and I know that it will be impossible to do it when the price goes up!
This week, I have staked 58 LEO tokens more and added to my LEO Power...

GAMING GOALS - Flexible Goals
It's interesting how I did have doubts about many tokens, but I didn't have any doubts in the Rising Star game... Maybe because I view the game as a game and as a big community, or better said, family... Occasionally, I do exchange a couple of tokens here and there, but that's more to "comfort" my subconscious than to "make an income"...
Because of that, 95% of all "earnings" from the game, I put back into it... Buying packs, buying RECORDS NFTs to support Hive musicians, and having fun doing it... This goal is the real "STRESS-FREE" goal and I will try to make up with another one for the next year... 🙂
I have collected a standard 175 cards during the last 7 days and I'm closer and closer to the 13K cards... Still a bit far from my yearly goal, but it is manageable to get there... I'm not giving up!
---
Most of the doubts that I had lately were connected with the Splinterlands team... Somehow, it looks like they have more and more things on their plate, and delays in launching new stuff are longer and longer... But, on the other side, when the ball starts rolling, things speed up... So, in the end, I put my doubt on pause and continued doing what I was doing until now... Accumulate, accumulate, accumulate...
I have accumulated a bit fewer GLX tokens this week, but 2280 tokens is still a very nice number...

It's time to update the numbers and put them into the spreadsheet until the next week! So, freshly updated numbers for #MyHIVEGoals, on September 24th, 2023 are:


These are my initial goals for 2023 created on January 15th, 2023:

Join me in this awesome #MyHiveGoals and let's grow together! It is fun, motivating, and will keep you focused!
Thank you for your time,
~ph~
PS. None of this is financial advice of any kind...

If you want to support my Hive-Engine witness node, you can do it by voting for @ph1102.ctp here https://tribaldex.com/witnesses... THANKS!
Don't forget to follow, reblog, and browse my Hivepage to stay connected with all the great stuff!
You can also find me on LEO Finance .:. Twitter .:. LBRY

---
---