Eyes OFF the Prize! .:. WorkerBee PH-Pool Week 145
I know that the title sounds ridiculous, but please, hear me out... It makes a lot of sense when you hear examples and problems with it... I do "preach" keeping the focus and sorting out priorities, which sounds counterproductive to this title, but it's not... The idea from this post came from another Hivian (which I don't want to reveal this time), but he was coming on and off the platform multiple times in the past...
Why's that? I know that many of you came here on HIVE with the idea of earning money by doing things on the blockchain... I came here as I found Splinterlands and I wanted to earn some money by playing the game... After that, I discovered the blogging part of the platform and tried that too, with the same goal, with the same focus, to EARN money... I was trying all possible "strategies" that probably a lot of you tried (and maybe still trying)... Like, going to comment on as many as possible posts, in the hope that they will come to mine and upvote them... Or, changing my post topics just to find the "golden niche" that will make me rich... Of course, I failed in all those attempts...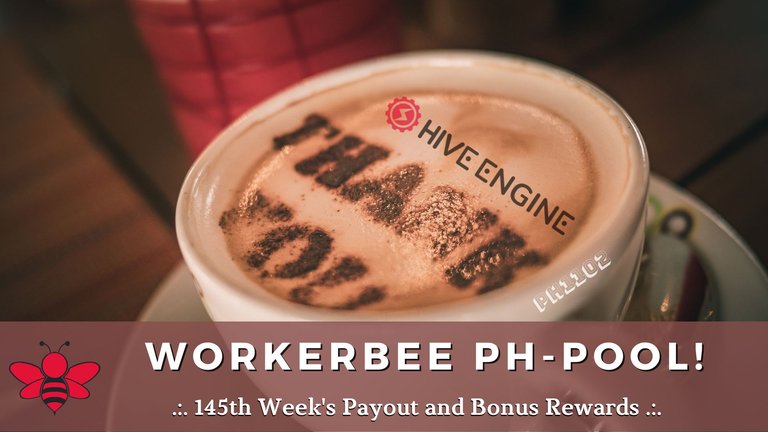 Created in Canva.com
Why did that happen? I didn't leave the platform, but I was "experimenting" with all these things... On the other side, my friend left, took a break, and came back with another idea... But, why have we failed over and over again? We had the wrong focus...
I was always checking out the Trending page and dreaming about getting those big whale upvotes that would launch me to the stars... The numbers hypnotized me, I was keeping my EYES on the prize all the time, ignoring some more important things happening in the meantime... While I was "monkey-dancing" to attract whale upvotes, I was losing valuable friends who were growing at the same pace as me... Instead of going on THEIR posts and supporting THEM, I was chasing "big whales"... The problem is that I wasn't alone, and a lot of small accounts were, and still, doing that...
Luckily, I jumped out from that phase and moved my eyes off the prize, focusing on people who are on the same journey as me, with similar interests... As much as my time allows me, I do check new people who engage with me... Are they committed to the platform, are they authentic, do they want to grow, etc? If YES, I join them on their journey as we are traveling with the same train!!! Keeping eyes OFF the prize, but keeping eyes on each other!!!

Back to the Workerbeee report numbers!
We had some good news and some bad news... The good news is that we got a new delegator to the pool, which is @stickupcash!!! Welcome to the pool! On the other side, one investor undelegated their tokens, so our pool shrank a bit... But, as we are distributing what we mine, the APR and distribution goes to those who are in the pool... So no worries...
Also, we got some new WORKERBEE delegations from existing members, which is always nice to see! Thanks for your trust!
In the last 7 days, we mined 131 BEE tokens in total!!!
This POOL doesn't have fees and you get up to 20% MORE by delegating to it!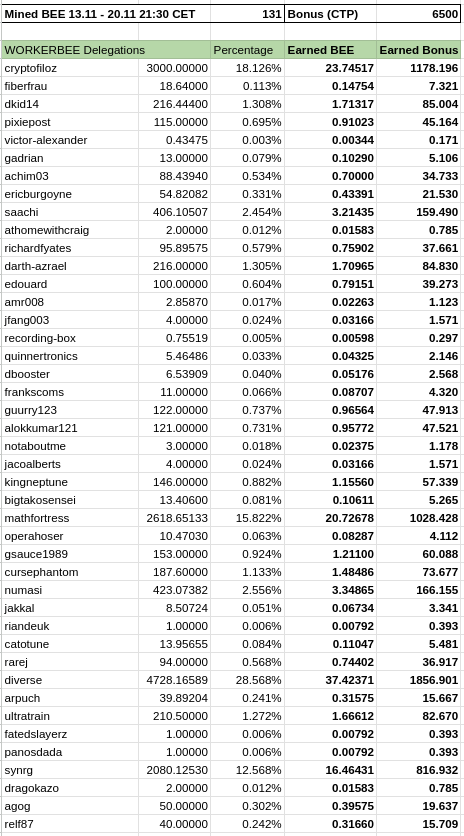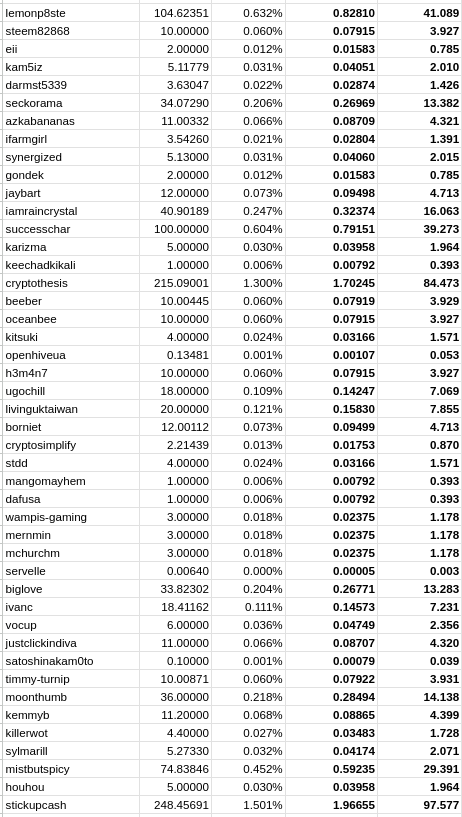 What about the bonus tokens?
I heard from some "crypto experts" that we have bottomed in crypto and the only way is up from this point... While I did some nice buys a month or two ago, which already paid off, I do think that some of the tokens will never recover... As I don't have a crystal ball, I have no idea which ones will do that... But, some could bounce up nicely... So, it's not a bad approach to have some tokens that were going down in the bear market as they could be very close to the bottom... The CTP token, the token that I will distribute as a bonus, is one of those hardly-hit tokens... The token owner is still around, so it has a chance to bounce, but nothing is for sure... Disclaimer: I do have CTP tokens in my bags, but I'm not affiliated with them and I'm just an "ordinary investor" like anyone else...
There will be distributed 6500 CTP tokens to the delegators of the pool as a bonus reward today!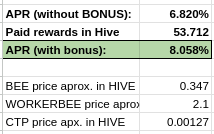 As always, in the end, let's give the exact numbers for this week... There will be distributed 131 BEE tokens and 6500 CTP tokens as a bonus... The APR (without the bonus) was 6.82%, and when we added the bonus it went up to 8.058%!
I have calculated the ROI approximately with medium prices for all tokens at the moment of creating this post... So, those numbers are valid if you bought WB and sold BEE tokens at the middle HiveEngine price...
Do you want to sponsor the PH-Pool with your tokens, receive a short SPONSORED segment in this post, and raise awareness about your front-end or dApp? Please let me know in the comment section, or contact me through Discord or Twitter and we will find the best solution for both parties...

If you want to join the WorkerBee PH-Pool, the only thing that you have to do is to STAKE tokens to YOUR account and DELEGATE your staked WORKERBEE tokens to THIS account (@ph1102)! Every week you will get the portion of mined BEE tokens and BONUS rewards!

All payments will be made after publishing this post...
If you have any questions, please leave them in the comment section!
You can find more about this pool in the initial post here https://peakd.com/hive-119826/@ph1102/workerbee-p-h-ool-let-s-help-each-other
Thank you for your time,
~ph~

If you want to support my Hive-Engine witness node, you can do it by voting for @ph1102.ctp here https://tribaldex.com/witnesses... THANKS!
Don't forget to follow, reblog, and browse my Hivepage to stay connected with all the great stuff!
You can also find me on InLeo .:. Twitter .:. LBRY

Posted Using InLeo Alpha
---
---