First Report in 2022 .:. #MyHiveGoals 2022 Edition!
It's time for the first PROGRESS report this year on #MyHiveGoals for 2022! It has passed only 7 days since the creation of the goals so I didn't expect to hit any of my goals, but I did expect to see some progress... In the end, it's just the first week, and we have 51 weeks to the end of the year! Plenty of time, but it's important to do 51 steps to get there...
When you create some mid-term goals (yes, they are yearly, but I can't call them long-term), they look huge... But, when you break them down into monthly goals, they are 12 times smaller... After that, do small steps every week and you are on the "road to success"!
I have broken down my yearly goals into monthly "checkpoints" for easier following, but I'm aware that the growth will not be linear... But, I will dive deeper into that in the next paragraphs...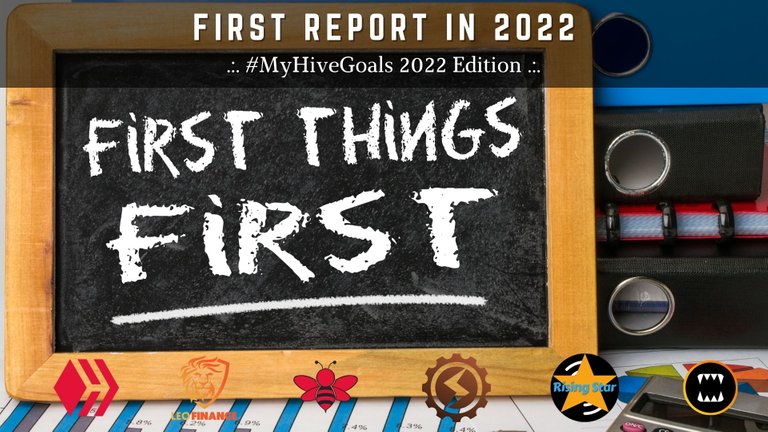 Created in Canva.com
So, let's begin the first report for the new #MyHiveGoals 2022 edition!

As I said in the last couple of reports, the HIVE Power goal for this year is my biggest goal ever on HIVE... I usually calculate the current numbers and add on that a bit and create "realistic" yearly goals... Of course, they demand dedication and everyday focus, but that's the whole point...
But, with this year's HIVE Power goal I have shot a lot higher than it's real to achieve... It's not an excuse in advance, just a fact... But despite that, it's exciting to beat "the impossible" and I will try hard to do exactly that!
As this goal is a marathon, I expect to see non-linear growth as with more HP, I will be able to create more curation rewards... So, down the line (or the year), I should get more curation rewards and growth should be faster... Knowing that I don't expect to hit my monthly goals in the first 5-6 months, but if I do, that will be awesome... :) I think that I had a similar situation last year with the CTP goal... Slow start, and getting the better pace during the year, to finish sprint!

What to say about the LEO Power? I have created this goal to have fun and to relax... Accumulating LEO tokens is a no-brainer for me as I have full confidence in it... The team is great, innovative, without fear to try new things, and with determination to succeed... What else can you ask? In the first week, I have already added almost 100 LEO tokens to my stake and earned some more that I have put in the diesel pool...

The WORKERBEE goal is the one that didn't move any tokens during this week... The problem with it is that there is no big market action and I like to get some nice entry prices for the token... So, I rather wait for a good price and buy more at once... This goal will have some occasional spikes and probably hit some monthly goals fast, but on the other side, not hit some of them at all... But, no worries, this goal is a must and I will push to achieve it!
Regarding the BEE tokens goal, I have another problem... :) I would like to buy some services from Tribaldex and I will need them to pay the fees... So, again, the first month two will be hard to beat the monthly goals as I will have to spend most of the tokens... So, if you see negative numbers compared to the last report, don't freak out... hehehe...

GAMING GOALS
Now a bit easier topics... :) These gaming goals are like an oasis for me as it's a pleasure to accumulate them... It's easier to do the "work" when you are having tons of fun... :) And with the RISING STAR game I do enjoy my time...
The SPS token value went down in the last couple of days, but that isn't a surprise as people have a very short memory and weak hands... Recently, developers have stated that the SPS token will have a lot of use cases in the future and the price spiked immediately after that... But, as we are living in a microwave society, people have expected that that will happen in a day or two, which is simply impossible... So, almost exactly after 2-3 days, the price started to go down... I do expect that it will go further down, but still, I'm not willing to risk the tokens that I have... So, I will continue with my slow accumulation until reaching my goal of 65666 staked SPS tokens in total!

It's time to update the numbers and put them into the spreadsheet until the next week! So, freshly updated numbers for #MyHIVEGoals, on January 9th, 2022 are: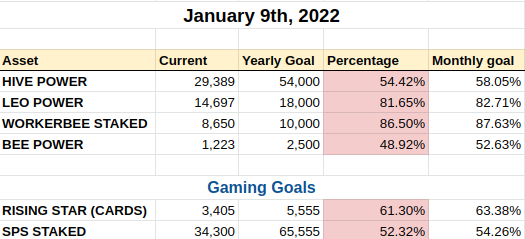 Join us in this awesome #MyHiveGoals and let's grow together! You can find the original post about the challenge by @robwillmann here.
Thank you for your time,
~ph~

The link to my initial 2022 Goals Edition is here...
These are my initial goals for 2022 created on January 2nd, 2022: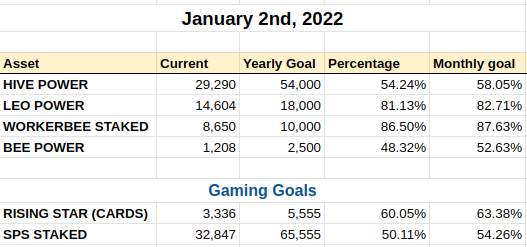 If you want to support my witness, you can do it by voting for @ph1102.ctp here https://tribaldex.com/witnesses, or just scan the QR code down below...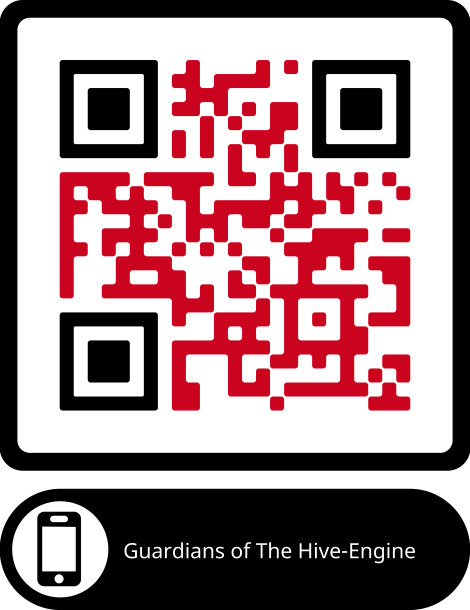 Don't forget to follow, reblog, and browse my Hivepage to stay connected with all the great stuff!
You can also find me on LEO Finance .:. Twitter .:. LBRY
---
---