Fresh Start! .:. #MyHiveGoals 2023 Initial Post
We are deep in 2023 and I didn't create #MyHivePost for this year, yet?!?! (list of excuses comes here 😀) The main reason for this "late start" is that I was searching for my focus for this year... The last year I put a bit too much pressure on myself, especially on my HivePower Orca rank goal, and in some moments I lost the fun of doing it... I don't want to repeat the same mistake this year, so you will notice that I have narrowed my focus...
Everyone who does this type of post has their reason for doing it... For me, these yearly (monthly, weekly) goals help me to stay focused and motivated on a certain project, or token...
What's the purpose of doing it?
Like I said above, it helps me to keep the focus on important tokens... By doing that, I the most of my time (and money), and I'm using these tokens, which help me resist FOMO and FUD temptations... And they can be very strong and powerful... But, if I have already determined priorities, I wouldn't lose (a lot of) money on other side-projects that are most of the time just distractions... But, that doesn't mean that I will miss them... It means that I will not "ape" into them with 100%, but rather with 5-10% of available assets which is exactly the amount that is appropriate (or maximum)...
Does it work?
In my opinion (and personal experience), it does work... Thanks to #MyHiveGoals, I have reached the ORCA rank in 2022, which I wouldn't reach if I didn't follow my progress, tweak it, and work hard during the whole year...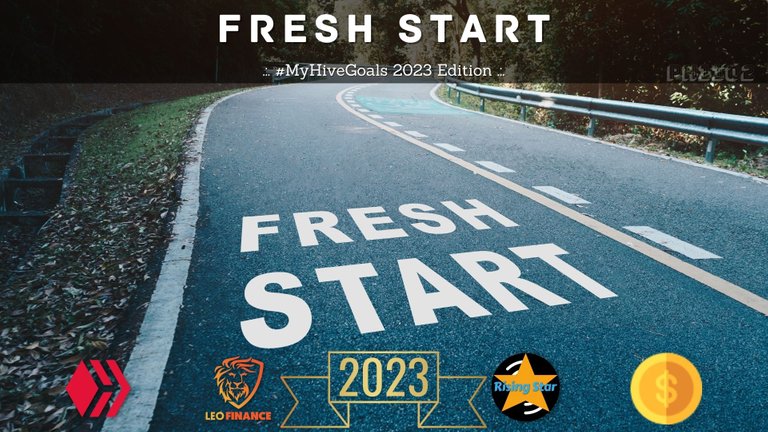 Created in Canva.com
What will be my focus this year? Some obvious picks and maybe some surprises... Let start...

Firstly, let's check out HiveStats for the beginning...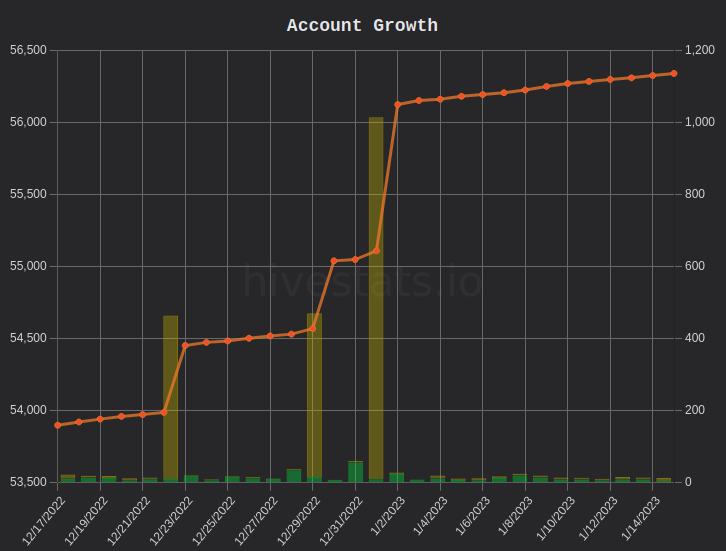 screenshot from hivestats.io
As always, the most important goal of Hive is Hive Power... Last year, I have almost doubled my HP, from 29K to 56K, but it was a lot of pressure to get there... Yes, curation rewards are higher when you have more HP, but they are under 10% per year, so most of my Hive Power came from my author rewards, or by exchanging some 2nd layer tokens into HIVE... I can't remember that I bought some with fiat money last year, so all tokens were EARNED in some way...
Of course, that means that I sacrificed taking profits from HIVE... And we had some nice prices of HIVE during the last year... In some moments, it was over $1 which isn't bad at all... Later in the year, it went down as the whole crypto market, so I wasn't tempted at all to sell them... But, this year, I will try to take some profits if the price goes up...
My main dilemma for this year's goals was... Should I add an HBD goal or not? For me, accumulating HBD tokens is like taking profits, and not supporting the "crypto idea" and point of it at all... As HBD is "kind of pegged" to USD, it's like holding the fiat... Also, selling HIVE for HBD when the price is low has no sense at all... So, I will try to accumulate HBD this year if we see higher HIVE prices and it will be my "silent" focus... Also, having some HBD in savings should be my cushion for the next bear market ("wth?! We didn't leave this one yet and you are calculating for the next one?" 😀)
Long story short, I will try to reach 75K Hive Power by the end of this year... It is 8K HP less than I did in 2022 and I hope that the difference will be my profits in 2023... Less pressure, more fun... 😃

I know that bear markets are boring and painful, but they are the perfect time for accumulating tokens that you believe in... And also, it is a perfect time for developing projects, or improving them... To be honest, I didn't see many Hive-Engine tokens (projects) developing new stuff... Most tribes are just waiting for the bull market to solve their bad tokenomics with new money coming into crypto... But that's not a solution at all...
One of the rare, good examples on the 2nd layer is LeoFinance... They were developing new stuff during the bull markets, but also, during the bear too! Maybe some of them weren't a success, but they were trying to innovate and experiment... In new technologies, like crypto, nobody has done things before you and you have to experiment and take risks...
That's why the only 2nd layer token that I will focus on will be LEO Power... Last year, I have accumulated 3400 new LEO tokens, and this year, I will try to add 7K on top of that... It's double the amount of what I did, but I think I can do it... So, the final goal is to have 25K LEO Power at the end of 2023!

GAMING GOALS - Flexible Goals
You know that I'm a big fan of blockchain gaming, but lately, I'm a bit lazy to play the games... But, I do believe that "traditional gaming" will make a leap into crypto and blockchain tech and that's the main reason why I want to be "exposed" to that future trend... Maybe I will not PLAY games a lot in the future, but I will invest in certain tokens and new projects...
The game that I like to play (or better say click 😃) is RISING STAR! I will continue to support the game and accumulate cards... As my account has grown, I will try to move part of my profits into supporting more musicians by buying their NFTs in the game... I was doing that occasionally, but I will try to do it more often this year... So, my goal for this year is to collect additional 6600 NFTS in the game, which is almost the amount that I have at this moment... So, at the end of the year, I would like to have 15K cards!!!

The next goal is maybe a little surprise to some of you, and to me too... You have probably heard about the collaboration between the Splinterlands team and the MLSPA (The Major League Soccer Players Association) on creating the new trading cards game on HIVE... The game isn't developed yet, but it is WIP (work in progress)... The main token (GLX) is already out and you can earn it from the airdrop, but also by staking it...
As I missed Splinterlands at the beginning, I have decided to take a risk with the GLX token... From the very first day, I'm staking all my airdropped tokens and buying slowly tokens from the market... It is a huge risk to buy an asset that has no more than speculative value and I'm aware of that, but higher risk usually means higher profits down the line... We will see how this will go... I have read the whitepaper more than once and I think that the tokenomics (more tokens will be "interconnected") are good, but still, we have to wait for the game to see how it will move forward...
As the APR was huge at the beginning, I have accumulated a nice amount of tokens to this day, almost 34K... The APR is going rapidly down, but also the price of the token... I don't want to exaggerate with this goal, so I will try to reach 88888 tokens at the end of the year... As I have bought a lot of tokens while the price was higher, I will try to take some profits during the year... My main idea was to own 0.10% of the total staked tokens on the platform, but that is maybe a too big expectation... 😃 But, if the price goes down a lot, I will not hesitate to acquire more tokens... :)

In the end, I would like to say something about my previous goal and tokens... I have excluded tokens like WORKERBEE and BEE from #MyHiveGoals this year as I have accumulated a significant amount of them... I will continue adding more to my bags, but I will not have my main focus on them...
The same goes for the SPS tokens... I didn't sell any as I think that HODLing a governance token that has many additional use cases is a good option... It allows me to have passive income, which is the ultimate goal... 🙂
Also, along with the tokens listed in the future reports, I have some others that I will continue accumulating... Mostly tokens that have good tokenomics, but with "less attractive" APR...

These are my initial goals for 2023 created on January 15th, 2023::

Join me in this awesome #MyHiveGoals and let's grow together! It is fun, it is motivating, and it will keep you focused!
Thank you for your time,
~ph~
PS. None of this is financial advice of any kind...

If you want to support my witness, you can do it by voting for @ph1102.ctp here https://tribaldex.com/witnesses, or just scan the QR code down below...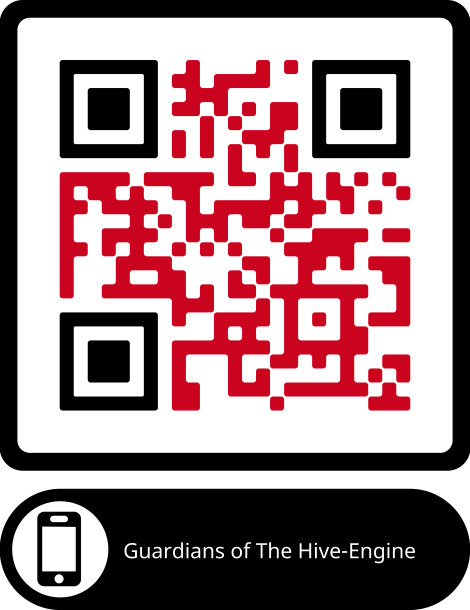 Don't forget to follow, reblog, and browse my Hivepage to stay connected with all the great stuff!
You can also find me on LEO Finance .:. Twitter .:. LBRY

Posted Using LeoFinance Beta
---
---