Hive Went Up, All H-E Tokens Went Down .:. WorkerBee PH-Pool Week 30
Okay... Not ALL the tokens went down, but some of them... It is not a rare case that this happens, as people like to FOMO into stuff, and there is no better stuff than seeing HIVE going up from 50 cents to over a dollar... :) So, a lot of people exchanged their Hive-Engine tokens to HIVE and cash out, which is understandable... For those who are looking for these tokens in the long term that was (and for some still IS) a good opportunity to get some great tokens for a cheap price...
I have to admit that I have done some small "token allocations" in this period and traded this HIVE spike with some awesome profits... One of the tokens that paid the price of this FOMO is the BEE token that we are mining and it has an interesting move... At the moment of the HIVE pump it went up, and immediately went down... I was lucky to have some sell orders filled on that spike!
During the last 7 days, our pool has mined 60 BEE tokens and we made a new record by doing that!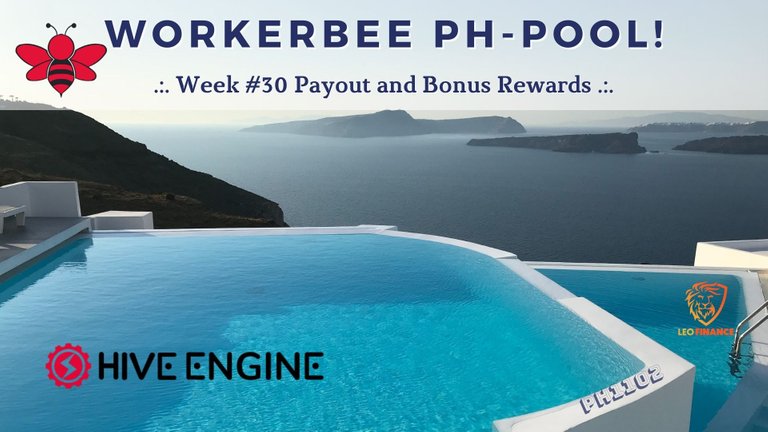 Created in Canva.com

This HIVE pump triggered one of our delegators to leave us and undelegate his tokens, but that's OK... That will not impact our pool and earnings that much... On the other side, we got some WORKERBEE tokens added to the pool by old members! Thanks!
This POOL doesn't have fees and you actually get up to 20% MORE by delegating to it!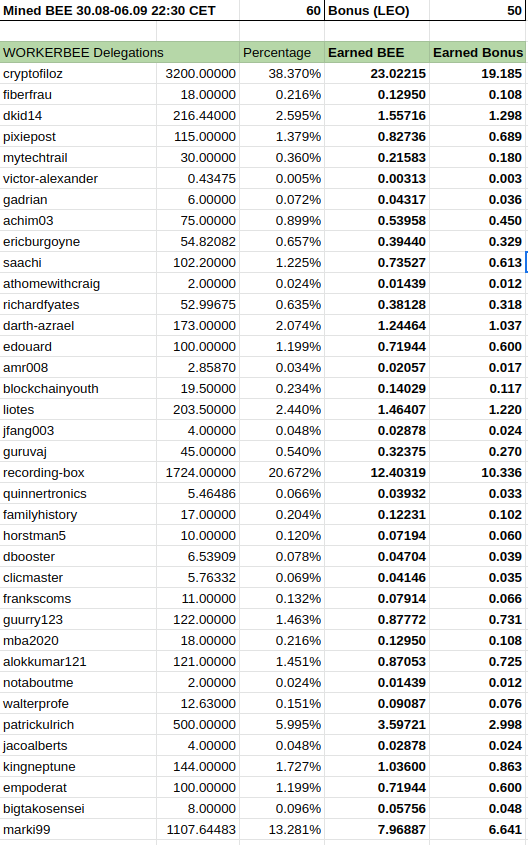 What about the bonus? It's time to go back to the roots... So, I have decided to distribute among delegators one of the first tokens created on Hive-Engine, LEO... Without doubts, one of the best communities out there, and one of the most appreciated coins on Hive-Engine... In my personal opinion, the LEO token is heavily undervalued and it is a perfect moment to get some (not financial advice)...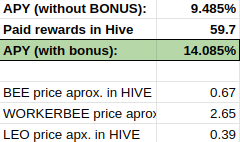 As always, in the end, let's give the exact numbers for this week... We have mined 60 BEE tokens and distributed 50 SIM tokens as a bonus... The APY (without the bonus) was 9.485%, and when we have added the bonus it went up to 14.085%. As I said at the beginning of this post, the price of BEE tokens went down (indexed in HIVE) and that's the main reason for this bad ROI... Luckily, most of us have bought WORKERBEE tokens for a much cheaper price...
I have calculated the ROI approximately with medium prices for all tokens at the moment of creating this post... So, those numbers are valid if you bought and sold tokens at the current prices (most of you bought them for much lower price)...
Do you want to sponsor the PH-Pool with your tokens, receive a short SPONSORED segment in this post and raise awareness about your front-end or dApp? Please let me know in the comment section, or contact me through Discord or Twitter and we will find the best solution for both parties...

If you want to join the WorkerBee PH-Pool, the only thing that you have to do is to DELEGATE your WORKERBEE tokens to THIS account (@ph1102) and that's it! Every week you will get the portion of mined BEE tokens and BONUS rewards!

All payments will be made after publishing this post...
If you have any questions, please leave them in the comment section!
You can find more about this pool in the initial post here https://peakd.com/hive-119826/@ph1102/workerbee-p-h-ool-let-s-help-each-other
Thank you for your time,
~ph~

If you want to support my witness, you can do it by voting for @ph1102.ctp here https://tribaldex.com/witnesses, or just scan the QR code down below...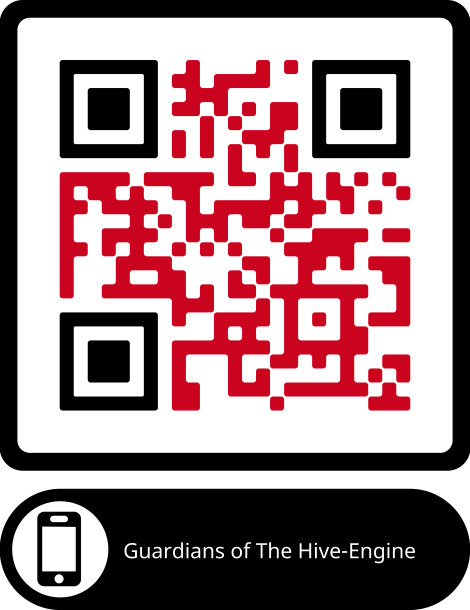 Don't forget to follow, reblog, and browse my Hivepage to stay connected with all the great stuff!
You can also find me on LEO Finance .:. Twitter .:. LBRY

---
---