Motivation in the 1st Week .:. #MyHiveGoals March 7th, 2021
Probably the worst struggle with your business, or some big work/task that you put in front of yourself is happening even before you begin... Then the ball starts rolling and it becomes a bit easier... And then, after the end of a certain time, you are doing your first re-cap...
The problem with the FIRST things is that they aren't lool sexy... The same goes with these monthly goals that I have created by dividing my YEARLY goals... After the first week in the month, almost all the table in the spreadsheet is colored in red! That can be very demotivating and to "override" that, we have to look at the big picture and remind ourselves that there are 3 weeks more in the month and plenty of green color for use... :)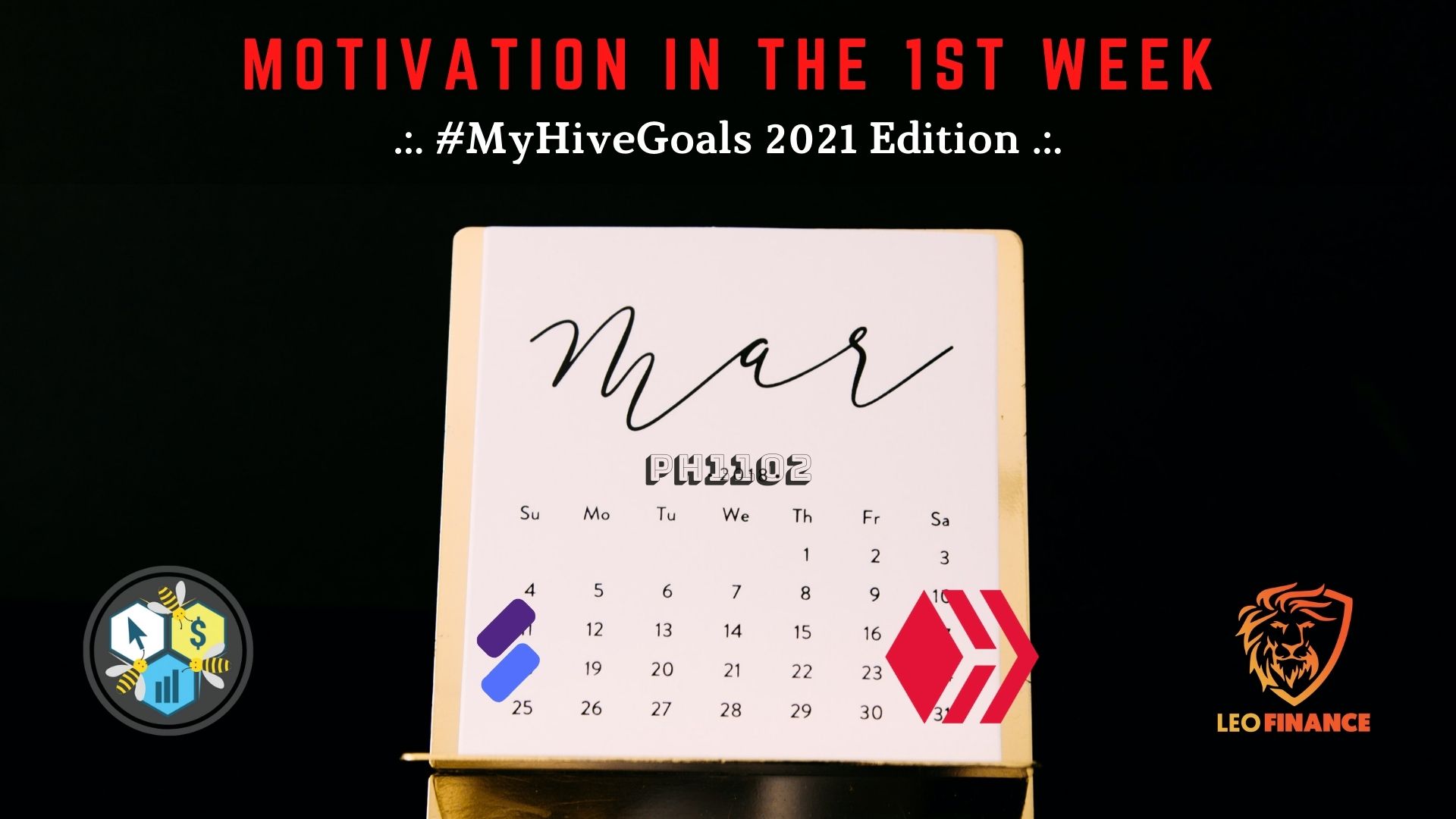 Created in Canva.com
One of the most important of these goals is Hive Power and it's not without the reason on the top of my list... Every month, I check that first, and I push that goal the first... That's why, this month, after just one week I'm very close to fulfilling my goals for March! I need just a couple of dozens and I'm there! That's great as it gives me the opportunity to focus on others

As I said, the list isn't like it is without the reason... The second most important goal for me is LEO Power... Now, we have a problem with this as I have some kind of "conflict of interest "... lol... As we got announcements about snapshots for CUB tokens (already done) and another one for ProjectBlank, I have left some of my LEO liquid... So, I have intentionally left this goal on "pause"... I'm not powering down, or something similar, but I'm not powering up some higher sums either...
With CTP Power I have a little bit different problem... I have, maybe, set the bar too high for this year, but I'm not giving up... The numbers are going up, but not at the pace as I would like... Will see how it will go in the rest of the month...
The last one on the list of the Hive-Engine tokens is the SPORTS Power... This goal is still on the good path to be accomplished... I'm building up my account steadily, but no relaxing too much with it either... :) Eyes on the road

Regarding my GAMING goals, that is also developing nicely... Yes, the number of cards in the Rising Star game is still far away from the goal, but I see progress after every week, and that is the most important... Things are moving in the right direction, and I think that I will catch up with this goal... Maybe not in March, but surely in some of the next months...
I'm starting to be more excited about dCity game lately... There is plenty of news about the 3rd edition cards and their release is closer than ever... It should change a lot around the game, and I hope that I will stay on the course... For now, the daily sim reward (before taxes) is the only goal that I have in green!
---
In the end, I would like to make an update of my current numbers (March 7th, 2021, 2021) on #MyHiveGoals: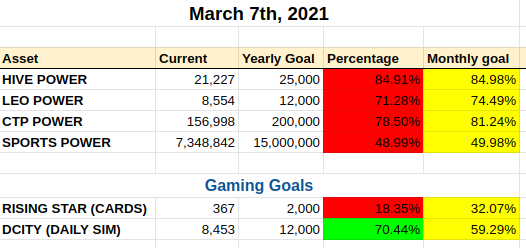 Join us in this awesome #MyHiveGoals and let's grow together! You can find the original post about the challenge by @robwillmann here: https://peakd.com/myhivegoals/@robwillmann/new-challenge-myhivegoals-set-and-achieve-your-goals
Thank you for your time,
~ph~

The link to my initial 2021 Goals Edition is here...
These are my initial goals for 2021 on January 15th, 2021, and this #MyHiveGoals Challenge:
HIVE POWER - 20,000 / 25,000    80.00%  needed monthly grow 1.66%
LEO POWER     - 8,000 / 12,000  66.00%  needed monthly grow 2.83%
CTP POWER - 150,000 / 200,000   75.00%  needed monthly grow 2.08%
SPORTS POWER   - 5M / 15M       33.33%  needed monthly grow 5.55%

Gaming Goals:
RISING STAR (CARDS) - 189 / 2,000    9.45%  needed monthly grow 7.54%
DCITY (DAILY SIM) - 5,488/ 12,000   45.73%  needed monthly grow 4.52%   (base Income - before taxes)


If you want to support my witness, you can do it by voting for @ph1102.ctp here https://tribaldex.com/witnesses, or just scan the QR code down below...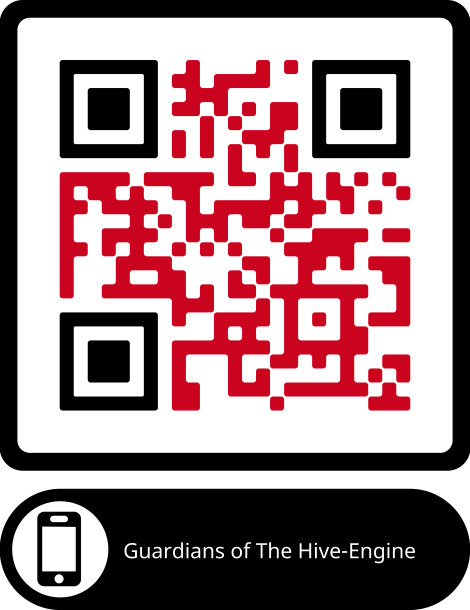 Don't forget to follow, reblog, and browse my Hivepage to stay connected with all the great stuff!
You can also find me on LEO Finance .:. Twitter .:. LBRY
Posted Using LeoFinance Beta
Posted Using LeoFinance Beta
---
---