Moving Up My HivePower Goal! .:. #MyHiveGoals 2023
After reaching my yearly HivePower goal, I mentioned that I would re-consider pushing it up a bit more, just to "stretch" myself a few weeks more... 😃 Well, the decision is made and my new HivePower goal for this 2023 year is 79000!
Why 79K and not some rounded number like 80K? Well, I checked the calendar and saw that the last day of this year would be on Sunday, the day when I do these #MyHiveGoals reports! As the day after will be HivePUD when I'm aiming to continue my 1K HP power-up, the math is clear... 79K at December 31st and 80K at January 1st! 😃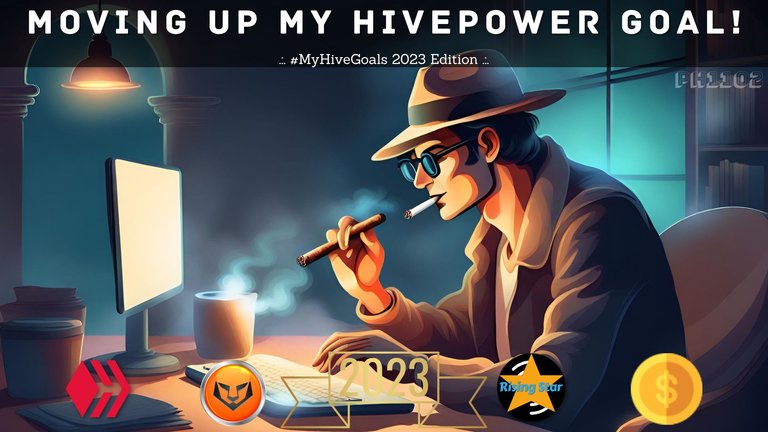 Created in Canva.com
Also, I wouldn't do this if the HIVE price went up faster and stronger than it did... While I would like to see HIVE going much higher, I think that it will not happen this year... I mean, it will not go 2x or more in the next month... That's just my opinion and I do not own a crystal ball to know what will happen... 😃 If it goes more than 2-3x, reaching 79K will be much harder... But, not impossible... :)
I do understand that moving goals isn't the smartest thing as we should have a clear goal and a plan for how to reach it... While it's important to have a plan for how to accumulate tokens, there should be a plan to take profits from them... It's hard to make plans connected strictly to a date or a timeframe as markets can do strange things at any time... In my opinion, while the price of the asset is relatively low, it is still a good moment to accumulate more of it... In the same way, I see HIVE at the moment and that's why I'm comfortable with continuing with accumulation, despite dates and the timeframe...

Let's go back to the #MyHiveGoals part of the post, and as usual, in the beginning, let's check out HiveStats...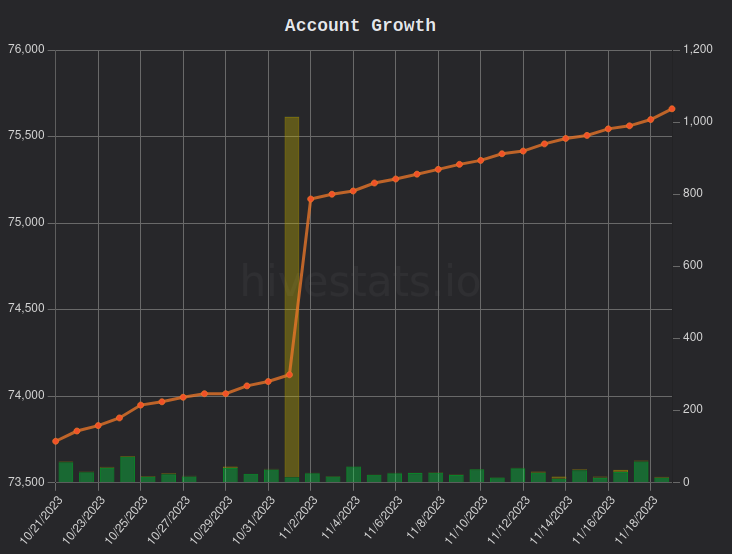 screenshot from hivestats.io
Now that we make it "official", I will focus on my new target for my HivePower goal! I have raised my daily amount of HIVE tokens for powering up, but I will need to raise it a bit more... Also, I didn't feel well the last week or two and that was the reason for creating fewer posts and I should change that too... I have plenty of material for creating WednesdayWalk posts and I know that you guys like them a lot... Also, photos from previous travels that are waiting to be published... I just hope that my sore throat issues will pass soon as it took more time than I expected... :(
Let's say that my weekly HP growth should be around 350 and that's the target that I should try to reach at the end of the week... In the last 7 days, I didn't manage to do that, so I have to push more in the next week... I have added "only" 245 HIVE to my stake...
---
The goal where I didn't do badly this week is my LEO Power goal! I have tweaked my buying price where I feel comfortable and I got a nice chunk of tokens... As I stake my tokens on the other account, specifically created for LEO curation, I'm not sure that it will work well with the upcoming news regarding sharing earnings from ads on InLEO...
Anyway, in the last 7 days, I staked a record amount of 500 LEO tokens in a week! Most of the tokens are bought from the market as my posts don't generate too many author rewards...

GAMING GOALS - Flexible Goals
I have created less content on my gaming account, but I didn't "break my routine" regarding the Rising Star packs opening... I'm opening 60 packs per week and that builds up a nice chunk of cards in my collection...
I have gone over 14K cards which means that I need less than 1000 cards to reach my yearly goal of 15K cards in total!!! This week, I added 178 cards more!
---
As there are no more staking rewards in the GLX tokens ecosystem, my total number of tokens stayed the same... I do get GLGT rewards for staking GLX tokens, but I have decided to unstake some tokens and have them liquid... Just in case LP rewards for diesel pools became active soon... I didn't find info about it, but it's better to be ready on time...

It's time to update the numbers and put them into the spreadsheet until the next week! So, freshly updated numbers for #MyHIVEGoals, on November 19th, 2023 are:


These are my initial goals for 2023 created on January 15th, 2023:

Join me in this awesome #MyHiveGoals and let's grow together! It is fun, motivating, and will keep you focused!
Thank you for your time,
~ph~
PS. None of this is financial advice of any kind...

If you want to support my Hive-Engine witness node, you can do it by voting for @ph1102.ctp here https://tribaldex.com/witnesses... THANKS!
Don't forget to follow, reblog, and browse my Hivepage to stay connected with all the great stuff!
You can also find me on InLeo .:. Twitter .:. LBRY

Posted Using InLeo Alpha
---
---