Opportunity or The End? .:. WorkerBee PH-Pool Week 48
Sorry, but I have to write about the current state in the cryptosphere... Everyone is panicking, running to the woods... Those who have no idea about crypto and blockchain in general, got their five minutes when they can yell, shout, and point out fingers without an idea what they are talking about... But, that's the way how it is... When you have ZERO interest in something (and zero cryptos in our case), you are an "expert" and you "have the right" of rubbing shit on the face of others that do have...
I saw some ridiculous post on FB and other social media where people are convinced that some Holy Banker or Holy Government will save them from all the money problems that they have, or will have... And I was naive to think that fairytales are only for kids and nobody else believes in them... 😃
Anyways, let's come back to reality... The fundamentals are still the same as they were before for the coins that tokens that we are interested in... In our case, in this pool, we have WORKERBEE tokens (miners) and BEE tokens (mined tokens), and they still have the same mining ratio, only the current value in USD is variable... 1 BEE is still 1 BEE... Don't forget about that...
Important notice! From now on, along with mined BEE tokens, I will distribute also liquid BEE tokens that I get during the week as author rewards... So, this week we have mined 56 BEE tokens, and on top of that, there are 7 more BEE tokens from my personal author rewards... Of course, the BONUS token distribution stays as usual... Of course, everything is transparent on the chain, and everyone can check these numbers...
Created in Canva.com

This week we got 2 new members in the pool and 1 member has left us! I would like to give a warm welcome to @catotune and again, one of my old friends, @rarej! Thanks for your trust!
This POOL doesn't have fees and you actually get up to 20% MORE by delegating to it!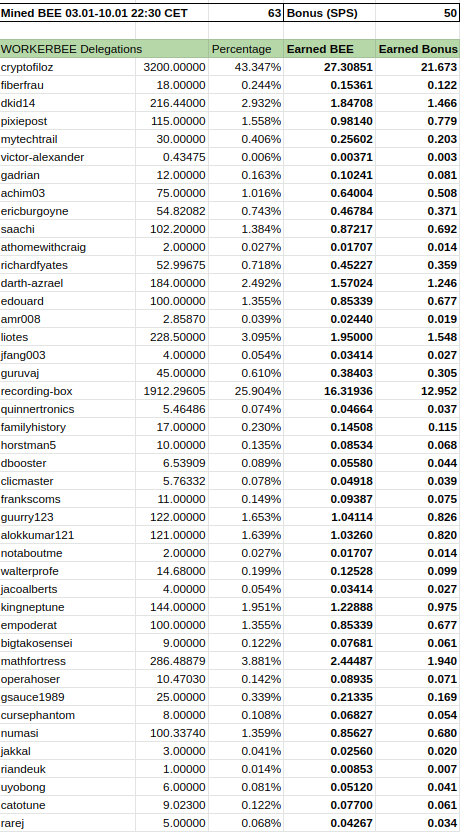 What about the bonus?
As always, I have picked one of the hottest tokens out in the markets... This week's bonus will be paid in the SPS tokens, which are used in the Splinterlands game... At the moment, they have only one use case besides staking, and that's the VOUCHER tokens airdrop... But, in the future, it will be many use cases and it will be the governance token for the game, but with additional perks... As many people are short-sighted, currently we can see a drop in the value of the SPS tokens, which is for some others a great opportunity to accumulate more of them... Today, I will distribute 50 SPS tokens as a bonus, among delegators in the pool!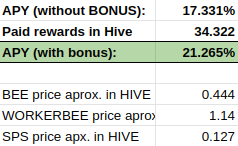 As always, in the end, let's give the exact numbers for this week... There will be distributed 63 BEE (56+7) tokens and 50 SPS tokens as a bonus... The APY (without the bonus) was 17.331%, and when we have added the bonus it went up to 21.265%...
I have calculated the ROI approximately with medium prices for all tokens at the moment of creating this post... So, those numbers are valid if you bought and sold tokens at the current prices)...
Do you want to sponsor the PH-Pool with your tokens, receive a short SPONSORED segment in this post and raise awareness about your front-end or dApp? Please let me know in the comment section, or contact me through Discord or Twitter and we will find the best solution for both parties...

If you want to join the WorkerBee PH-Pool, the only thing that you have to do is to DELEGATE your WORKERBEE tokens to THIS account (@ph1102) and that's it! Every week you will get the portion of mined BEE tokens and BONUS rewards!

All payments will be made after publishing this post...
If you have any questions, please leave them in the comment section!
You can find more about this pool in the initial post here https://peakd.com/hive-119826/@ph1102/workerbee-p-h-ool-let-s-help-each-other
Thank you for your time,
~ph~

If you want to support my witness, you can do it by voting for @ph1102.ctp here https://tribaldex.com/witnesses, or just scan the QR code down below...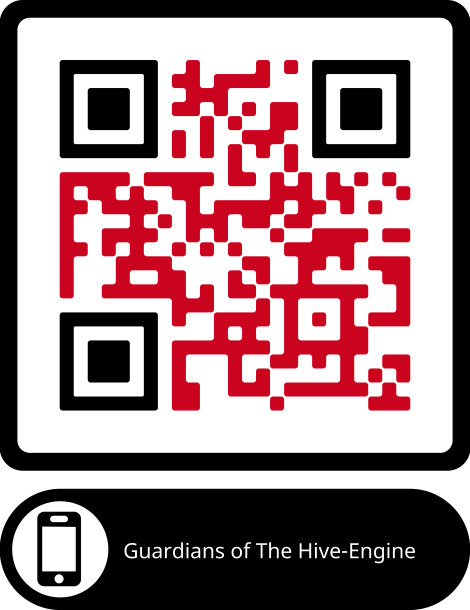 Don't forget to follow, reblog, and browse my Hivepage to stay connected with all the great stuff!
You can also find me on LEO Finance .:. Twitter .:. Odysee

---
---