Snapshots, Airdrops, Claimdrops, and Other Headshots .:. Hump Day Easy Write
I have no idea who invented this fabulous term "airdrops" and who implemented them the first time in the cryptocurrencies world, but the last year (and probably this one) was all about them... We had many of them here on HIVE, which is actually born from the STEEM airdrop... That was one of my first bigger earning in crypto and one of the most valuable ones... Usually, most of the airdrops are "fail" and the new "airdropped" token loses value very fast... But, it's free money, and who doesn't like that?
An airdrop, in the cryptocurrency business, is a marketing stunt that involves sending coins or tokens to wallet addresses in order to promote awareness of a new virtual currency.
investopedia.com
Somewhere around the last virtual HiveFest 2021, the news about the 3Speak airdrop was launched and since then, it's buzzing around and making a lot of noise, hype, FOMO, and everything that goes with it... For those who are here on HIVE for a longer time, the 3Speak idea of 3 tokens has been presented on HiveFest 2020, and it looks that we will finally see some moves visible to the "ordinary" Hivers... I have no doubts that a lot of work was done in the background, but this is the first one "outside" the developers' circle...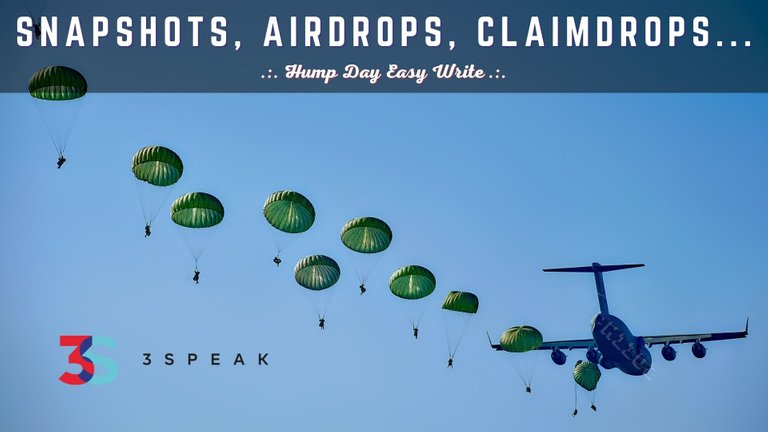 Created in Canva.com
So, I suppose that I don't have to say what is it about, but let us clear some doubts... In a couple of hours (I think 00:00 UTC January 7th) the 3Speak network and Ragnarok game SNAPSHOT will happen!

Before everyone starts screaming and selling all his tokens all-around, preparing money for the new game, servers for 3Speak nodes, new cards, etc., let us clarify what will exactly happen in the next couple of hours...
As I have bolded the word SNAPSHOT that's exactly what will happen... But, what does that mean? That means that at that time, the 3Speak guys will "scan" all wallets on HIVE and record the CURRENT status! And, that's it... You will not have to do anything at this stage!
But, when will we receive our tokens and Ragnarok NFTs? Well, I have heard 2 different stories lately and I suppose that the third one (non-said) will probably happen... :) That's something that very often happens in the crypto world (popular WEN question... someone said LEO Finance... 😁)... But, that's understandable as the things that have been done in crypto are new and very often nobody did it before and some unexpected issues can (and will probably) occur...

I was listening to the 3Speak AMA in the last days of 2021 and it was said that the actual CLAIM of new tokens will happen in the next 6 months... You will have to click on the "CLAIM" button, which was initially planned to be inside the 3Speak app, but as for the latest news, it will be on a specialized website...
The other information about the claim was that it will happen in the next month (or so)... So, we will see... I know that I will build up my "patience shield" and wait as these things can take... I would suggest to others the same...
You can find more details in the last SPK Network AMA post and also more details about the claim drop...

PS. I didn't have a chance to create my ordinary Hump Day Easy Talk video today, as we had some strong winds today and it was impossible to record outside... As you can see from the image, we had Yellow warnings for winds...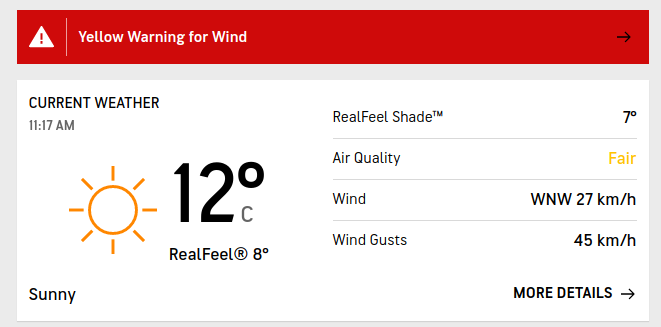 Thank you for your valuable time,
~ph~

If you want to support my witness, you can do it by voting for @ph1102.ctp here https://tribaldex.com/witnesses, or just scan the QR code down below...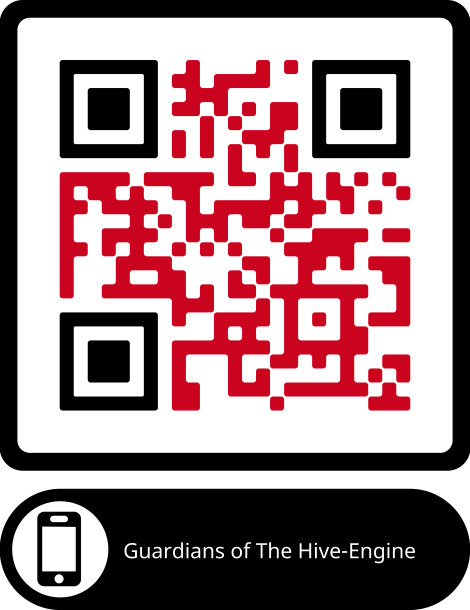 Don't forget to follow, reblog, and browse my Hivepage to stay connected with all the great stuff!
You can also find me on LEO Finance .:. Twitter .:. LBRY
---
---