The Missing Puzzle .:. Who Needs Banks When We Have Crypto?
If you are in crypto for some time and you are spending everyday significant time exploring all new possibilities, you probably think that things are moving slowly... I have the same feeling, especially when I have to wait for all those awesome new perks that the LEOFinance team announced to implement on their platforms... Yes, I said platforms, as all new tweaks will be implemented to PolyCUB, later on, CUBDefi, and finally, to all new platforms that will be (probably) launched on different blockchains...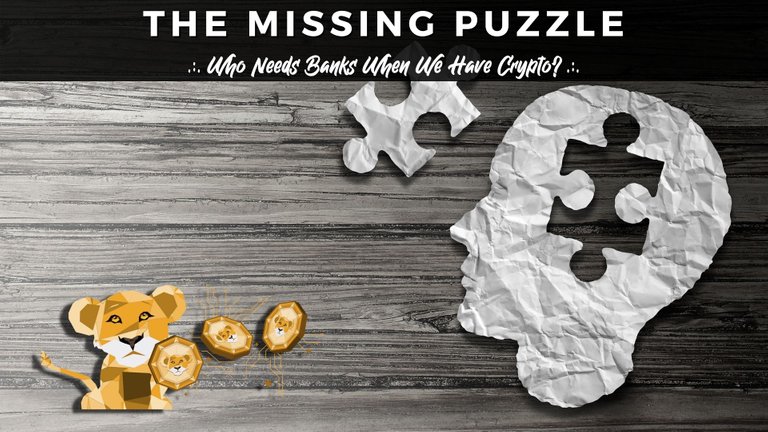 Created in Canva.com
So, is really everything moving slowly in crypto? I suppose that the best thing is to ZOOM OUT a little bit... Like we should do every time when the markets are going downwards (as they are moving now)... I saw an interesting tweet today where two guys were arguing about "are we in a bear market or not?"... At first sight, I was on the side of the guy that said that we ARE in the bear market, but when the other guy said that we should ZOOM OUT, I got his point and noticed that we are still doing pretty good... Look at HIVE price if you don't believe me... It's around 85 cents and we were there 6 months ago... At the beginning of 2021 (just a year ago!), we were at 11 cents!!! Don't believe me? Check out the screenshot above from Coingecko!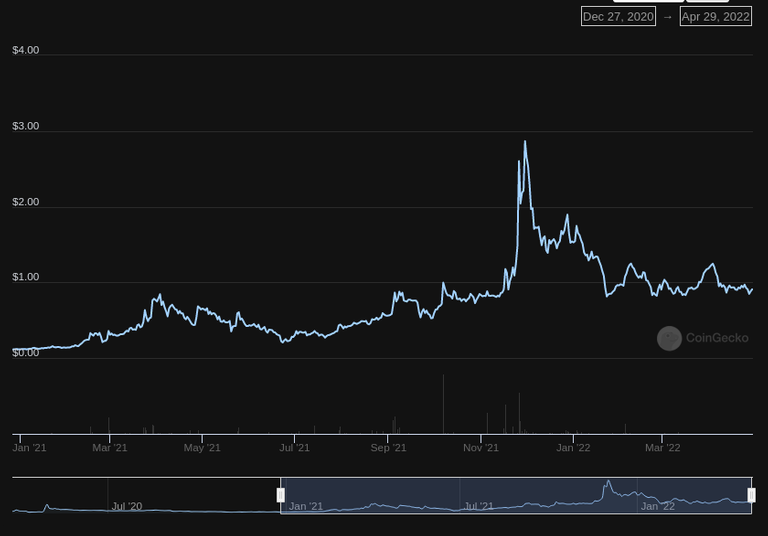 Back to the slowly moving things in crypto... From my point of view, the most important thing that happened to crypto in the last 2 to 3 years is the creation of (additional) stablecoins! We had some of them before, like USDT (Tether) or HBD, but the real explosion of different stablecoins happened just recently...

If you read some of my previous posts you probably know my opinion about stablecoins and you are probably asking yourself if I have changed my opinion? Well, I stated many times that I will not keep my focus on the accumulation of stablecoins, but I will try to have them in my portfolio in a certain percentage (around 5-10%)...
My primary plan was to have some stablecoins that I have liquidity for my living costs in the bear markets... But, after researching a bit, I will maybe raise a bit more of my stablecoins stash... Why? The idea is to use part of it for RL needs and the other part for BUYING CRYPTO when prices are down! I have to admit that I have forgotten about that when I was "designing" my portfolio...

Now, we are finally getting to the point of this post! But firstly, we had to clarify again the basics of stablecoins... They are just a representation of a fiat currency on the blockchain... They try to stay pegged to the fiat currency and that's it... So, they aren't a cryptocurrency like other popular ones like BTC, ETH, HIVE, etc... But... They are a missing piece of the puzzle for leaving the traditional banking system, and you know my point of view about banks... 😀
So, before stablecoins, I had to have some fiat currency in the bank for "black days" to survive or to buy crypto when prices go down and it's on sale... Now, I don't have to leave blockchain at ALL! I keep my "fiat" money on the blockchain in HBD, UST, USDC, etc, without touching my bank account...
And all this is just the beginning... At this moment you can do almost everything that you can do with traditional banking, thanks to smart contracts and blockchain tech! Do you know that you can even ask for a crypto-backed real estate loan?
I know that I'm repeating myself, but it's time to take control of your finances into your OWN HANDS! Control of money is power, and we need our power back as without it we are just worms and slaves of elites...
DISCLAIMER: This isn't financial advice and these are just my thoughts about this topic... Do your own research and make your own decisions...
Thank you for your valuable time,
~ph~

If you want to support my witness, you can do it by voting for @ph1102.ctp here https://tribaldex.com/witnesses, or just scan the QR code down below...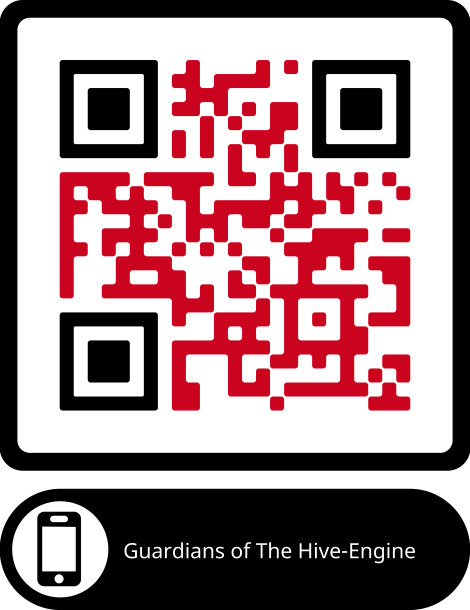 Don't forget to follow, reblog, and browse my Hivepage to stay connected with all the great stuff!
You can also find me on LEO Finance .:. Twitter .:. LBRY
Posted Using LeoFinance Beta
---
---