Optimize Your Gameplay .:. The Rising Star Game Tips
---
When markets are down, when I have set up all my Defi investments on "auto-mode", I got more time to do other stuff... :) As I'm playing a couple of blockchain games for some time, I thought that maybe it could be useful to my followers if I share some tips regarding them... The games that I play on a daily basis are Rising Star and Splinterlands...
If I tell you that I like more Rising Star than Splinterlands, you probably wouldn't believe me... lol... But, it's like that as I'm stressing too much when I play SL... Yeah, it's just a game and I shouldn't do that, but it's stronger than me... :)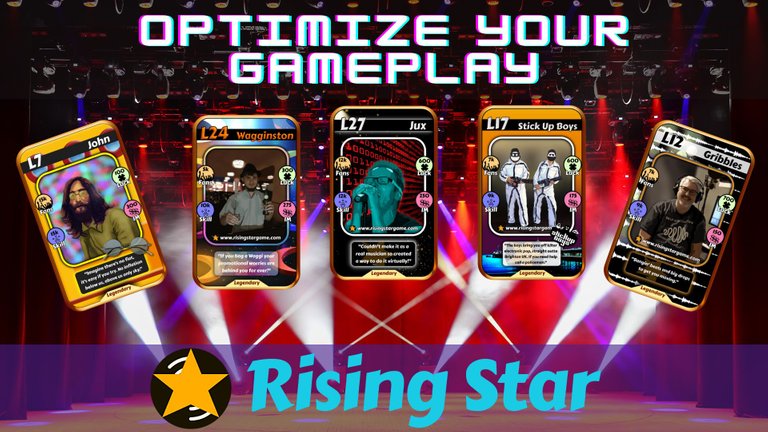 created in Canva.com
Anyways, back to the Rising Star Game! I'm playing the game for around a year and a half, which means that I'm not one of those that were there from day 1... At the time when the game was launched, I was playing Splinterlands and a couple of other games... Because of that, I have used that lame excuse that I don't want to play because "I have no time for another game"... Of course, that was a lame excuse as I made a decision without even trying the game... When I started to play, I noticed that the game takes a lot less time than Splinterlands, for example...
So, time is a lame excuse... The game can be categorized as an "idle game" which means that you have to make 2-3 clicks and then wait X time for the next clicks... When you find your strategy how to play, your gameplay becomes efficient and you spend even less time...

.:::------------------------------------:::..

I digress... Huh... This will be hard to write a post as I could write about the game for ages as it's way more complex than it looks at the first sight... But, the first thing that you have to acknowledge is that THIS IS A GAME and not an investment... Yes, you can earn some crypto while you are playing it, but it's a game in the first place as you can play the game without investing a single dime! Of course, if you want to progress faster, you can buy certain "tweaks" that can help you, like STARBITS Millionaire NFT, Cold Pizza Slice Energy Boosts, Pizza Boxes, etc... But, you can buy them with your earnings from the game, too... So, no worries...
When the game was launched, it was pretty simple to play it... You had missions, zones, band members, and music lessons... After a while, we got new additions to the game as Record Staking, Festival Missions, Custom Shop, Music Promoter, etc... The game is huge and everyone can pick on what part of the game wants to focus on... It's like in crypto, you CAN'T do them all... It's impossible...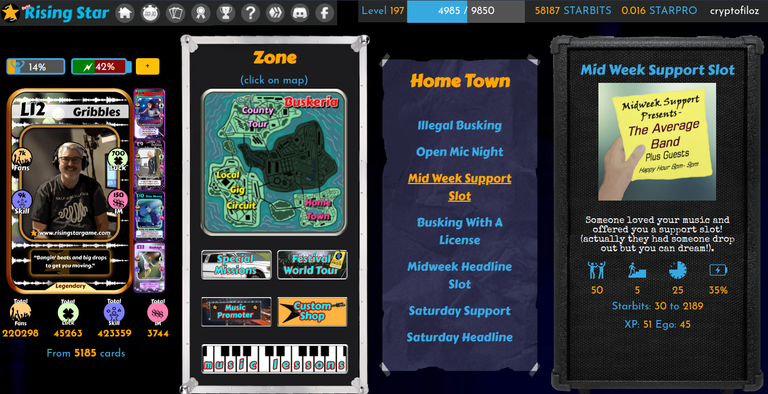 As my main plan was to accumulate as many as possible NFTs, I have kept my focus on that and tried to find the best way to accomplish that plan... I have created my "little strategy" on how to do that... Cards (NFTs) are the core of the game and the final goal is to have a lot of them (if you want to rank better in the game)...
There are numerous ways how you can get cards and it depends on the card "edition" (or type)...
Firstly, you can find most of the cards on the market and buy them directly from there...
Secondly, most of the cards you can "find" inside packs! You can get some packs for free by reaching certain milestones in the game, but if you want to progress in the game you will HAVE TO BUY them... Now, don't be scared that you have to invest thousands of dollars... The best part is that you can buy them with your earnings from the game...
Thirdly, you can get some cards by doing special missions, or doing festival missions... Sometimes you need to "pay" to do the mission, sometimes it's free...
Now, there are other ways too, but I would like to stick to the topic of the post...

.:::------------------------------------:::..

Back to the topic (for the third time... lol...). So, we know that we need cards and we know that we can buy them with STARBITS that we can earn by playing the game... In this video that I have shared at the beginning, I have shared my "strategy" for getting as many as possible tokens per day... At this level, I can afford to keep some of the earnings and exchange them for HIVE, but most of them I use for buying packs! As I said in the video, I'm buying 3 times per week, 12 packs for 100K STARBITS, which means that I get over 100 new cards per week... Maybe it's not that much for some other players, but I'm happy with that...
Now, check out the video and you will find the strategy + I have shared some general tips for playing the game... If you have any questions, don't hesitate to ask in the comment section... In this game, there are no enemies, opponents, or such, and that's probably the best part of it! The community is awesome and everyone is here to help each other! Probably because of that, you will find dozens of daily giveaways for Rising Star cards, STARBITS, etc... Speaking of which, don't forget to follow my gaming account @cryptofiloz, where I'm doing RS giveaways 3 times per week!
Thank you for your valuable time,
~ph~

.:::------------------------------------:::..

If you want to support my witness, you can do it by voting for @ph1102.ctp here https://tribaldex.com/witnesses, or just scan the QR code down below...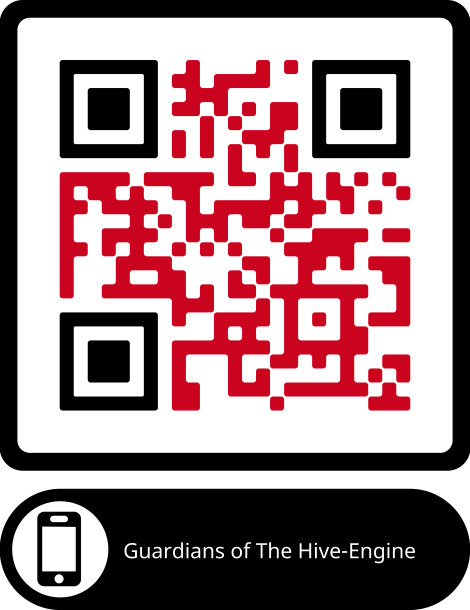 Don't forget to follow, reblog, and browse my Hivepage to stay connected with all the great stuff!
You can also find me on LEO Finance .:. Twitter .:. LBRY
---
▶️ 3Speak
---
---