We Are ALL Here For the Money... Aren't We? .:. Late Night Blogging
Hey, ph1102... What are you talking about? We aren't here for the money... We are here for the technology! 😃
If you are on this chain for a long(er) time, you have probably heard the story about "being here for the tech"... After that phase, we had another one... of being here "for the community"... Maybe some more other phases that I forgot, but the latest that I heard was in one of the Discords live streams that I was attending, where someone dared to say the truth... "We are ALL here for the money!"... Is it really like that?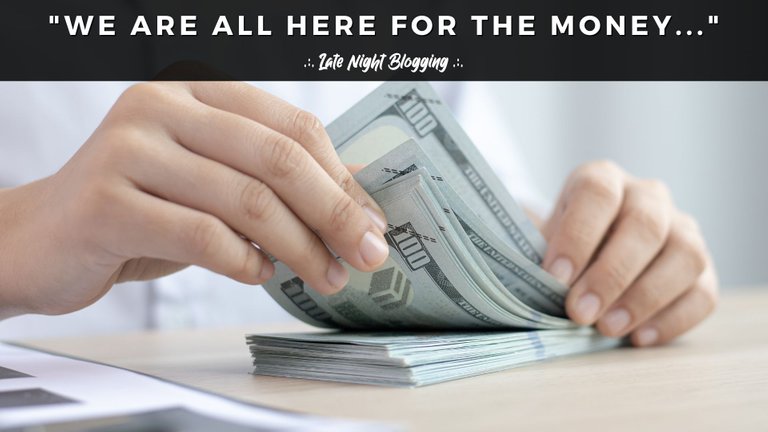 Created in Canva.com
Just to put things in context, let me explain the whole situation... When I attend some of the live shows, I have my HIVE (tools) ready in other browser tabs... If I don't know the person who talks, I check out their latest posts, amount of HivePower, time spent on HIVE, etc... Yeah, you can call me a stalker... 😃 Or you can call me a guy who DYOR, or DMOR (do my own research), or at least minimum of research... It is different when you are talking with someone in person, you don't have to do these steps, but online, you SHOULD do it... As that's the only way to familiarize myself with another person... Why?
I suppose that you should have SKIN IN THE GAME if you are talking about the "game"... If you are talking about how big a fighter and believer of HIVE you are, and you are having 500 HP collected in 4-5 years, I can't take your words seriously... I suppose that I don't have to explain the thinking behind that... Back to the situation from the beginning, the guy who said that "We are ALL here for the money", was with that kind of a stake, building something "revolutionary" on HIVE... I suppose that the amount of HIVE Power explains his saying...

But, we are here for the money, aren't we? I have to explain my point of view (and evolution) and you can explain to me your point of view in the comment section, deal?
So, when I got into cryptocurrencies in 2017 (for the second time, after "rage quitting" in 2013), I came back because of money... I was doing ETH mining and earning some nice money at that time... Most of my profits went back into the mining rigs and additional GPUs, but still, keeping some ETH in my bags... After that, I went to a couple of cryptocurrency conferences just to learn more about the thing that I'm mining... :) It was an interesting journey where I learned a lot about crypto, how it works, and potential use cases (there weren't a lot in 2017), and I liked the whole idea a lot...
When I came to HIVE (or better said its "legacy chain"), I came as I wanted to earn some money by playing Splinterlands (in those days, Steem Monsters)... It was a perfect fit... The game was created on the blockchain tech that I was learning about! Slowly, I got into the blogging part and began earning some tokens by creating posts, engaging with others, and upvoting...
During the whole period, I was mining ETH, growing my mining rigs month by month... All earnings from mining went back to new equipment! The same happened on the blogging side of my crypto journey... All that I have earned went by to HivePower, and unfortunately, to some other tokens too, that didn't go well... lol... Part of the process... Collateral damage... 😃

To be honest, I didn't expect too much from my blogging journey, and I was surprised at how it all developed... I met so many great people here, and I have gone through the "because of the community" phase definitely... Lately, it became my addiction to grow together with my friends "from the chain"... If you check my latest posts (okay, maybe not just the latest... 😃), you will notice posts about powering up HIVE, celebrating achievements... not just on my posts, but also on others' Hivians posts... The family was/is growing...
Now, you have the whole picture... Are we really here just for the money? Personally, I know that I have invested in all this a lot of time (and money too), but if I check my wallets around different blockchains, I didn't take too much out... Except for getting out tons of value in learned life lessons, meeting some great people on the journey, and having a lot of fun! Could I ask for more???
When I check on my friend here on HIVE, I see amazing people who try to help others to get on their feet, pushing up their own HivePower, upvoting (or better said uplifting) others... Am I living inside the bubble, or do you have the same view?
Is it all about the money?
Thank you for your time,
~ph~
PS. This isn't financial advice... As you have noticed, I'm very bad at taking profits, so don't follow my lead for that at all! 😃

If you want to support my witness, you can do it by voting for @ph1102.ctp here https://tribaldex.com/witnesses, or just scan the QR code down below...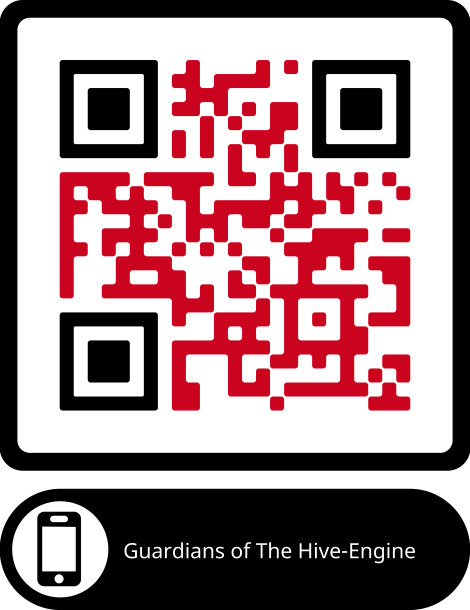 Don't forget to follow, reblog, and browse my Hivepage to stay connected with all the great stuff!
You can also find me on LEO Finance .:. Twitter .:. LBRY

---
---