When to Accumulate Hive Power and When HBD? .:. #MyHiveGoals 2022
We are lucky that we have 2 tokens on one blockchain and we are extremely lucky that we have many ways how can accumulate them... I will explain my method of accumulation of these tokens in different market/price-wise periods...
But, before diving into it, just to clarify that none of this is financial advice... This is just the method that I follow in my Hive Power (and HBD) accumulation!
First, when I said many ways of accumulating tokens, I meant not just by creating and upvoting posts, but also, by playing games, investing, trading, and many other ways... But, today, I will focus on the main ways of accumulation, creating content, and curating others' posts...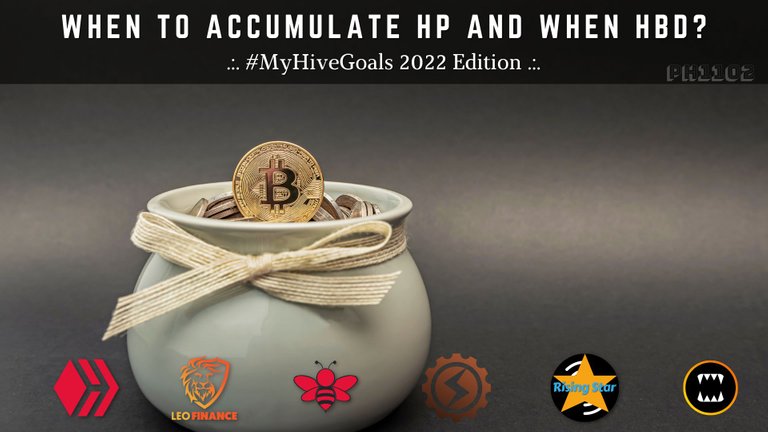 Created in Canva.com
When you create posts here on HIVE, after 7 days, you receive "compensation" for doing that in form of author rewards... At the moment, if you didn't change in settings, you will receive half of the author rewards in Hive Power and another half in HBD... When you upvote posts by other fellow Hivers, you receive curation rewards in form of Hive Power...
Like anyone else, I'm also creating and curating content on the chain, so I also get these two tokens... Also, as you already know, I'm trying to accumulate as much Hive Power as I can, as I would like to reach the ORCA rank by the end of this year... To reach that, I had to "discipline" myself to follow strictly my "rules of the game"...

I have picked my "own price" of HIVE that I found "real"... This isn't my prediction, or anything else, it's just the price that I'm comfortable with... And I think that $0.50 per HIVE is that price... So, according to that price, I try to follow these rules...
If the price of HIVE is under $0.50, I'm trying to collect as much possible Hive Power as I can... Convert most of my assets into it and power it up... Also, if there are some good delegation offers, I delegate my HP to earn more HP! If I have some saved HBD from before, and the price of HIVE keeps falling, I buy more...

If the price of HIVE is between $0.50 and $0.70, I keep both tokens from my author rewards, HP and HBD... Eventually, I exchange some other H-E tokens into HIVE if I have reached goals for them, or I'm not interested in them...

If the price of HIVE is over $0.70, I keep my HBD and if I have some spare HIVE, I'm exchanging for HBD... Powering down isn't an option, so only my liquid HIVE is exchanged... When I exchange, and I don't need HBD immediately, I put them in saving to get an additional 20% APR... After a while, if the price of HIVE drops, I will have some ammunition to buy cheap tokens! Removing HBD from savings lasts only 3 days, so I can count on that funds!
And that's it... It sounds maybe complicated, but it's not... It just follows the easy rule... Buy cheap, sell high!

Let's get back to the #MyHiveGoals and numbers for the last week... After reaching those sweet 50K, I have added "only" 500 HP during the past week and made some hard decisions regarding my SPS tokens...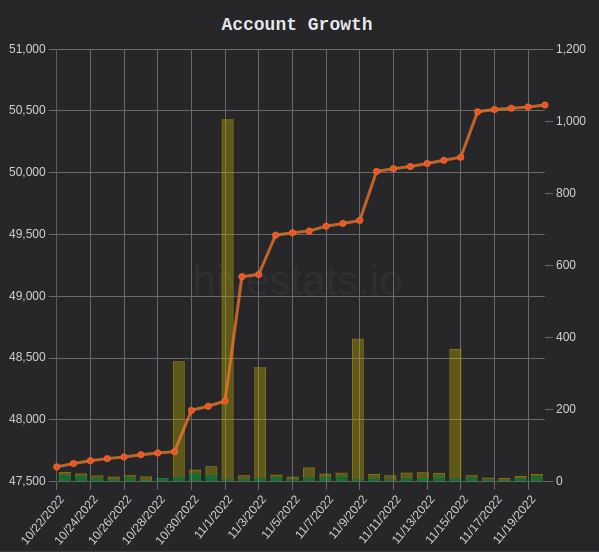 screenshot from hivestats.io

I have reached my monthly LEO Power goal last week, but I have decided to stake my curation rewards despite that... On the other side, I couldn't resist stacking more HIVE, so I did exchange all my LEO tokens from my author rewards...

Not too much to say regarding the WORKERBEE tokens... I didn't buy any, so I'm still at the same place where I was 7 days ago... The good news is that we have another big sell order at 2.5 HIVE that looks like the one from the token creators... Not sure about that, but probably is... Anyways, it's nice to see that nobody wants to see WB for a cheap price, which says a lot about the value of the token!
A similar story is around the BEE token and my strategy regarding it... I'm staking my curation earnings and selling part of my author rewards, for the same reason that I stated for LEO tokens... HIVE is juicy cheap atm... 😃

GAMING GOALS
My RISING STAR goal didn't progress the same as usual as I have blended 2 special Halloween animated NFTs... That means that I have "burned" 20 cards to get 2 more valuable cards... But, as I reached this goal a long time ago, I'm just having fun with the game, trying to have as many different cards as possible...
Huh... It's time to admit my mistake with the SPS tokens goal and accumulation... As you may know, in previous reports I said that I'm unstaking most of my tokens and putting them as liquidity into the diesel pool... That didn't mean that I have sold them forever, but rather put them in another place where they can generate better APR... But...
I knew that there will be an airdrop for SPS stakers for the new GLX tokens, but I didn't expect that the APR for staking those tokens will be over 2000% in the first couple of days... I mean, I knew that it will be high, but not that high... So, I had to swallow my pride and admit that I made a mistake when I unstaked the tokens... Luckily, they are liquid in the pool, so I put them out, converted them back to SPS, and staked them! As the price of the SPS tokens went down a bit (from the moment when I put them in the pool), I have "earned" even more tokens doing that... So, in conclusion, at the moment, I have all my SPS tokens staked, and I have almost double the last week's amount... Over 88K tokens are staked, working for that GLX airdrop! SPS tokens goal reached!

It's time to update the numbers and put them into the spreadsheet until the next week! So, freshly updated numbers for #MyHIVEGoals, on November 20th, 2022 are: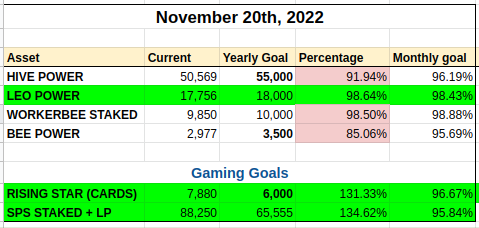 Join us in this awesome #MyHiveGoals and let's grow together! You can find the original post about the challenge by @robwillmann here.
Thank you for your time,
~ph~

The link to my initial 2022 Goals Edition is here...
These are my initial goals for 2022 created on January 2nd, 2022: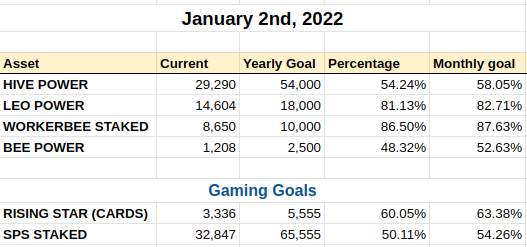 Update 06.02.2022.
BEE POWER 2500 --> 3500
RISING STAR NFTs 5555 --> 6000
Update 04.09.2022.
HIVE POWER 54000 --> 55000 (ORCA rank minimum went up)

If you want to support my witness, you can do it by voting for @ph1102.ctp here https://tribaldex.com/witnesses, or just scan the QR code down below...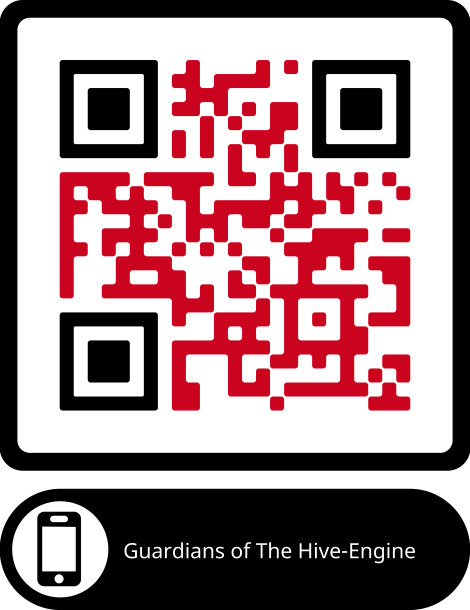 Don't forget to follow, reblog, and browse my Hivepage to stay connected with all the great stuff!
You can also find me on LEO Finance .:. Twitter .:. LBRY

Posted Using LeoFinance Beta
---
---