Coinbase to Roll Out Unsupported Crypto Recovery

Have you sent ERC20 tokens to the incorrect Coinbase wallet?
Around two weeks ago, I managed to to do exactly this, and sent a couple hundred dollars worth of $GUSD from BlockFi, over to my Coinbase wallet address for $USDC.
BlockFi makes until the next business day to send out your withdrawal, so I didn't even realize there was a problem until a couple days later and went "Wait, where's my money?"
This is where the panic started to ensue, and the realization that there was no way for me to get my funds back without Coinbase's help. I reached out to the LeoFinance Discord and was told by more than one person that Coinbase wouldn't help. Thankfully, I'm stubborn and decided to reach out anyway. If they have access to the keys for these wallets, they have access to the funds.
I got a pretty quick response back, which took about a day. Granted, I had to make my request under an unrelated category, as I kept receiving an error because of an incorrect transaction ID.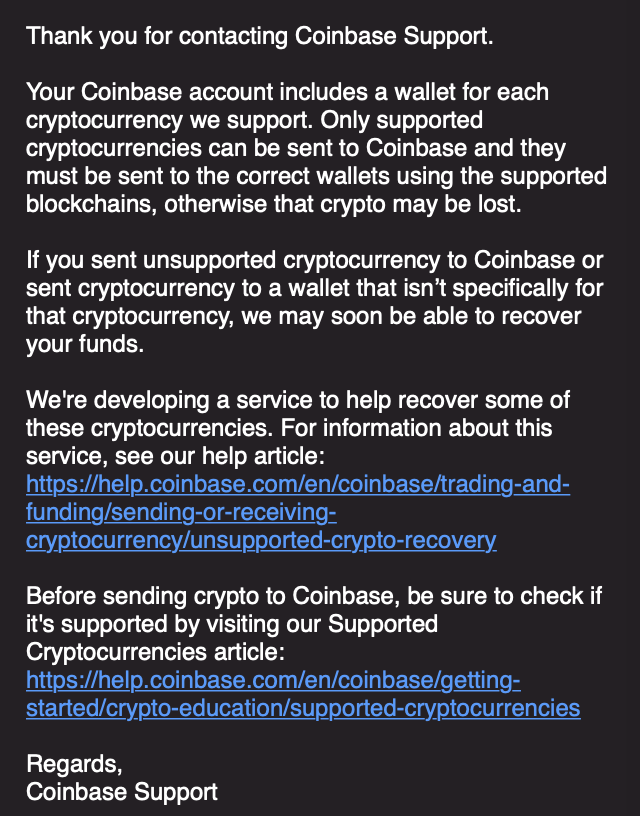 That's a pretty good response in my opinion! So, the funds can't retrieved at this very moment, but eventually, it should be possible as Coinbase is going to roll out a feature to recover incorrectly sent cryptocurrency. Currently, the only fix in the works is to make retrieving ERC20 tokens possible. This makes sense, as each of your ERC20 wallet have different addresses on Coinbase, even though they're all on Ethereum. It is much harder to send something like Litecoin to an incorrect address, as wherever you withdraw from should give you some sort of error if you try to send it to a non-valid Litecoin address.
I assume I'm not the only idiot out there, so hopefully this comes across as some good news for anyone else that has made the same mistake. Bookmark the support article and check back periodically, maybe we can get our crypto back sooner rather than later.
Posted Using LeoFinance Beta
---
---