Launching a Node on Presearch (Earn $PRE, Support Decentralized Search Engines)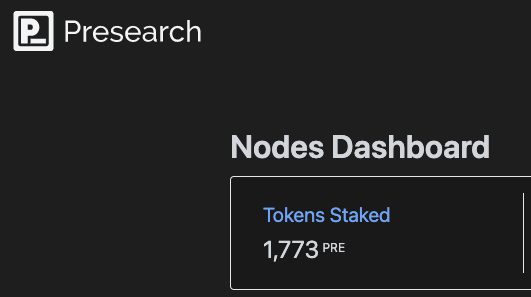 Around a week ago, I decided to launch a Presearch node to passively earn $PRE, while also being a part of the decentralization of search engines. I wrote a little about what Presearch is in an blog post.
Acquiring Initial $PRE
Running a node has an upfront cost of having to stake 1000 $PRE, which I was able to pick up on KuCoin. KuCoin is a solid option for U.S. residents as it's available, and doesn't currently require KYC verification.
At current market rates, starting up a node is around $100 ($0.10 to 1 $PRE).
Running the Node
To run a node, you'll either need a PC, or a non-ARM Mac. Unfortunately, micro computers like the Raspberry Pi are not an option, as Presearch does not support ARM-based processors. This is supposed to be changing in the future. Another option, is to pick up a VPS service from something like linode. I didn't go down this route, so I am not very familiar with it. The Presearch Nodes Telegram is pretty helpful if you decide to use a hosted solution.
When I originally registered for Presearch, I had to sign up for the beta to be able to operate a node. I'm not sure if that step is still in place, but if it is, they typically approve within 24 hours.
Once you create an account, you'll be able to see the instructions on running a node. Just go through them, step by step, and you'll have a node running in no time. I think it took me less than 15 minutes to get everything started.
One of the OG's
There are less than 2000 node operators on Presearch right now, so you will truly be at the forefront of decentralized search if you decide to take the time to set one up.
A Good Cause
Google, and other search engines have generated ridiculous sums of money from using our data. Presearch aims to level the playing field, by having users become the search engine.
A Source of Passive Income
Currently, Node operators generate a small amount of $PRE for every single search that takes place. This is still during the test phase of the decentralized search engine. Eventually, all searches will happen through the decentralized engine, giving you more opportunity to generate $PRE.
The Numbers
The Presearch decentralized search engine is still in a testing phase. Node operator rewards only just launched in February. As such, these numbers are subject to change. Here's a response I received from Colin Pape (Founder & CEO) on TG:
The rewards target for someone staking the minimum, with a node that performs well, is to ensure that they are able to easily cover the cost of a basic VPS account.
The shift to all searches going through the decentralized engines, adding more nuances to the $PRE token (a short video about Keyword Staking), and continued user growth should see the value of $PRE grow.
My Results
Since signing up for Presearch in March (3~ weeks ago), I've been able to accumulate just around 85 $PRE. This does not include the 25 $PRE I received from being referred.
I started my node 6 days ago, staking 1773 $PRE. Currently, I have earned 11.3420 $PRE.


So, running a node currently earns around 2 $PRE a day. This means that recouping your initial investment, assuming 0 price fluctuations, will take you around 500 days if you stake the minimum. Still, we can expect Presearch to grow, and your earnings to be worth more. A node in 2019 would have costed a nice $5, which means you would earn that back every 25 days at the current price. Not bad.
Going Forward
I plan to pick up some more $PRE, and see if I can somehow get two separate nodes that each have 1000 $PRE staked. According to some users on TG, this results in higher earnings.
If you have any questions about setting up your node, feel free to drop them below. I'd be happy to help!
Posted Using LeoFinance Beta
---
---