My first stack in POB. 150 coins to Power Up!
---
Hi, Hi.! Here @pialejoana
I am happy to be here on the platform and share with you the enthusiasm of working towards growth together.
I have a few days in POB, however my stay has been very pleasant. I have had the opportunity to participate in an initiative led by @calumam, where I have earned 200 POB in liquidity. In addition to this, thanks to the content that I have created from the Front-end of the platform, I have managed to accumulate a little more.
So, to get this month off to a good start I have decided to do the following:
Withdraw a certain amount of POB coins, the equivalent in my physical world to $ 100. I have done this for the purpose of investing in my small dessert and candy business. If you follow me closely, you know that my goal is to build in two directions (virtual and palpable).

Carry out a Power Up of 150 POB, in order to have the possibility of distributing a small reward to those content creators who invest their time on the platform, in addition to establishing earnings also in curation.

I have reserved an amount in liquid, in case a personal emergency arises (I have two children, I always have some extra money), otherwise, they will continue there as savings, to repeat the same extraction and stacking activity at the same time.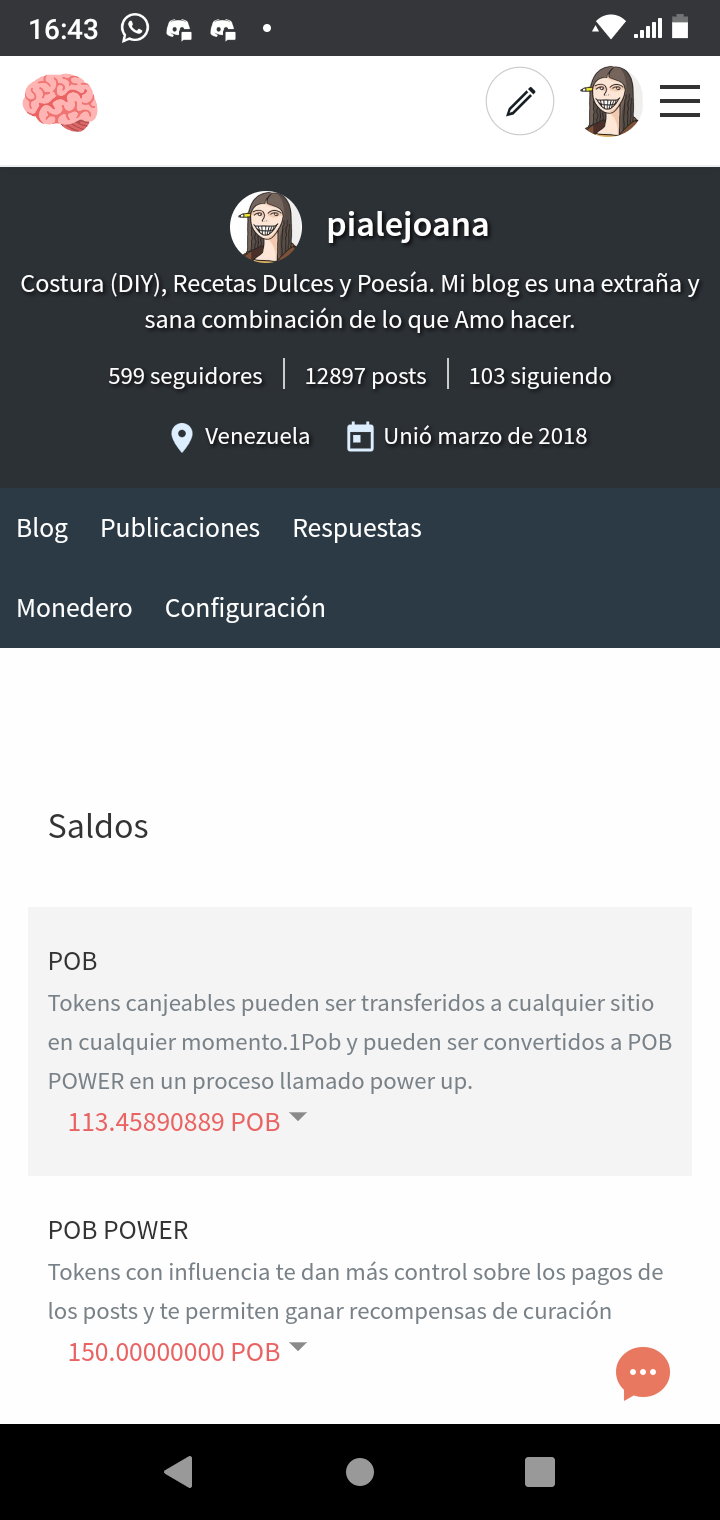 ---
🧠🧠🧠🧠🧠🧠
I can honestly add that the stacking I have done is not much, but from my side it is significant. I live in Venezuela, and everyone already knows the bad economy we have here. In addition, my main source of income is related to my work on the platform. With the income I generate, I cover the expenses of food, clothing and medicine for my family.
---
🧠🧠🧠🧠🧠🧠
Other goals for this new month:
Focus on the publication of 1 daily post on the POB platform. In addition to having continuity in my cooking posts on Foodie Bee Hive.

Make more than 8 daily votes in POB, to quality publications or at least that I like.

Make 5 comments (approximately, perhaps more or perhaps less) on a daily basis.
---
From my side I tell you that my work and internet connection is efficient only at dawn. So, those are my hours of work and content submission, let us be surprised by my absence for a few hours. But, I really always do the best I can on my part. I consider that one of the constants in my work has been self-discipline and the tranquility of having the resources to give the best to my family.
---
Live, Dream and Build!
💜✨💜✨
---
🧠🧠🧠🧠🧠🧠
Thanks for your attention, kindly: Ana Pialejo, under my username: @pialejoana.
---
Posted via proofofbrain.io
---
---