No, really, I swear, I'm not obsessed...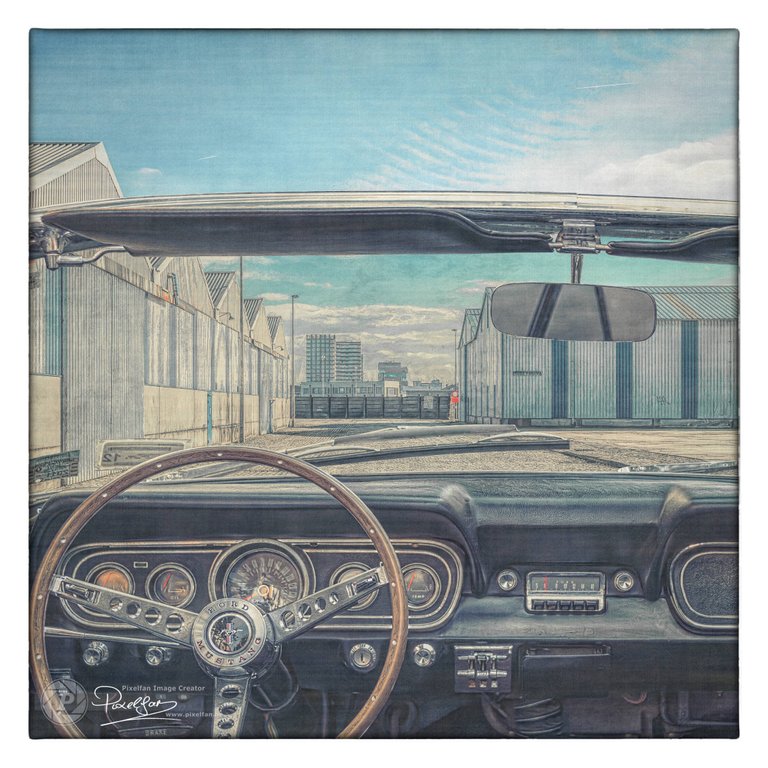 ---
...by hangars…
But after seeing the stripped-down hangars in my previous post, I suddenly felt the urge to see new, but especially, complete hangars.
And here they are... They do lack the historical aspect and the architecture is not nearly as beautiful... but they are secluded and on an almost empty parking lot. So, I suddenly took advantage of kicking my Mustang on its tail again 😉
---
BTW: I noticed in previous posts that some of you think this "car-series" are paintings…but they are not. It are heavily edited photography's…

BTW 2: all cars (or bikes) used in these pictures are real and existing. I don't own those cars but did spot them during my hikes and decided to shoot them because they're just good-looking or original or vintage. This doesn't mean that I shot them on the same place as in the final picture… as a matter of fact, I was there but the cars never were…😉 The places in the pictures are mostly interesting or original places… but not always car-friendly 😂

As a final note… I can guarantee that no car or bike has been hurt during the picture-shoot…Please, don't forget to resteem if you like my Vintage Travel series... I'm sure others will like them too!
---
You liked this post?
Right you are 😉
Just follow me here to make sure you don't miss any new work. As you can see below, you will be in good company... my 3 skinny friends are waiting for you 😉











BTW: I will not ask you to upvote my posts… deep down inside you know you have to 😉
Curious to see my other work?
Although I spend most of my time here, you can also find me in other places… just take your pick…






---
---