Make Cheap Cars Great Again | Rising Star Giveaway Results | PPG

---
#PixiePost #PixiePowerGaming #RisingStar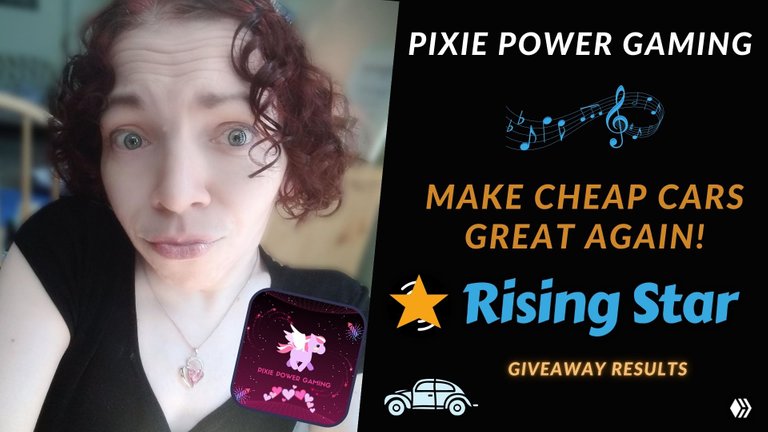 The moment you have all been waiting for....the Rising Star giveaway results are here! (Okay, maybe it's not THAT dramatic, but it sounds good.... he he.)
Instead of the written blog post I was going to do, I decided to jump on camera instead & do the drawing. Take a look inside to see who won & also some new information that is required to know about for the future giveaways. (This is crucial to qualifying for the giveaways, going forward.)
PLEASE NOTE: When entering, be sure to include your Rising Star username as well or you will NOT qualify. This is the only time you will be advised!
Have an amazing weekend & keep leveling up! Remember you are the RockStar of Your Dreams. Go after it!
*As always, a big shout-out to Jux & the Rising Star gang for making this game & community better each day. They truly are the shining stars! ;)
+:+:+:+:+:+:+:+:+:+:+:+:+:+:+:+:+:+:+:+:+:+:+:+:+:+:+:+:+:+:+:+:+:+
🕹Pixie Power Gaming channel: https://www.youtube.com/channel/UCEFbmgomBSkjFwkDd2d22RA
🕹Rising Star Game: https://www.risingstargame.com?referrer=pixiepost
🕹Rising Star's Latest Post: More Rising Star Pack Purchase Options - PIZZA, BNB & Polygon (MATIC)
🕹Rising Star's Discord: https://discord.gg/dbB6Jc7
🎧Atom Collector Records YouTube Channel: https://www.youtube.com/c/AtomCollectorRecords/videos
+:+:+:+:+:+:+:+:+:+:+:+:+:+:+:+:+:+:+:+:+:+:+:+:+:+:+:+:+:+:+:+:+:+
Today's Music: Tiger Tracks - Lexica (through Epidemic Sound)
─── ・ 。゚☆: .☽ . :☆゚. ───
Don't have time to watch the video? No problem, take it with you!
🎙 Check out my podcast Coffee, Cards & Pixie Dust : https://anchor.fm/pixiepost
💰 Support my channel so I can bring you more pixie dust!
Merch: https://www.zazzle.com/store/pixie_po...
If you liked this video, buy me some more pixiedust✨😊:
paypal.me/thepixiepost
cash.app/$pixiepost444
Buy me a cup of coffee with HIVE
💚 Check out my Empowerment Through Anxiety series: https://www.youtube.com/playlist?list=PLr1A6iORin1HMgr-MVZGEIEncyC5VCnq9
Give this a like (or an upvote) if you enjoy this kind of content. It lets me know what videos give YOU value. It also helps my content have more of a presence in the algorithm. :)
Don't forget to subscribe & hit the notification bell so you don't miss the next video.
💜 To know thyself is to know thy truth. 💜
─── ・ 。゚☆: .☽ . :☆゚. ───
Get a 30 Day Free Trial of Epidemic Sound https://www.epidemicsound.com/referral/cgrnmi/
A Must Have Tool To Grow Your Channel
https://www.tubebuddy.com/pixiepost
💜 This video is not sponsored - affiliate links above are products I fully believe in and use 💜
─── ・ 。゚☆: .☽ . :☆゚. ───
Connect with me on the following social media sites:
Instagram: https://www.instagram.com/pixie_post_dreams/
https://www.instagram.com/timmytheangelkitty
Twitter: https://twitter.com/ThePixiePost
Pixie Post Facebook Page: http://fb.me/pixiepostwithjennnieto
DTube:
---
---