Engagement Is The New Currency | Pixie Dust Chronicles

---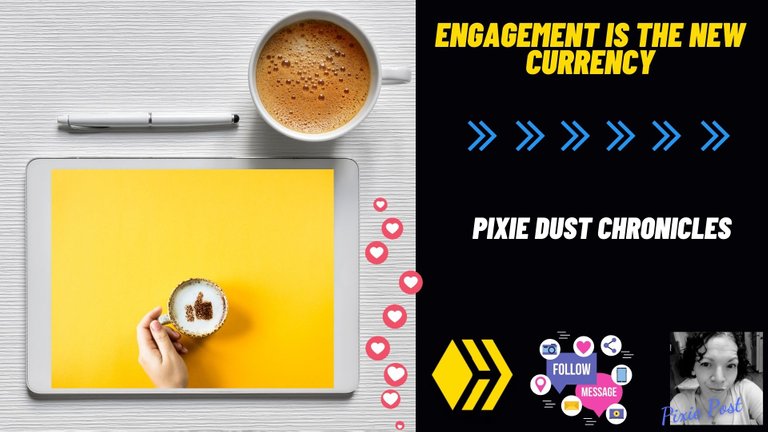 #PixiePost #PDChronicles #EngagementNewCurrency
Engagement Is The New Currency - that is what the latest shiny new thing out there is. But this one is here to stay....
In this video, I take a moment to share this commonly overlooked secret to prosperity & wellness in your content creation...
See what value this simple action gives....
+:+:+:+:+:+:+:+:+:+:+:+:+:+:+:+:+:+:+:+:+:+:+:+:+:+:+:+:+:+:+:+:+:+
Today's Music: Sparkles - Daxten (through Epidemic Sound)
─── ・ 。゚☆: .☽ . :☆゚. ───
Don't have time to watch the video? No problem, take it with you!
🎙 Check out my podcast Coffee, Cards & Pixie Dust : https://anchor.fm/pixiepost
🕹 Pixie Power Gaming (my secondary channel!): https://www.youtube.com/channel/UCEFbmgomBSkjFwkDd2d22RA
💰 Support my channel so I can bring you more pixie dust!
Merch: https://www.zazzle.com/store/pixie_po...
If you want to tip me: paypal.me/thepixiepost or cash.app/$pixiepost444
💚 Check out my Empowerment Through Anxiety series: https://www.youtube.com/playlist?list=PLr1A6iORin1HMgr-MVZGEIEncyC5VCnq9
Give this a like (or an upvote) if you enjoy this kind of content. It lets me know what videos give YOU value. It also helps my content have more of a presence in the algorithm. :)
Don't forget to subscribe & hit the notification bell so you don't miss the next video.
💜 To know thyself is to know thy truth. 💜
─── ・ 。゚☆: .☽ . :☆゚. ───
Get a 30 Day Free Trial of Epidemic Sound https://www.epidemicsound.com/referral/cgrnmi/
A Must Have Tool To Grow Your Channel
https://www.tubebuddy.com/pixiepost
💜 This video is not sponsored - affiliate links above are products I fully believe in and use 💜
─── ・ 。゚☆: .☽ . :☆゚. ───
Connect with me on the following social media sites:
Instagram: https://www.instagram.com/pixie_post_dreams/
https://www.instagram.com/timmytheangelkitty
Twitter: https://twitter.com/ThePixiePost
Pixie Post Facebook Page: http://fb.me/pixiepostwithjennnieto
DTube:
---
---