The Brand New PLANT BASED challenge: Soup for the soul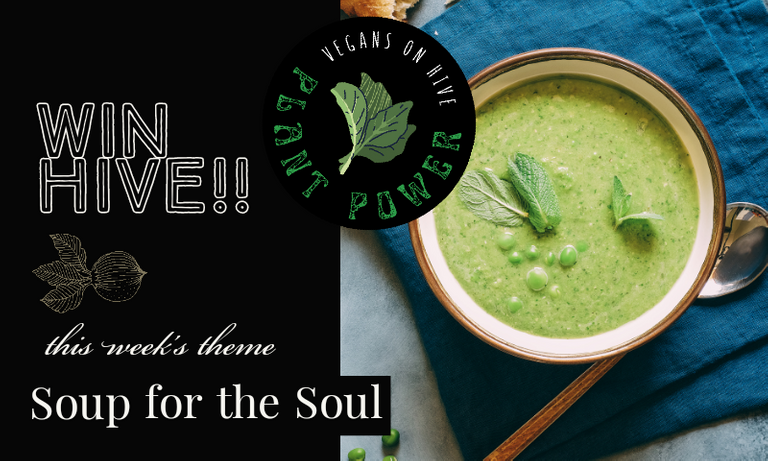 Hello plant based foodies, wherever you are in the world!
As we've been doing, the challenge post and the wrap up will be in the ONE post. Likewise, if you want to support #vegan #plant content, delegations are welcome.
---
Here @sirenahippie, I wanted to take this opportunity to remind you again, that the general topics (NOT those of this contest in particular), that you can publish in our community are the following:
Experiences with a vegan diet.
Ethics of animal agriculture.
How to grow a kitchen garden for your plant based food.
The best herbs and spices to have in a vegan kitchen.
Meat free Mondays - why they're a good idea.
---
I also wanted to remind you that if you want to make a delegation for the growth of our community, it will be welcome. Every delegation, big or small is useful and well received as it helps us to strengthen the vote with which we can incentivize the publication of good content. And of course, I also wanted to invite you to join our voting trail, we are always looking for good content published on Hive, not only vegan, but of other nature, that deserves to be recognized and celebrated through a vote, so you can collaborate to this good work.

Plant Power Cooking Challenge Winner(s)
Let's start this post by announcing the winners of the previous "Beautiful Breakfasts" contest, in which 7 entries were submitted, all very delicious, and best of all, totally vegan recipes.
You can this challenge here
---
In this edition, although the ten entries necessary to award the three announced prizes were not completed; even so, we will award these three prizes; but we ask you to motivate your colleagues to participate in the new challenge. And also, in recognition of the effort, originality and dedication you had in your publications, each participant will receive 0.5 WAIV sponsored by @sirenahippie. Similarly, we want to announce that from now on, the frequency of this challenge will be regularized, making the award ceremony the day after the challenge ends, and calling the new challenge the following week, it would be a challenge every 15 days . Now, let's see which publications participated in this challenge:
---
FIRST PLACE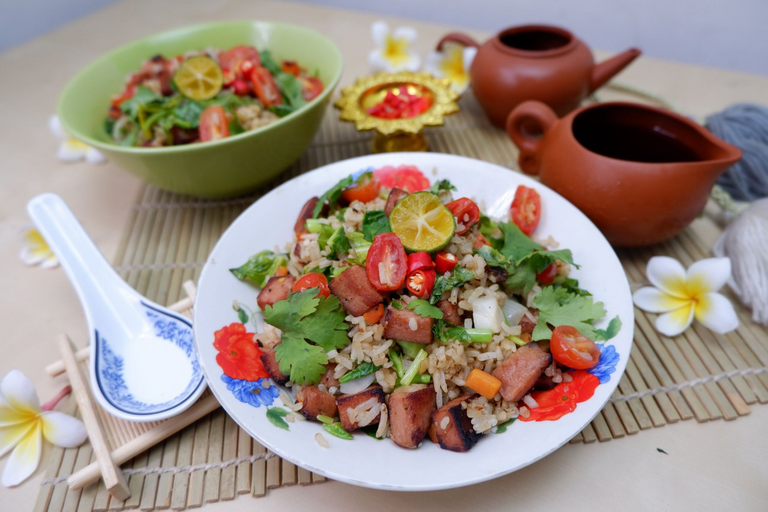 Vegan Fried Rice - Beautiful Breakfast Challenge
The first place in this challenge goes to @shineycristalline, who offers us a typical Thai breakfast based on rice, which she combines with various ingredients, including a vegan ham and adds a lot of flavor with the sauces she uses. This breakfast is really beautiful, practical and very nutritious.
Congratulations @shinecrystalline! You are the winner of 5 HIVE.

SECOND PLACE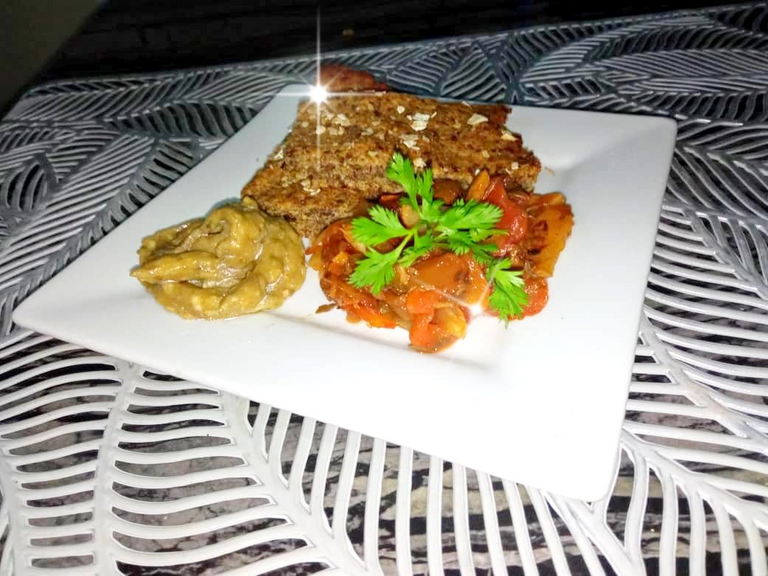 Rico desayuno vegano con pan de avena y linaza [ES|EN] // Yummy vegan breakfast with oat and flaxseed bread -The Brand New PLANT BASED challenge: Beautiful Breakfasts!.
by @marbrym
The second place of this challenge goes to @marbrym, who with a really complete post, which provides excellent nutritional data, serves us a beautiful breakfast based on a flaxseed and oat bread, an eggplant cream, sautéed sweet and sour tomatoes and a rich passion fruit juice with banana.
Congratulations @marbrym! You are the winner of 3 HIVE.

THIRD PLACE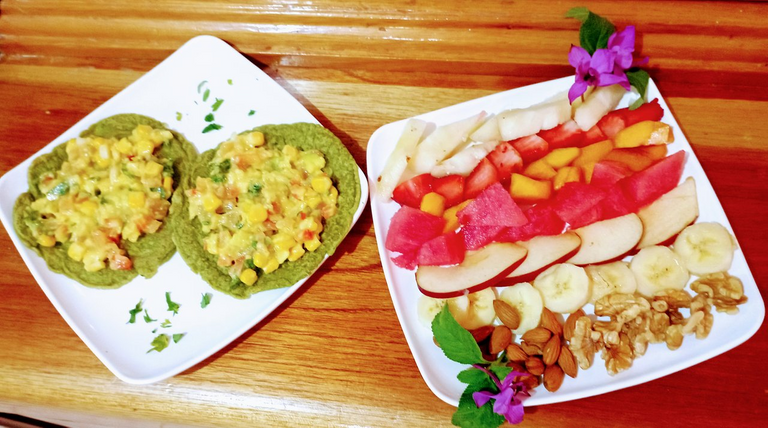 [ESP-ENG] Ensalada de frutas y tortillas de espinacas acompañadas con guacamole.//Fruit salad and spinach tortillas accompanied with guacamole.
by @marivic10
The third place of this challenge goes to @marivic10, who presents us with a double breakfast, first a delicious fruit salad accompanied by nuts, and then some spinach tortillas with a finger-licking guacamole. Truly a beautiful and nutritious breakfast!
Congratulations marivic10! You are the winner of 2 HIVE.

Transfers of the first, second and third prizes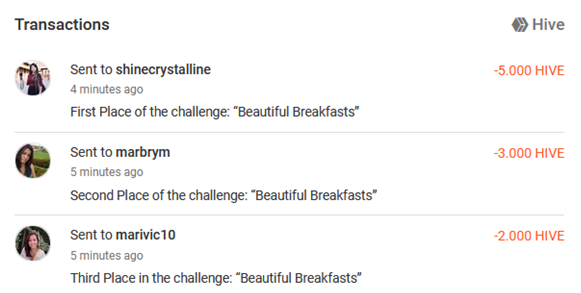 ---
Transfers of prizes for participation in the challenge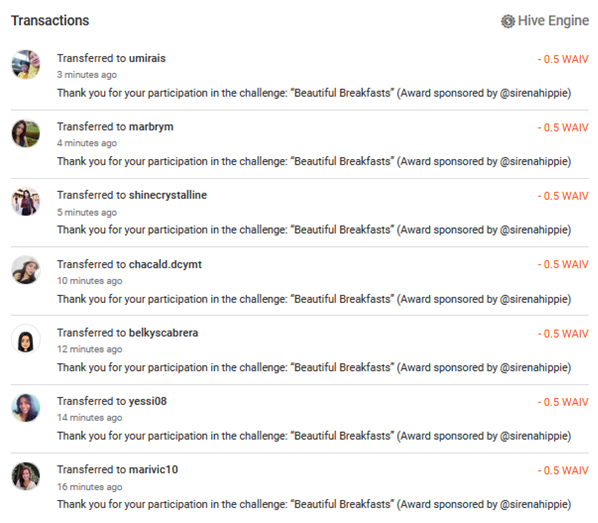 The Brand New PLANT BASED challenge (please read carefully the conditions and prizes)
I have already said it before: I have the firm conviction that eating soup is an act of love for ourselves, and not only with our body, but with our soul, our spirit, perhaps it is because it is food that I like the most, but it is undeniable that in difficult times, having a bowl of soup makes us feel happy, loved, nourished. For this reason, this time we want you to make a delicious Soup for the soul in the community challenge; but it will not be an ordinary soup, no, you will make a soup with at least five ingredients.
This challenge will have two particularities: We want you to tell us about what you feel when you eat this soup, what emotions, feelings or thoughts do you experience when eating it; and additionally we want you to appear in at least two photos making the soup for the soul. We are sure that each of the participants will present a fabulous, legendary recipe that will be nutritious and delicious.
We hope you have a lot of fun with this new themed challenge at HIVE!

CONDITIONS
---
Only one post per participant will be accepted.

Post must be published in this Plant Power (Vegan) community.

No meat, dairy or ANY animal products (milk, cheese, butter, honey, egg, etc.)

Please be original - no old content and nothing plagiarized! (The post that incurs in plagiarized will be disqualified).
You must appear in at least two photos making the recipe.
Use the tags: #vegan #plantpower #plant in the first five places.

Reblog this post if you can & mention it within the post.

Invite a friend!

Engage with others!

Drop your link below - no link, no entry!
---
PRIZES
---
1st prize is 5 HIVE. However, if there are over ten entries, we will also award a second and third place of 3 and 2 HIVE respectively!

HIVE rewards courtesy of @riverflows.
We look forward to giving additional prizes, sponsored by @sirenahippie.
If you'd like to sponsor this challenge, please drop a message below.
Great posts will be reblogged and maybe even tipped!
We look forward to your participation!


Delegations welcome!
Find our community here.
Curation Trail
---
---