This weekend post is a dumb-hunting trap. And it won't take you long to find out why.
"A satirical-poetic essay of loose parodies with tendentious humor to clearly distinguish the fragmentation of an audience from those for whom the matter amuses them and for those who do not"
«-Empathic Humor vs Derisive Humor-»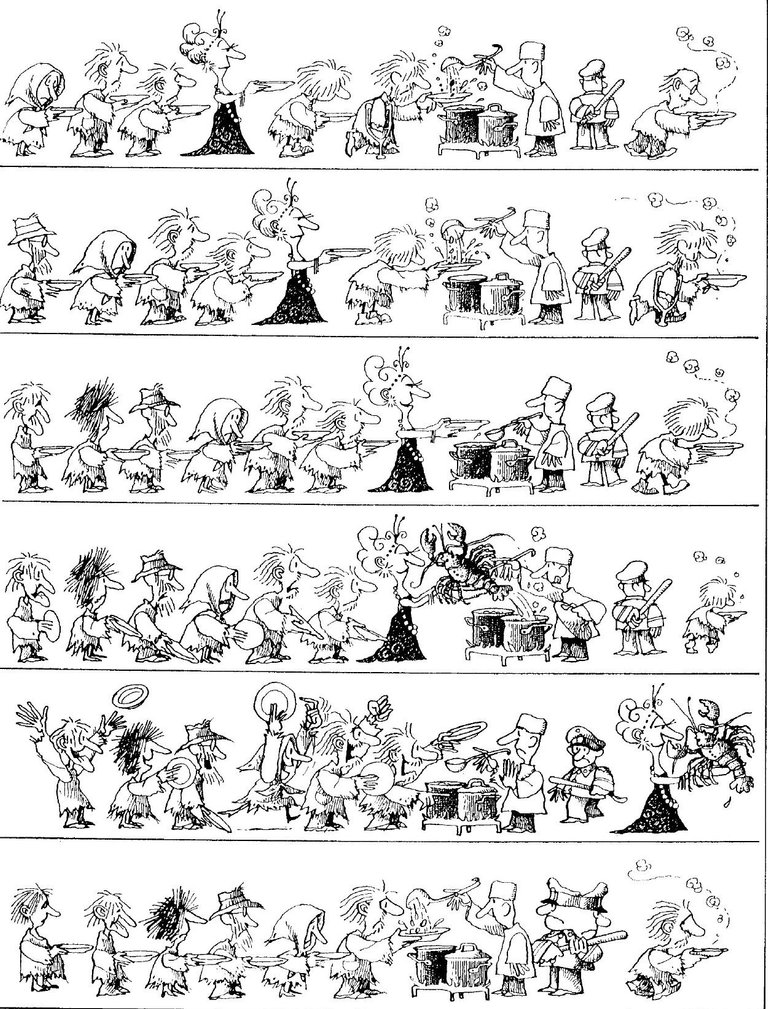 "The jocularity and spirit of the cynics at the pleasure of recognizing something already known, generally makes them laugh. Because able to grasping irony and sarcasm has made them wiser, more cautious and intelligent and therefore they are more apt and better equipped to survival"
Not surprisingly, the sense of humor is precisely one of the most difficult recognition patterns to synthesize and emulate by any algorithm in the technological systems of Artificial Intelligence. Which makes it one of the most challenging challenges yet to be solved on the grounds of the so-called AI Complete Problem. Due to the incalculable diversity and variety of invariable representations (worth the paradox), to accurately identify what is relevant from what is not within a specific context. In a context full of highly indeterministic rules and infinite permutations in the symbolic and sub-symbolic classification of entropy in Information Theory.
The authentic serious humor invariably appeals to the frequent use of incongruities, nonsense and extravagances with the rigorous purpose of making its audience think and reflect. To all its interlocutors, readers and listeners on duty with metaphorical and metapoetic exercises so that they unconsciously accept to decipher without resistance, with enthusiasm and joy the formal challenges that it poses to them.
Just by forcing them to enjoy with true curiosity, interest and delight the brain tickling that has been produced in them discovering the pleasant physiological reactions that before the conclusive sensation of surprise of having correctly grasped the epilogue of the true background of the hidden message between the lines. It eventually leads them to be aware of the act of immersion to which they have been involuntarily and spontaneously submitted without prior intention, internally performed within their belief system and previous experiences.
Which once explored, it brings afloat and brings to the surface of their formal reasoning, the outcome of the scrutiny that finally induces them to define and establish their apparent position on the scale of values ​​of the postulates in the "Theory of superiority" or the "Theory of derision" as the case may be, within the evolutionary range and social hierarchy of their own environment.
¡Choose your favorite!

Wit, by definition, is never narrative. And the targets toward whom its darts of self-perception and discernment are directed, par excellence, are almost always anonymous and highly generic.
That's why empathic humor always appeals to try to reward those who invariably tend to share our failures, our ineptitude, clumsiness, miseries or stupidity through a character who is capable of provoking empathy.
Whereas in the humor of derision, we usually deny our inferiority to point and mark as inferior to a third party. What basically feeds and reinforces the theory of superiority in humor. That often offers to the recipients of the covert message a self-righteous component that instinctively excludes them from the flaw that is exposed and criticized in an unconscious and furtive way.
So, from laughter, joy, happiness, humor, hilarity, and the intellectual pleasure of the empathic humor. In contrast to mockery, ridicule, hostility and emotional distancing from the situation and circumstances of the central character in the humor of derision. There is actually only one step.
Hence, as Descartes stated: "Laughter almost always has a slight point of hatred"
In which sometimes the perception of a defector lesser evil in someone we believe deserves it, this stimulus and experience, unexpectedly occurring, often leads us to laughter. Like some sort of unhealthy rejoicing mixed with subtle bursts of hatred and rejection which comes from what we perceive as a little evil in a person we think is worthy of it.
However, the jest and the modest joke exercised without excesses and manifested as an exclusively humorous quality in a balance of virtue that aims intentionally and surreptitiously to try to correct human vices and inconsistencies in a useful and uplifting way. Even though it clearly penetrates the grounds of the ridiculous and the absurd, it will assiduously be an evident quality of the sincere, frank and honest man, that inevitably invites us always to think and reflect irreversibly.
«-Three Different Ways of Laughing-»
«-Whales Dolphins and Minnows-»
Yup, indeed, that's right. The depth of our own pockets. The perceived apparent autonomy of the bulk of our wallets and our bank accounts. And the cognitive visual perspective provided by the 'height of the balcony' from which a humorous scene is viewed by us. It will greatly influence our ability to laugh.
More or less intensely, depending on our state of mind. A state of mind that will always depend on our closeness or on the contrary, curiously, on our distancing, detachment and depersonalization of the real or fictional character that invites us at that very moment to self-analysis. Placing ourselves in front and without escape to a scenario of comparative self-perception of internal reflection in search of a genuine reason to laugh at ourselves.
Because if we are actually unable to laugh at ourselves. Certainly, we will never find any peace, joy, satisfaction or hilarity in front of the continuous situations that constantly and perpetually life face us and always life irretrievably will face us.
«-'Abstract Aural Bit'-»
---
---