MARCH DO NOT PLAY NICE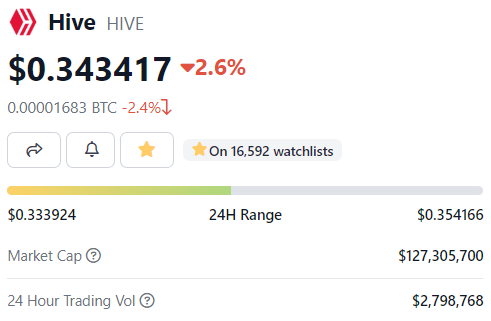 source
Everything you hear and read about, I hope you are built to be ready for it. It was last Tuesday Hive was trading around 41 cents. So even though volatility is almost nonexistent in the community we are not immune to see changes from time to times. When you trade against currency with more liquid you will see run from left to right. #Hive did fair well compare to others falling double digit with no recourse on the calendar.
I start to understand clearly 2023 will look even sad compare to last year. It is just a way to shake the market and allow crypto behavior to run or make it happen. Looking at 34 cents I imagine you run to grab some. Many think it could go lower scouting what is happening about what token is a security. #BTC was build in the hypothesis anyone should freely use it as money, security and more. I hope a bank with stronger backers see the real value behind crypto.
I do think today make sense to have that discussion. Do not let the news change your long term behavior. In crypto it is admirable to be proactive. If it does not make sense, you have to make a move.
#stablecons are truly the liquidity open door. #USCD will take back its footing's. I think #BINANCE is doing the right thing toward #USCD. One fall affects everyone. Helping one is alike you help the whole area. Resiliency is what keep crypto at bay. #hive is a pure example. #hbd even with 20% apr is slowly growing. With Hbd there is no I want it now. his is a solid deterrent that will establish a firm and equitable way for Hive to remain legit.
On the surface you might not sure what you should do. Do not forget the minute you sell at a loss, you lose. As long you can weather the storm and continue to plan, #crypto is prevailing.
Test of time is all happening. Just try to comprehend the dynamism of Hive can help you to put in place the power of the blockchain.
Eventually we need both #centralized and #decentralized to serve everyone. Like the picture shows you can see by the end of this month we are back at 50 cents.
I will not count the situational aspect we have to deal with. While you are thinking, someone decides to risk and profits 10x at your demise.
I admire the massive experience we have to tabulate.
By the way #LPUD is around the corner.
Plan accordingly.
Posted Using LeoFinance Beta
---
---