WE ARE RIGHT ON TIME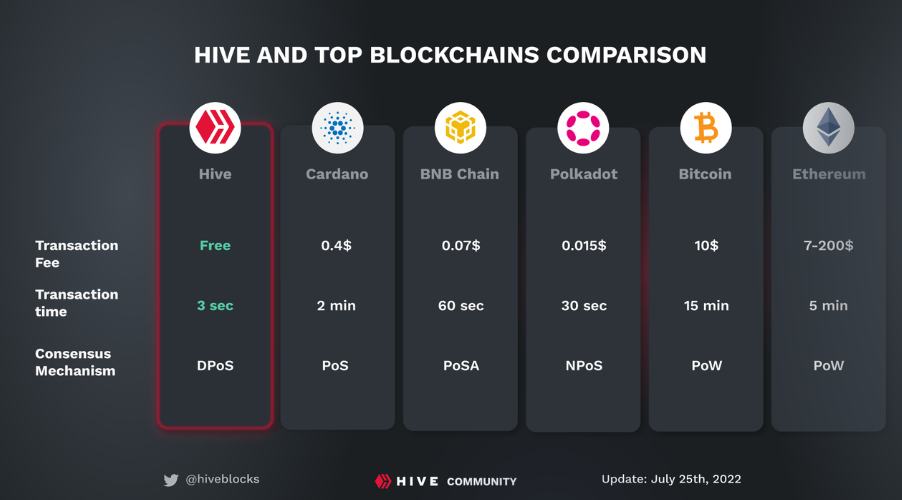 source
I was browsing through #coingecko and I saw this pic on #hive description note when you read what they have for this blockchain. I recalled seeing this a while back. Maybe the date of 2022 in July was when it was around. It is noticeable how advanced #hive is compared to the other blockchain. If you go straight to token price, Hive is not there yet. Funny to see #BTC is part of the list since it is by now the only blockchain running on #POW while the rests are all a form of #POS. There are way more applications to run a blockchain these days.
The technology is growing and getting better day by day. Looking at #hive giving the best for the bang, you would think it will be part of the top 100 tokens. Not really. Actually when you look at each of them, they were part of the hype stream and they are way down due to effect of 2020/2021. Even Hive was moving way high to come down like everyone.
Looking at transaction time and fee you wonder where is word of mouth. It should be so loud everyone will use #hive to save and propel the price to the sky. Not so fast. Now I have to say that cause everyone think they can achieve what Hive has done a while back. If you recall last year hard fork, the blockchain did show the transaction right away instead of waiting for two more blocks to show it. The three seconds are right there with you.
I will be not so worry if #hive is not like them. We have a trajectory of growth that is purely organic. It is because of you. You see value you stick around and do your proof of wait accordingly.
While we preach Hive is affordable, it is to some extent at 40 cents. The minute the dollar threshold sticks, the game changes. #RC will be more expensive. Holding will have a different meaning. Selling will be look twice, knowing #Hive at 30 cents could be history.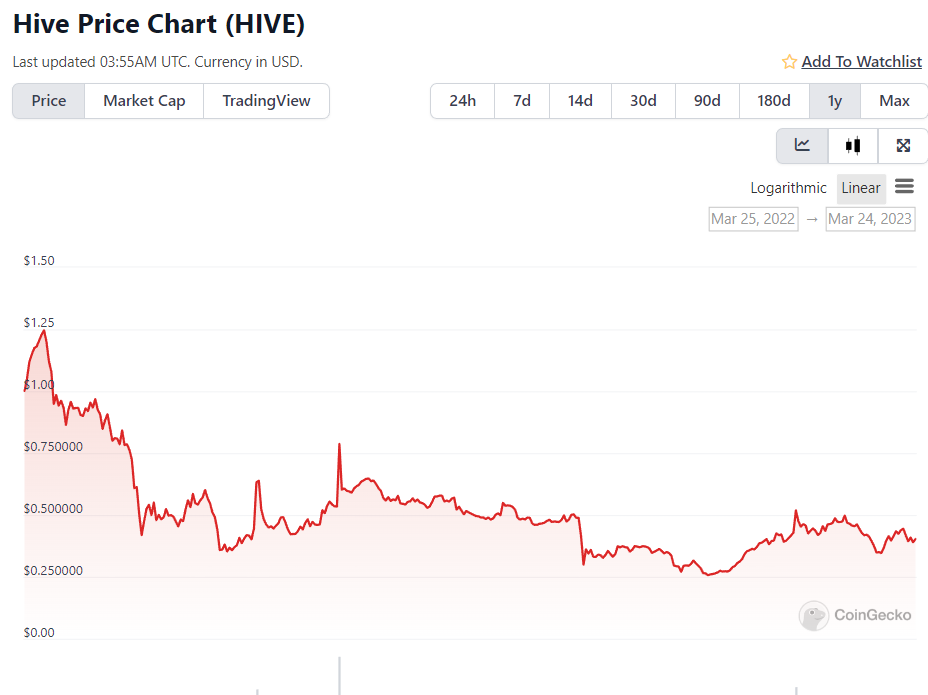 source
This is Hive year to date. The graph shows the value is consistent year around except at the beginning of this year mark, we were trading above the dollar mark. The circumstance is favorable for everyone looking to get ahead. From time to time I see pumps coming and change the landscape. We need one solid pump to stick the resistance elsewhere. With liquidity scare in the crypto land, this is what will happen when Hive sees another mountain.
Glad to know #hive was not born yesterday. The track record speaks for itself. Hard to control volatility, but the emotion runs flat with the prospect we have.
##BTC is on the road for $100k flat. It is a wait and see for all crypto in general.
The pressure is real for those with temptation to sell.
It is the right time to remain #focus and see where you can mount your proactive plan.
Again daily cost average always fulfil its promise as long you remain on course.
If banks small or big can fail, crypto will survive.
Posted Using LeoFinance Beta
---
---