Odds and Ends — 12 August 2022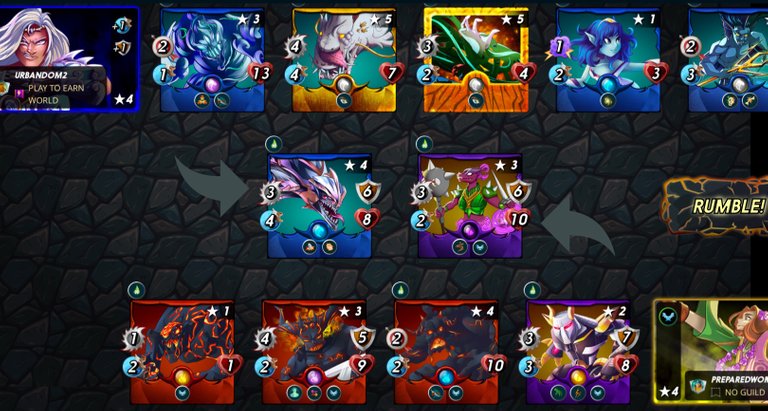 In an earthquake zone,
flying comes in handy
.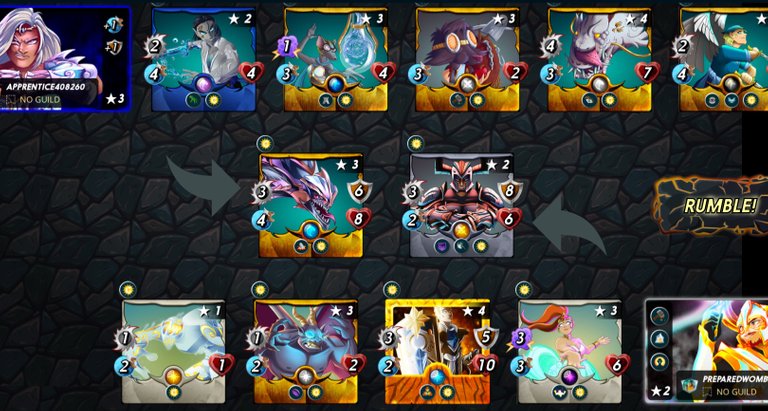 When Legionnaire Alvar is buffed by Repair,
he can be one tough cookie
.
Oh yes, I had fun last night. For the first time since the coronapocalypse hit, I played in a poker tournament at my local card room. And not just holdem, it was a Crazy Pineapple tournament. 99 entrants, so 10 people cashed. But I didn't make the final table, got knocked out in the 8th round of blinds when my flopped trip Jacks got rivered by a straight. I played pretty well overall, no real blunders, but perhaps a bit too conservatively after the 5th or 6th round of blinds when I maybe should have gotten a bit more laggy.
Cryptocurrency, Investing, Money, Economy, and Debt:
Ethereum's Third and Final Testnet Merge Goes Live on Goerli
Republicans Are Outraged at Joe Biden for Accurately Describing the Economy
Wholesale inflation fell 0.5% in July, in another sign that price increases are slowing
Meta's chatbot says the company 'exploits people'
Coronavirus News, Analysis, and Opinion:
North Korea declares 'victory' over Covid
Adventures in Book Banning:
Virginia Republicans are testing a new way to ban books and restrict their sales. In the long run, it might just work.
A mom's campaign to ban library books divided a Texas town — and her own family
Politics:
Justice Department asks a federal court to unseal warrant used to search Mar-A-Lago
"Since Trump can oppose the release of the warrant, Garland is essentially calling his bluff." — Taegan Goddard
Trump Spent the Day Making Himself Look Incredibly Guilty of Multiple Crimes
Whoa: FBI Searched Trump's Home for Nuclear Documents
"Anything short of finding the nuclear codes at Mar-a-Lago is going to hugely backfire on the Biden administration." — GOP operative Alice Stewart, on CNN just two days ago.
Hubris is a lovely thing: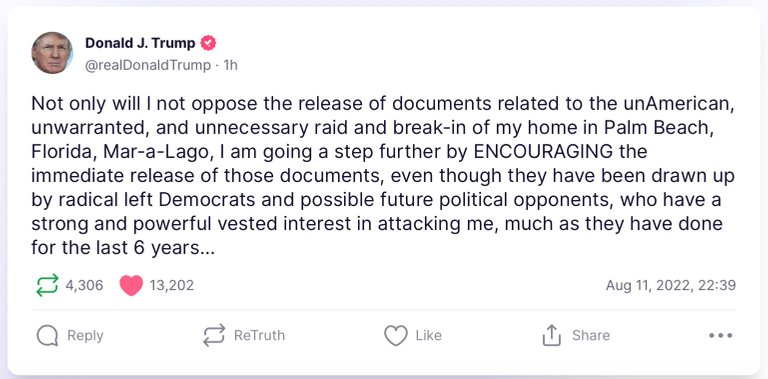 Republicans: "Unseal the warrant! Unseal the warrant! Unseal the warrant!"

DOJ: "We're going to unseal the warrant."

Republicans: "Oh fuck."

— Middle Age Riot (@middleageriot) August 11, 2022
Republicans may have shot themselves in the foot by hammering the DOJ to release the Mar-a-Lago search warrant
Trump Allies Worry More Damaging News Is Coming
Some senior Republicans have been warned by allies of Mr. Trump not to continue to be aggressive in criticizing the Justice Department and the F.B.I. over the matter because it is possible that more damaging information about Mr. Trump related to the search will eventually become public.
Perhaps that's why why Fox & Friends changed their tune.
Faced with a rise of extremism within its ranks, the US military has clamped down on racist speech, including retweets and likes
Growing Paranoia In Trumpland About FBI Raid
A wave of concern and even paranoia is gripping parts of Trump world as federal investigators tighten their grip on the former president and his inner circle.
In the wake of news that the FBI agents executed a court-authorized search warrant at Donald Trump's Mar-a-Lago residence in Florida, Trump's allies and aides have begun buzzing about a host of potential explanations and worries. Among those being bandied about is that the search was a pretext to fish for other incriminating evidence, that the FBI doctored evidence to support its search warrant — and then planted some incriminating materials and recording devices at Mar-a-Lago for good measure — and even that the timing of the search was meant to be a historical echo of the day President Richard Nixon resigned in 1974.
What QAnon Thinks the FBI Raid Was About
Trump's Effort to Impugn the FBI Worked
The first minutes after Donald Trump announced that his Florida estate had been searched by FBI agents went better than the former president could have imagined. His years-long effort to cast the bureau as inherently biased against him quickly prompted even Trump-skeptical Republicans to side with him against the devious Deep State. The wagon-circling reportedly pleased Trump, whose team saw a new breath of unity with Trump as its focus.
That this reaction was based on claims of political bias within the FBI that have no basis in the available evidence was beside the point. The point was that the FBI became the opposition, just as Trump would have hoped.
But it turns out that this wasn't enough. Baseless assertions of impropriety and bias by the FBI have now been kicked up a notch with multiple figures on the right claiming — again without evidence, much less justification — that maybe the feds planted evidence as they combed through Mar-a-Lago. Because, it seems, any opponent of Trump's must be cast in the most nefarious terms possible.
Trump Shares Video With QAnon Song, Conspiracy Theorists See Writing On The Wall
Someone Tipped Off FBI About Documents at Mar-a-Lago
And not only was Trump lying about retaining additional classified materials, according to the informant, this Trump insider knew precisely where they were.
I'd like to think that it was one of his kids screwing over dear old dad, but odds are it was a Secret Service agent. There are after all required to report illegal activity.
PHOTO FUN: WHO'S WEARING A WIRE? pic.twitter.com/lhA4zPFtI2

— Middle Age Riot (@middleageriot) August 11, 2022
FBI Director Wray denounces threats over search of Trump's home
Historians Warn Biden Democracy Is Teetering
President Biden paused last week, during one of the busiest stretches of his presidency, for a nearly two-hour private history lesson from a group of academics who raised alarms about the dire condition of democracy at home and abroad.
The conversation during a ferocious lightning storm on Aug. 4 unfolded as a sort of Socratic dialogue between the commander in chief and a select group of scholars, who painted the current moment as among the most perilous in modern history for democratic governance.
Comparisons were made to the years before the 1860 election when Abraham Lincoln warned that a 'house divided against itself cannot stand' and the lead-up to the 1940 election, when President Franklin D. Roosevelt battled rising domestic sympathy for European fascism and resistance to the United States joining World War II.
Judge Who Signed Warrant Faces Threats and Pro-Trump Media Attacks
Trump Hires Criminal Defense Attorney in Georgia
Former President Donald Trump has retained Drew Findling as his attorney to represent him in the ongoing criminal investigation by the Fulton County special purpose grand jury examining what happened in Georgia after the 2020 presidential election.
Findling is a highly regarded criminal defense attorney who has represented numerous notable clients.
Make sure to get paid in advance. The dude has a history of not paying bills.
Video analysis reveals Russian attack on Ukrainian nuclear plant veered near disaster
Trump Invoked the Fifth 440 Times
Former President Donald Trump invoked his Fifth Amendment right more than 440 times Wednesday in refusing to answer questions at a deposition by lawyers for New York Attorney General Letitia James, who is investigating the Trump Organization's business practices.
Trump answered just one question — his name — and then cited the Fifth on every other question he was asked during the deposition.
Trump flashback: "If you're innocent, why are you taking the 5th Amendment?"
Trump Claims He's a Victim of Tactics He Once Deployed
Throughout his four years in the White House, Mr. Trump tried to turn the nation's law enforcement apparatus into an instrument of political power to carry out his wishes. Now as the F.B.I. under Mr. Wray has executed an unprecedented search warrant at the former president's Florida home, Mr. Trump is accusing the nation's justice system of being exactly what he tried to turn it into: a political weapon for a president, just not for him.
There is, in fact, no evidence that President Biden has had any role in the investigation. Mr. Biden has not publicly demanded that the Justice Department lock up Mr. Trump the way Mr. Trump publicly demanded that the Justice Department lock up Mr. Biden and other Democrats. Nor has anyone knowledgeably contradicted the White House statement that it was not even informed about the search at Mar-a-Lago beforehand, much less involved in ordering it. But Mr. Trump has a long history of accusing adversaries of doing what he himself does or would do in the same situation.
Sen. Lindsey Graham a no-show at scheduled Fulton County court appearance
Serendipity:
58% of human infectious diseases can be worsened by climate change – we scoured 77,000 studies to map the pathways
Social media posts warn people not to call 988. Here's what you need to know


Badge thanks to @arcange
---
---