Odds and Ends — 19 November 2021
Date Night!:
Since the coronapocalypse hit, we've had few chances to go out with friends. But last night I got to go out with my wife, her sister @jayna, and Jayna's husband for dinner, drinks, and live music.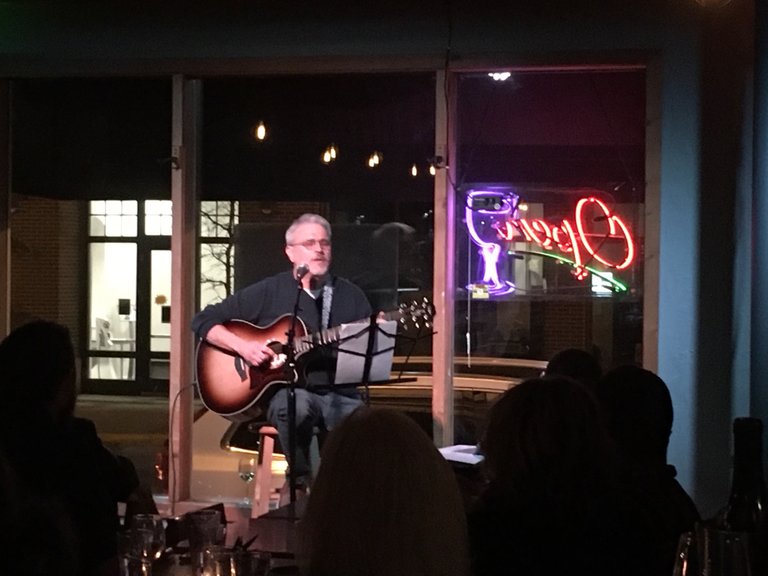 We went to see Bruce Bednarchuk at a local "listening cafe" and had a blast. Mostly cover songs (Neil Young, Seals and Crofts, yadda, yadda, yadda) and several originals (Bruce wrote at least one song that made a Billboard Top 50 list back in the seventies for a Wisconsin band that I'd never heard of). Much fun was had. There's a non-zero chance that I might have consumed a bit too much beer. My bad.
Cryptocurrency, Investing, Money, Economy, and Debt:
Fed is losing credibility over its inflation narrative, Mohamed El-Erian says
Bitcoin falls to a 1-month low after a 6% dive drops BTC price to $56.6K
California Forecast Shows $31 Billion Surplus
California will have so much money next year that state officials will likely have to give some of it back to taxpayers to meet constitutional limits on state spending.
US Congressmen Introduce Bill to Modify Crypto Tax Provision in Infrastructure Law
Coronavirus News, Analysis, and Opinion:
Religious exemptions against COVID-19 vaccine mandate ends Monday for health care workers in New York State
Merkel: Germany hit by full force of Covid
A Reality Check on Vaccination
Politics:
"And you know, what I learned all too painfully was, it happens one day at a time, one small concession at a time in the beginning, one small lie, followed by a demand for a bigger lie and a bigger concession, a bigger moral lapse, followed by another until you know, these folks that I admired and respected, because I believe that they believe what they were saying, had given themselves up so completely to Donald Trump and his immorality."
Judge Rejects Bannon Effort to Slow Walk Contempt Case
"Trump broke Ted Cruz. A real man would be defending his wife, and his father and the Constitution." — Rep. Liz Cheney (R-WY), on CNN.
Belarus Clears Migrants at Polish Border
"The hastily constructed migrant encampments at the main border crossing into Poland from Belarus were cleared by the Belarusian government on Thursday morning, removing, for the moment, a major flashpoint that has raised tensions across Europe." (NYT)
"Belarus's Lukashenko tried to use migrants as a weapon. That's now turned against him." (WaPo)
Omar Goes On A Tear In Response To Boebert's Racist Drivel
The Terrifying Future of the American Right
Over the past few decades there have been various efforts to replace the Reagan Paradigm: the national-greatness conservatism of John McCain; the compassionate conservatism of George W. Bush; the Reformicon conservatism of the D.C. think tanks in the 21st century.
But the Trumpian onslaught succeeded where these movements have so far fizzled because Trump understood better than they did the coalescence of the new American cultural/corporate elite and the potency of populist anger against it. Thus the display of Ivy League populism I witnessed in Orlando might well represent the alarming future of the American right: the fusing of the culture war and the class war into one epic Marxist Götterdämmerung.
And isn't it a great day when you get to use "Götterdämmerung" in a sentence?
GOP Revives McCarthyism While Grilling Biden's Pick For Bank Regulator
Trump and his regime committed — or at least condoned — mass murder. America just doesn't care
Serendipity:
A lab-stage mRNA vaccine targeting ticks may offer protection against Lyme and other tick-borne diseases


Badge thanks to @arcange
---
---