Odds and Ends — 22 January 2022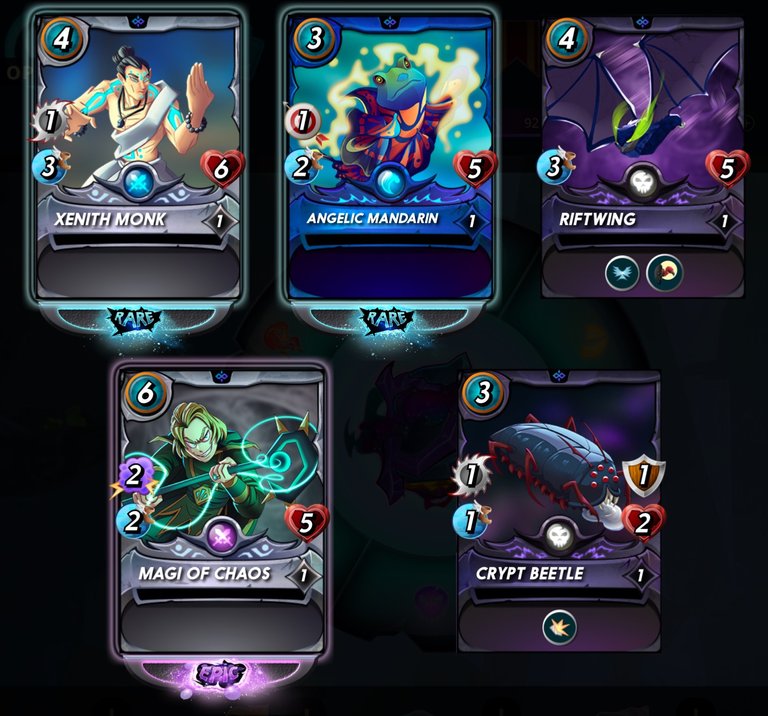 In my latest Chaos Legion card pack opening, two Rares and an Epic.
Yes, This is Where I Live:
WEB OF LIES: Hutchinson case file shows sheriff repeatedly lied after 126 mph drunk-driving crash
I live in Hennepin County. This is my sheriff.
Cryptocurrency, Investing, Money, Economy, and Debt:
Bank Of America: If The Nasdaq Closes Below 14,000, All Hell Breaks Loose
Well, 13,768.92 was yesterday's close.
SEC rejects MicroStrategy's Bitcoin accounting practices
Russia's Central Bank Proposes Cryptocurrency Ban
Russia's central bank has proposed outlawing all cryptocurrency operations in the country, one of the world's biggest centers for mining digital tokens.
Under the draft proposals, Russia would ban all cryptocurrency issuance and operations, stop banks from investing in cryptocurrencies, block exchanging crypto for traditional currency, and introduce legal liability for using crypto in purchases.
Coronavirus News, Analysis, and Opinion:
Vaccines Offer Strong Protection Against Omicron
Vaccine boosters provide robust protection against severe disease from the omicron variant in the United States, according to three reports released Friday that offer the first real-world data in this country showing the utility of the additional shots in keeping vaccinated people out of the hospital.
Anti-Vaxxers to Rally In Washington, DC
As anti-vaccine activists from across the country prepare to gather on the steps of the Lincoln Memorial on Sunday, they are hoping their rally will mark a once-fringe movement's arrival as a lasting force in American society.
Almost two years into the coronavirus pandemic, the movement to challenge vaccines' safety — and reject vaccine mandates — has never been stronger. An ideology whose most notable adherents were once religious fundamentalists and minor celebrities is now firmly entrenched among tens of millions of Americans.
Politics:
Trump campaign officials, led by Rudy Giuliani, oversaw fake electors plot in 7 states
Pressure Grows to Investigate Fake Electors Plot
Law enforcement officials, members of Congress and the House committee investigating the Jan. 6 attack on the Capitol are digging deeper into the role that fake slates of electors played in efforts by former President Donald Trump to cling to power after he lost the 2020 election.
In recent days, the state attorneys general in Michigan and New Mexico have asked the Justice Department to investigate fake slates of electors that falsely claimed that Mr. Trump, not Joe Biden, had won their states.
DeSantis Campaigns On Ensuring White Floridians Don't Feel 'Discomfort' About Systemic Racism
It is hard to accept when you might actually be the real snowflake.
But that's the bitter pill Florida Republicans find themselves having to swallow.
Read the never-issued Trump order that would have seized voting machines
Trump Friends Concerned About His Pick of Lawyer
Close associates and advisers to Donald Trump tell Axios they're concerned by his decision to use a relatively inexperienced New Jersey attorney, Alina Habba, in his high-stakes legal fight against New York Attorney General Letitia James.
A former president typically has access to the country's most prestigious experts, including lawyers. Trump has turned to the former general counsel for a parking garage company, who works from a small law office near his Bedminster, N.J., country club.
U.S. charges Belarus officials with air piracy in reporter's arrest
House Select Committee Now Has Trump's Papers
The National Archives has transferred hundreds of pages of Donald Trump's White House records to the Jan. 6 select committee, a major breakthrough for the panel's investigation after it prevailed in litigation against the former president.
Those files are drawn from former chief of staff Mark Meadows, former press secretary Kayleigh McEnany, former adviser Stephen Miller and other senior Trump aides.
They include speech drafts, call and visitor logs, briefing memos and handwritten notes pertaining to Trump's months-long effort to overturn the 2020 election.
And, in related news: Thousands of Giuliani Texts Shared with Prosecutors
The retired federal judge assigned to review the contents of 18 electronic devices seized from Rudy Giuliani's home and offices in Manhattan last spring has withheld about half of what former president Donald Trump's personal lawyer argued should be kept out of the hands of investigators because it was privileged.
More than 3,000 communications were released to prosecutors.
Wisconsin GOP lawmaker calls for election cheating in video
DOJ Task Force On Election Worker Threats Makes First Arrest
Serendipity:
Everything you ever wanted to know about Benford's Law
We Have Breached the Planetary Boundary for Plastics and Other Chemical Pollutants, Scientists Say


Badge thanks to @arcange
---
---