Odds and Ends — 4 August 2022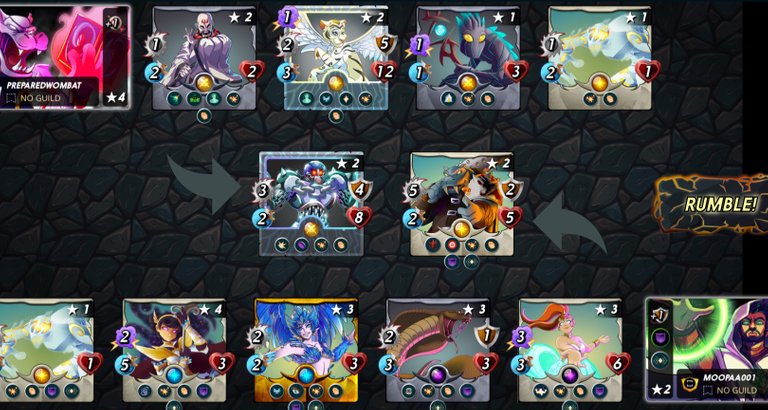 Kralus is a beast
(29 mana, Explosive Weaponry and Spreading Fury rule sets).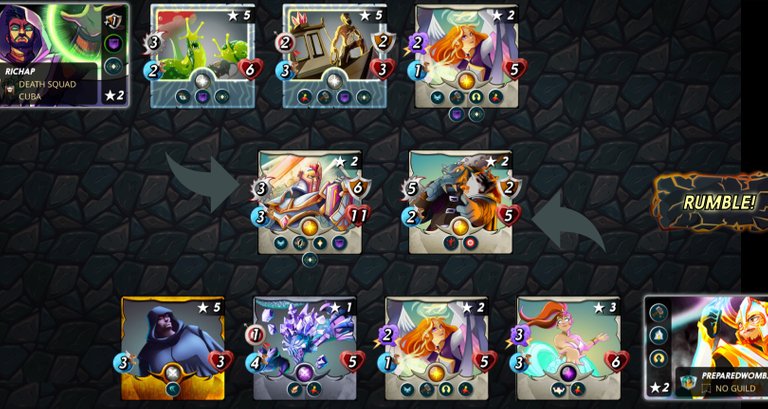 Life vs. Life
, Chanseus the Great and Grandmaster Rathe duke it out (34 mana, Odd Ones Out and Target Practice rule sets).
Cryptocurrency, Investing, Money, Economy, and Debt:
Panama Shows Signals of Becoming the Next Sri Lanka
Gas Prices Have Fallen for 49 Straight Days
U.S. gas prices have fallen for seven straight weeks and are approaching an average price of $4 a gallon, easing the pain of record-high fuel costs amid shrinking global demand for oil.
World's Biggest Hedge Fund Sees Years of Stagflation.
Coronavirus News, Analysis, and Opinion:
CDC expected to ease Covid-19 recommendations, including for schools, as soon as this week
Study indicates that cross-reactive immunity against SARS-CoV-2 N protein was present in Africa prior to the pandemic
Politics:
The Good, the Bad and the Very Ugly
Democrats' Reconciliation Bill Would Cut Deficit
Not to worry. Call it a guess, but Congress will somehow find another way to raise the deficit.
Election Deniers Could Oversee Elections in 4 Swing States
Each has spread falsehoods about fraud and illegitimate ballots, endorsing the failed effort to override the 2020 results and keep former President Donald Trump in power. Their history of anti-democratic impulses has prompted Democrats, democracy experts and even some fellow Republicans to question whether these officials would oversee fair elections and certify winners they didn't support.
There is no question that victories by these candidates in November could lead to sweeping changes to how millions of Americans vote.
I'm shocked, shocked I say: Trump's 'Free Speech' Network Is Banning Posts
What not to do when you're under oath sitting next to the judge overseeing your trial (you've really gotta watch the video):
Alex Jones, seconds after being told that his lawyer mistakenly sent a huge cache of texts to Sandy Hook families' attorney:

"This is your Perry Mason moment" pic.twitter.com/f6byn6N6VA

— Bill Grueskin (@BGrueskin) August 3, 2022
Criminalization of pregnancy has already been happening to the poor and women of color
Pro-Trump activists swamp election officials with sprawling records requests
"Ukraine-Russia grain deal could expand into ceasefire, Putin ally Gerhard Schroeder says. Then he went on to speak about Leprechauns and the magical powers of crystals" — Drew Curtis
Abortion Rights Jolt the Midterms
It would have been a victory for Democrats and abortion rights activists if they'd even kept it close in Kansas.
Instead, as the heavily Republican state rejected an anti-abortion constitutional amendment, it marked a political earthquake with the potential to reshape the entire midterm campaign.
And if the politics of Roe proved fraught for Republicans in Kansas, it's going to be even more treacherous for the GOP in swing-ier, more moderate swaths of the country.
Arizona GOP Candidate Warned Over Election Interference
Wow. Ron Johnson just said Congress should end the guaranteed benefits of Social Security and Medicare, calling the programs that millions paid into a "debt burden"

He said Congress should hold a vote on whether to cut off funding for the programs. pic.twitter.com/DT4VlIqDXk

— Parker Butler (@parkerpbutler) August 3, 2022
Conservatives Are Pushing Absurd Excuses for Kansas Voting to Protect Abortion Access
Serendipity:
Breaking Nicotine's Powerful Draw
At some point in the next few years, the 30 million smokers in the United States could wake up one day to find that cigarettes sold at gas stations, convenience stores and smoke shops contain such minuscule amounts of nicotine that they cannot get their usual fix when lighting up.
Batgirl movie scrapped months before planned release
Illinois gets a foot of rain, the U.S.'s 3rd 1,000-year rain in 1 week


Badge thanks to @arcange
---
---