So Many Books, So Little Time
Emily Temple of Literary Hub has come up with estimates of how many books one might read until one shuffles off this mortal coil. (As an aside, the mortal coil bit is originally from Hamlet and Billy Shakes had more fun with it in his Elizabethan style: "What dreames may come, When we haue shufflel'd off this mortall coile, Must giue vs pawse.")
Her guesstimate for me is that I have a bit more than a thousand books left. Rather depressing. Even if I went back to speed-reading (which I did for a while in my late teens and early twenties, i.e. when the earth was still cooling), I'd probably only up that to five or six thousand.
I'm somewhere in the voracious reader category and typically am reading several books simultaneously. Voracious readers fall broadly into two categories: those who read one book and then move on to another book, and those who jump between books. Either is a great way to read but, for what it's worth, I fall into the second category.
Or at least I did, prior to falling down the rabbit hole and landing first on the old chain then in Hivelandia. I used to read at least 40-50 books a year but a while back Good-Bye to All That by Robert Graves took me several months to get through. It's a book that I cannot recommend highly enough, an autobiography that is mostly about his experiences on the western front during WW1, but also some of his life before and after the trenches.
In some of the after, when he was at Oxford and friends with T.E. Lawrence:
Professor Edgeworth, of All Souls', avoided conversational English, persistently using words and phrases that one expects to meet only in books. One evening, Lawrence returned from a visit to London, and Edgeworth met him at the gate. 'Was it very caliginous in the metropolis?'
'Somewhat caliginous, but not altogether inpissated,' Lawrence replied gravely.
You probably won't stumble onto something like that while surfing the web.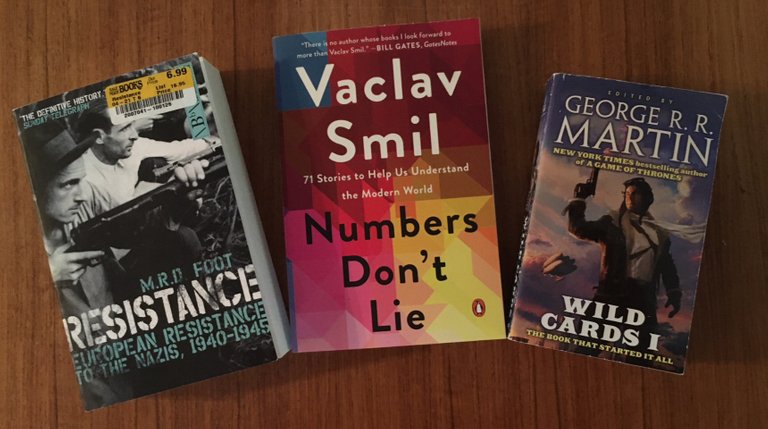 Right now I'm reading Resistance: European Resistance to the Nazis, 1940–1945 by M.R.D. Foot, Numbers Don't Lie: 71 Stories to Help Us Understand the Modern World by Vaclav Smil (a tip of the hat to @zuerich for suggesting Smil), and for "light reading", Wild Cards I, edited by George R.R. Martin of Game of Thrones fame. He's now edited more than two dozen books in the Wild Cards series; might that be part of why the next book in the A Song of Ice and Fire series is taking so long to reach his publisher?
But if I'm reading less since becoming a citizen of Hivelandia, I at least had been writing more fiction. So far, it's all been short-format stuff: #freewrite and #fiftywords with an occasional #zapfic along the way. But even that seems to have dried up. I don't think I've uploaded any fiction for at least a few months. Still haven't done a longer piece, maybe #nanowrimo some November?
There's just not enough time. My book piles (physical and virtual) of reading I want to do are big and constantly getting bigger. I've only read about a dozen books in the Repairman Jack series, clearly I'm slacking. I need to read more Charlie Huston. I've only scratched the surface of the great Russian writers. Most of Borges awaits. In Search of Lost Time's first volume sits on the shelf giving me a come-hither look (well, I did get a couple of hundred pages into it a year ago). And then there's so much non-fiction waiting in the wings. How to Play the Piano by James Rhodes beckons. And several books about the American Revolution. And on, and on, and on.
Odd factoid: I'd thought that I'd come up with that "So many books, so little time" witticism, but now I'm not sure. I recently found out that it's a Frank Zappa quote. Did Frank and I come up with it independently, or did I read something from/about him years ago that I've now forgotten about?


Badge thanks to @arcange
---
---