[EN/ES/BG] A Walk In the Plovdiv City Park / Un paseo por el parque de la ciudad de Plovdiv / Разходка в градския парк на Пловдив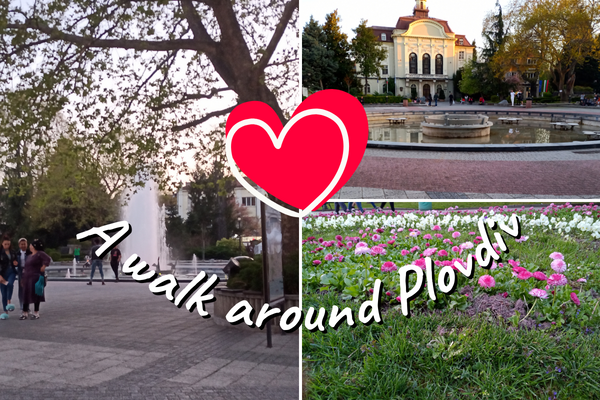 Hello, today I want to show you around the city park of a great city. I had the opportunity to visit it in April when I was a grown up, I came to the city once many years ago when I was a student in the small classes.
I will show you what you can see in the city park. Since I live by the sea and we have a sea garden there, I don't know why I kept looking around to catch a glimpse of the sea there, to feel its fragrance, and the breeze coming from it.
Before reaching the city park we crossed the city center.
Hola, hoy quiero enseñaros el parque urbano de una gran ciudad. Tuve la oportunidad de visitarlo en abril cuando era un adulto, vine a la ciudad una vez hace muchos años cuando era un estudiante en las clases pequeñas.
Te mostraré lo que puedes ver en el parque de la ciudad. Como vivo junto al mar y tenemos allí un jardín marino, no sé por qué me quedé mirando para vislumbrar el mar allí, para sentir su fragancia y la brisa que viene de él.
Antes de llegar al parque de la ciudad cruzamos el centro de la ciudad.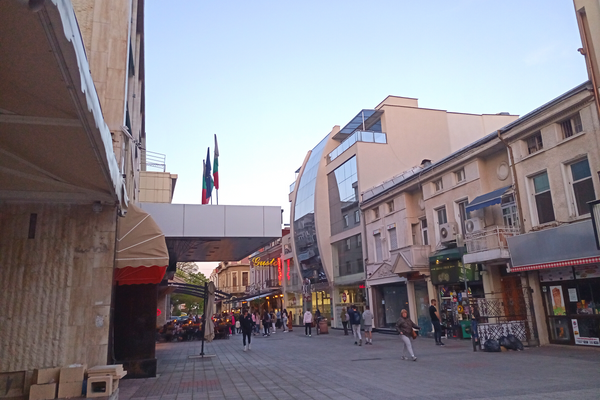 My colleagues there told me that this was a very famous fountain - it was singing, that is, when the water rose up a different ringing could be heard from each hole, thus forming a melody. I don't know how true that is because when we crossed the water wasn't running, and on the way back we were too far away to hear anything. Never mind, I have an incentive to come to Plovdiv again and see for myself.
Mis compañeros de allí me contaron que ésta era una fuente muy famosa: cantaba, es decir, cuando el agua subía se oía un repique diferente en cada agujero, formando así una melodía. No sé hasta qué punto es cierto, porque cuando cruzamos el agua no corría, y a la vuelta estábamos demasiado lejos para oír nada. No importa, tengo un incentivo para venir a Plovdiv de nuevo y ver por mí mismo.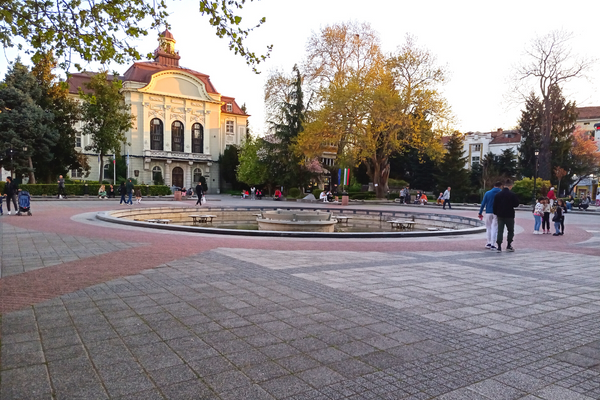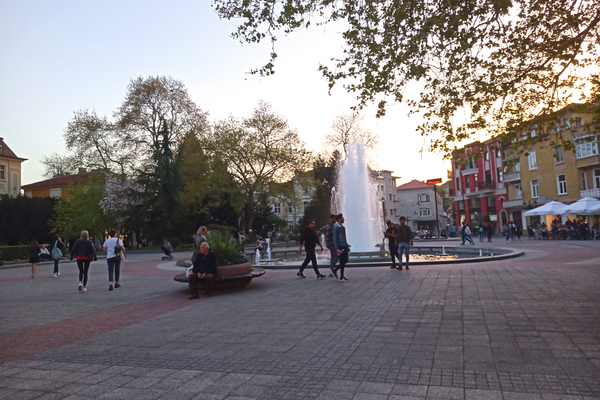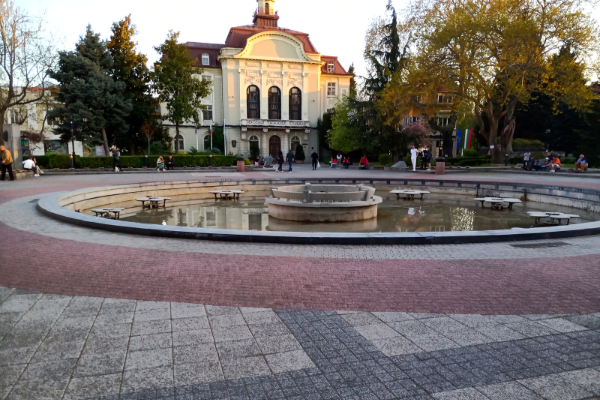 I loved the setting there, it was so quiet! I can't describe it how it felt to walk quietly with someone and have a normal conversation going on, not constantly repeating "DON'T PEE THERE", "THIS IS NOT EATING", "HOW MANY TIMES ARE YOU GOING TO JUMP IN THIS SHACK". I really enjoyed it!
Me encantó el entorno de allí, ¡era tan tranquilo! No puedo describir lo que se sentía al caminar tranquilamente con alguien y tener una conversación normal, no repetir constantemente "no orines ahí", "esto no es comer", "¿cuántas veces vas a saltar en esta choza?". ¡Realmente lo disfruté!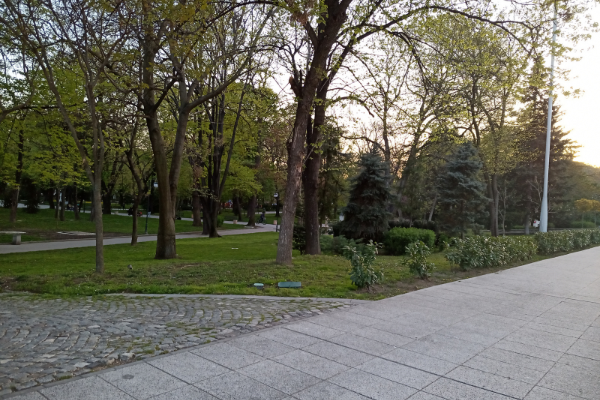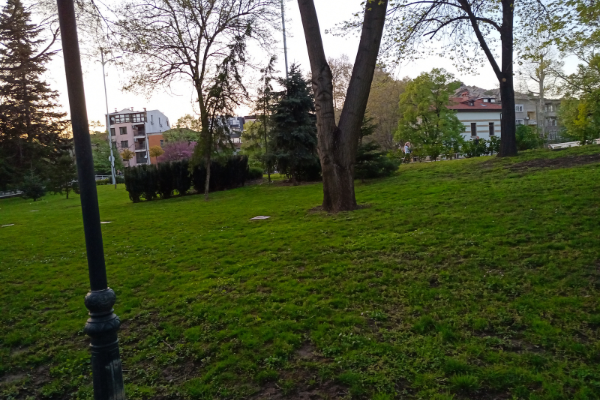 There was a lot of greenery and people gathered on the benches having nice conversations. There were people of all ages, both mothers with prams and teenagers with scooters and bikes, even elderly people, or as we colloquially say here "the pensioner benches are busy again".
Había mucho verde y gente reunida en los bancos manteniendo agradables conversaciones. Había gente de todas las edades, tanto madres con cochecitos como adolescentes con patinetes y bicicletas, incluso personas mayores, o como decimos coloquialmente aquí "los bancos de los jubilados vuelven a estar ocupados".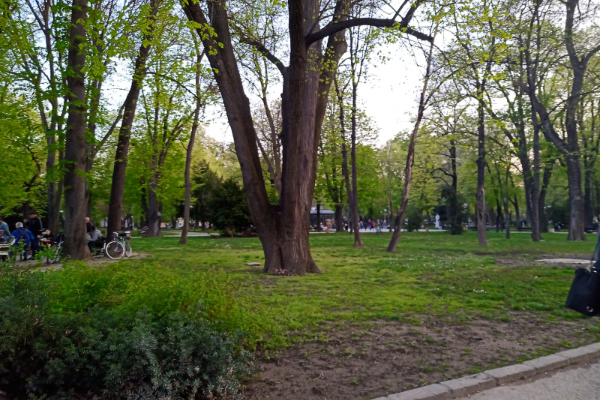 I loved the flower lined walkways with so much colour. I was trying my best not to take pictures of people when I was taking pictures, but I caught someone else in the distance, so it was hard on one hand not to get separated from our group, and on the other to capture something beautiful and amazing.
Me encantaron los paseos floreados con tanto colorido. Intentaba por todos los medios no fotografiar a la gente cuando hacía fotos, pero pillé a alguien más en la distancia, así que era difícil por un lado no separarse de nuestro grupo, y por otro captar algo bonito y sorprendente.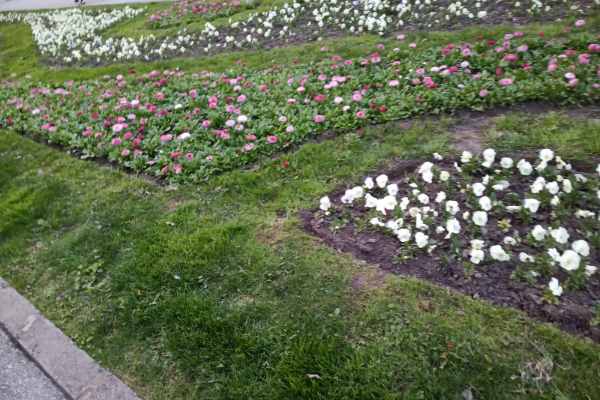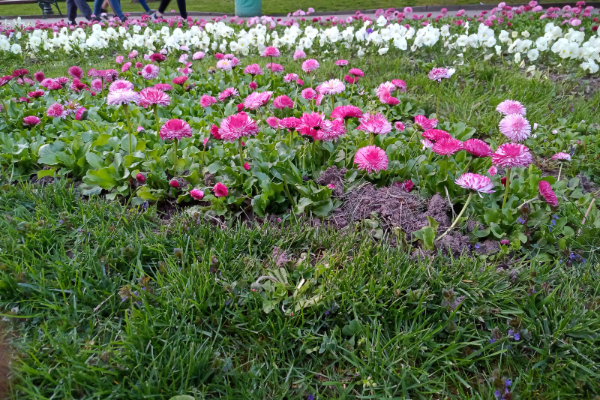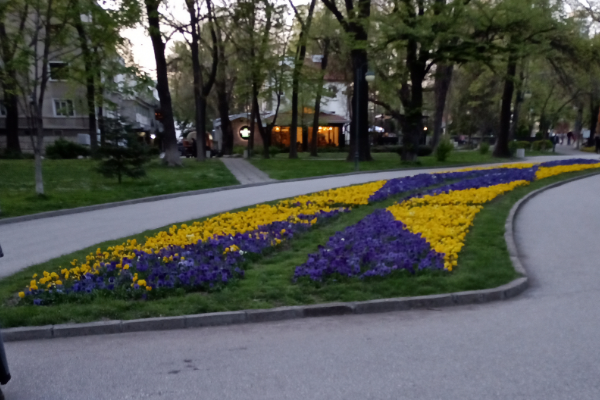 My colleagues seeing that I am such an enthusiastic "photographer" even purposely pointed me to interesting shots! Like this tree with those lovely pink blossoms.
Mis compañeros al ver que soy una "fotógrafa" tan entusiasta, ¡incluso me señalaron a propósito tomas interesantes! Como este árbol con esas preciosas flores rosas.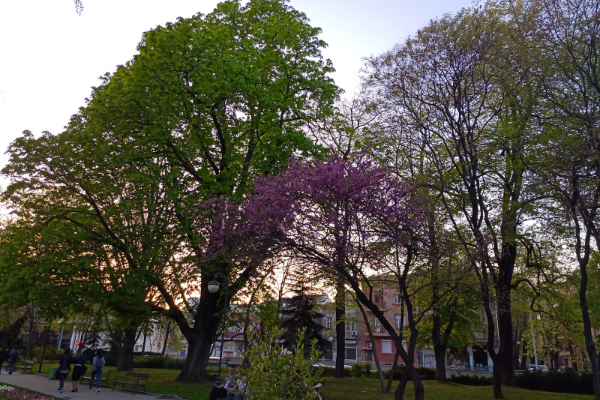 The whole city park was dotted with various decorations - fountains, monuments and memorials.
Todo el parque de la ciudad estaba salpicado de diversas decoraciones - fuentes, monumentos y memoriales.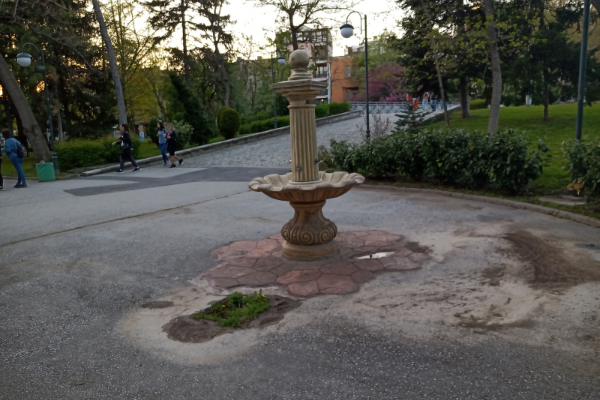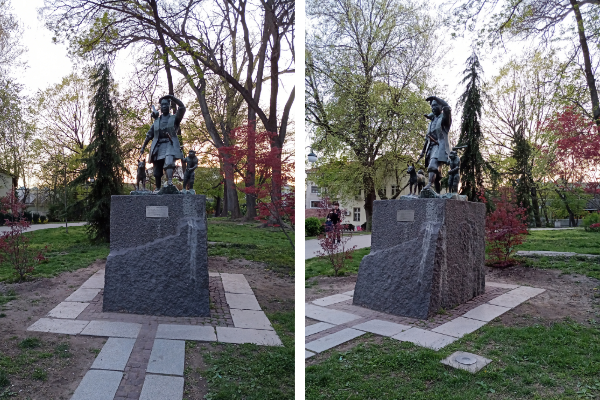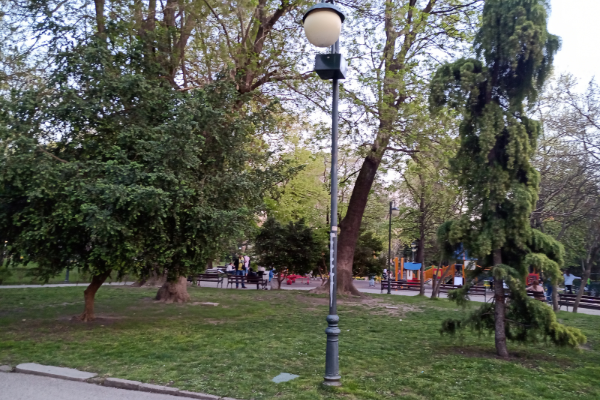 There was even an exposition of something, but I was never able to get past there to find out exactly what it was about.
Incluso había una exposición de algo, pero nunca pude pasar de ahí para saber exactamente de qué se trataba.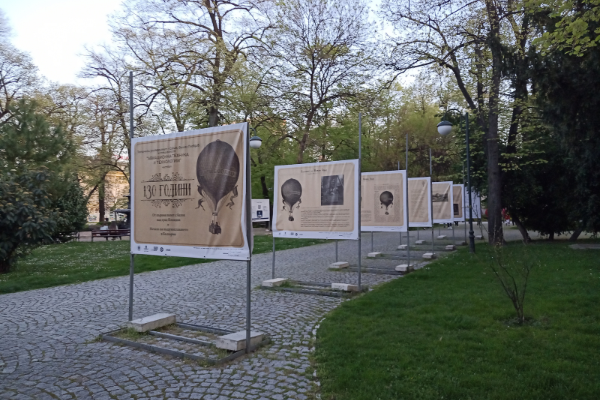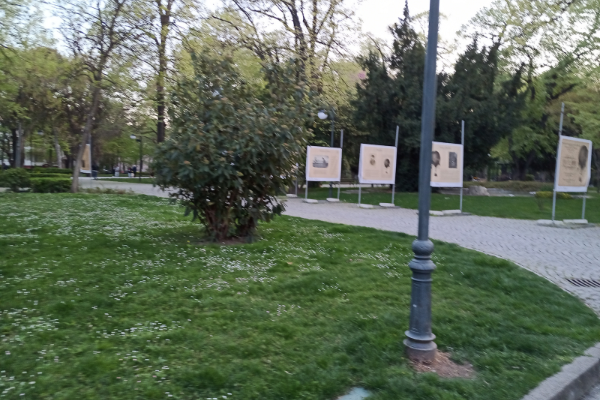 I was impressed that everything was so clean. You could find such beautiful trash cans everywhere. You'll say it's nothing special, but it makes an impression when something is maintained.
Me impresionó que todo estuviera tan limpio. Podías encontrar cubos de basura tan bonitos por todas partes. Dirás que no es nada especial, pero impresiona que algo se mantenga.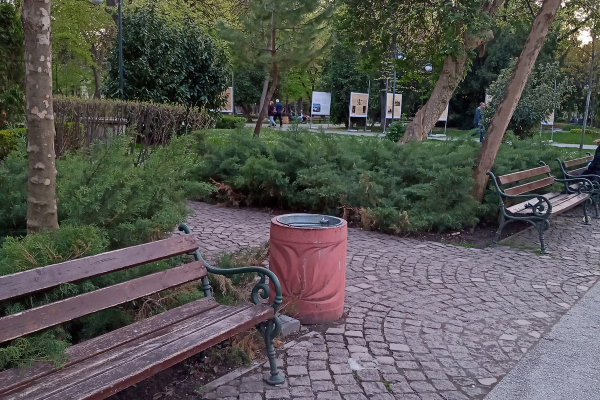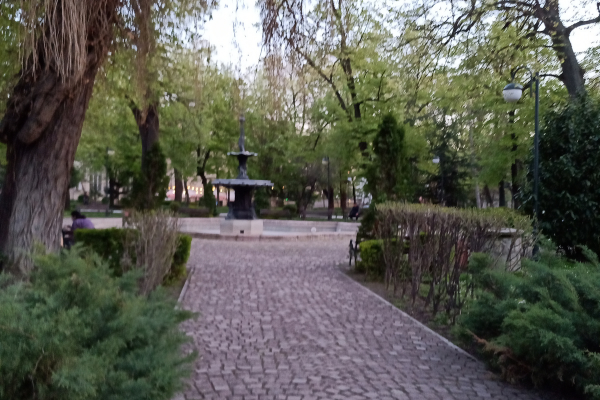 I almost forgot, at the end of the city park, or at least next to where we walked, there was a pool, or at least I think it was a pool, it could have been some kind of giant fountain.
Casi se me olvida, al final del parque de la ciudad, o al menos al lado de donde caminamos, había una piscina, o al menos creo que era una piscina, podría haber sido una especie de fuente gigante.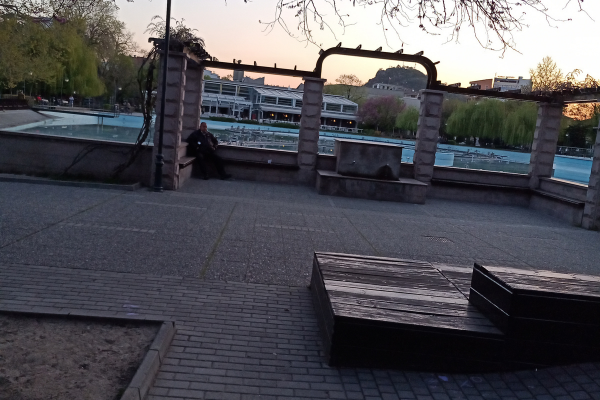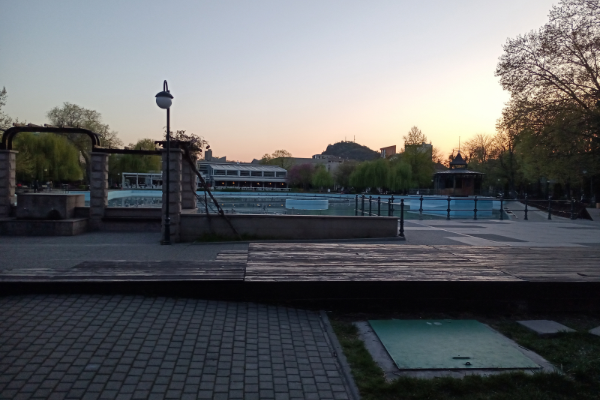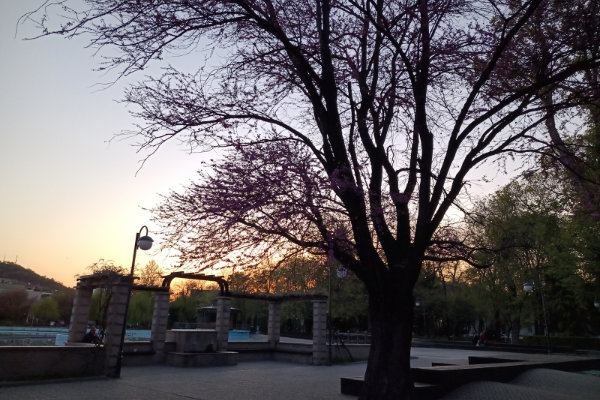 There were so many fat trees there, which would mean they are old and have probably seen so many changes in the city.
Había muchos árboles gordos allí, lo que significaría que son viejos y que probablemente han visto muchos cambios en la ciudad.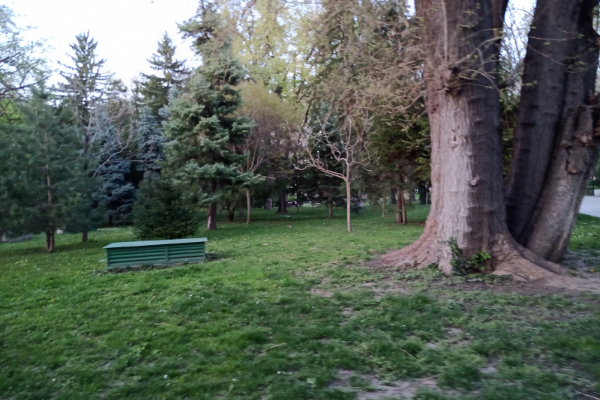 I'm glad I was able to visit this amazing place. I would definitely add it to my list of places I want to go back to again and again. My stay there was almost 3 days, but I didn't get to see 1/20th of this whole magnetic place! I'm preparing an article about the antique part of town, which honestly made the biggest impression on me, but that piece will be ready in the coming days.
I hope you found it interesting to immerse yourself at least for a little while in the nature and beauty of this city!
Me alegro de haber podido visitar este increíble lugar. Definitivamente lo añadiría a mi lista de lugares a los que quiero volver una y otra vez. Mi estancia allí fue de casi 3 días, ¡pero no llegué a ver ni la mitad de todo este magnífico lugar! Estoy preparando un artículo sobre la parte antigua de la ciudad, que sinceramente fue la que más me impresionó, pero ese artículo estará listo en los próximos días.
¡Espero que os haya resultado interesante sumergiros al menos un rato en la naturaleza y la belleza de esta ciudad!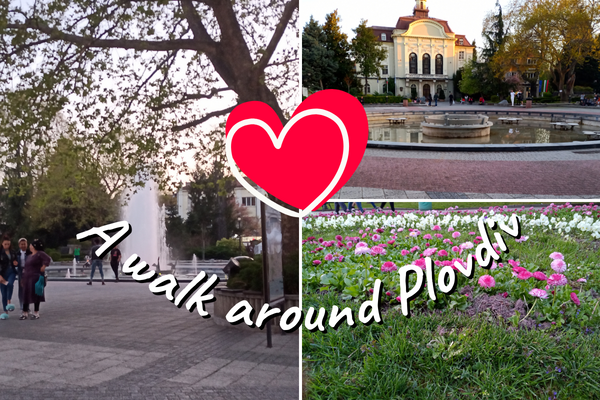 Здравейте, днес искам да ви разведа в градския парк на един страхотен град. Април месец имах възможността да го посетя вече като голяма, идвала съм веднъж в града преди много години когато бях ученичка в малките класове.
Ще ви покажа какво можете да разгледате в градския парк. Тъй като живея до морето и там имаме морска градина, не знайно защо все се оглеждах да зърна там морето, да усетя аромата му, и бриза който идва от него.
Преди достигането на градския парк прекосихме центъра на града.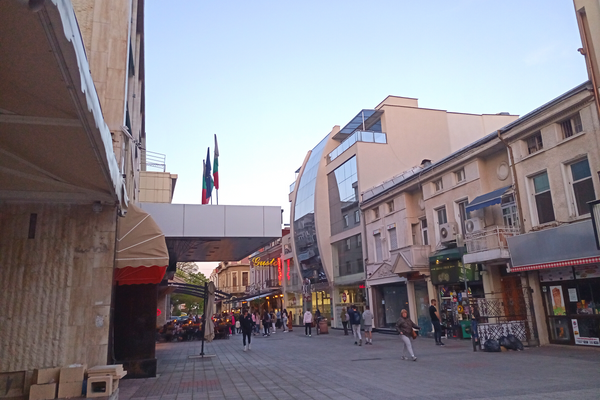 Там колегите ми ми разказаха че това било много известен фонтан - бил пеещ, тоест когато водата се издигала нагоре се чувал различен звън от всяка дупчица, по този начин се образувала мелодия. Не знам колко вярно е защото когато преминавахме водата не беше пусната, а на връщане бяхме твърде на далеко за да чуем каквото и да е. Нищо, имам стимул да дойда пак в Пловдив и да се уверя сама.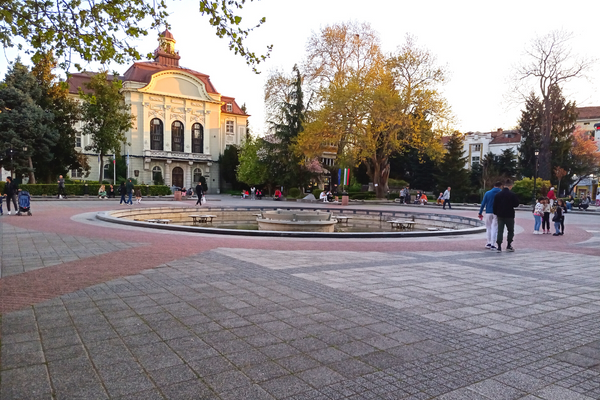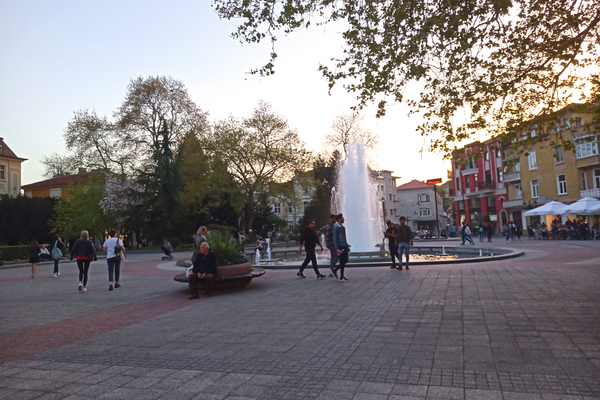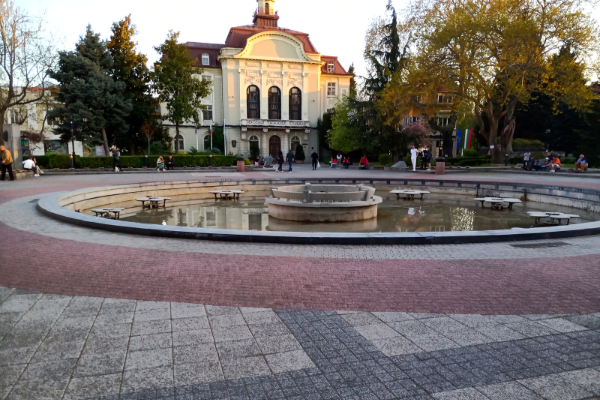 Хареса ми обстановката там, беше толкова тихо! Не мога да го опиша какво беше усещането да вървиш тихичко с някого и да протича един нормален разговор, а не постоянно да повтаряш "НЕ ПИПАЙ ТАМ", "НЕ ТОВА НЕ СЕ ЯДЕ", "ОЩЕ КОЛКО ПЪТИ ЩЕ СКАЧАШ В ТАЗИ ЛОКВА". Истински се радвах!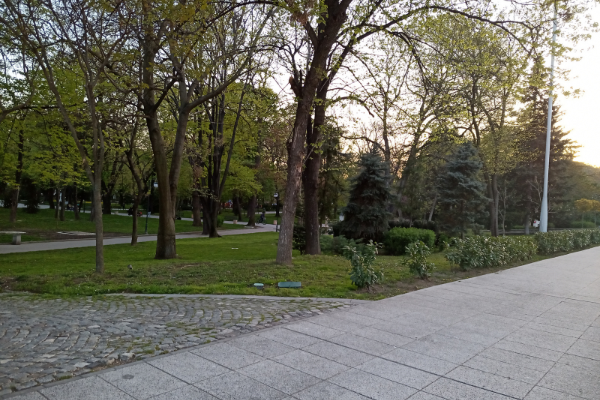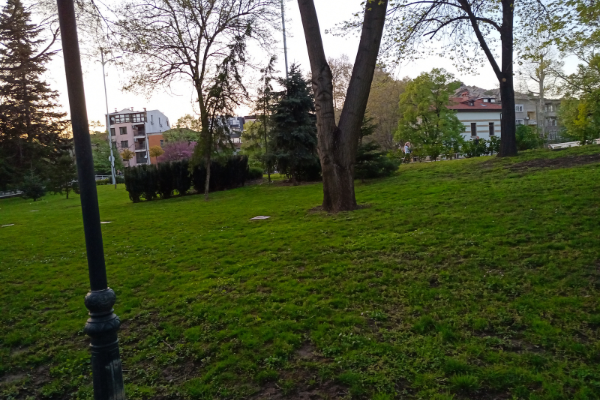 Имаше много зеленина и хора, които се бяха събрали по пейките на приятни разговори. Имаше хора на различни възрасти, както майки с детски колички, така и тийнейджъри с тротинетки и колела, дори и хора в напреднала възраст или както ние тук разговорно си казваме "пенсионерските пейки отново са заети".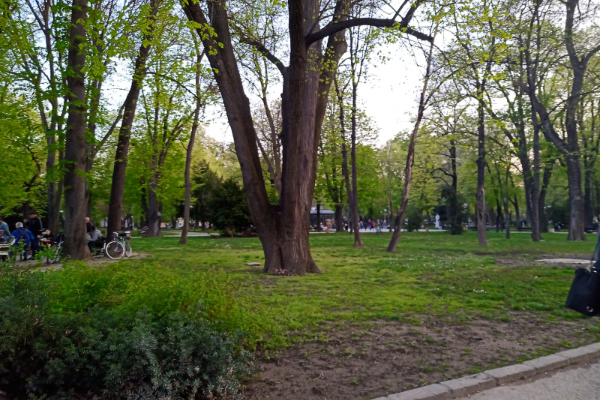 Харесаха ми цветните алеи, окичени с толкова много цветове. Старах се като снимам да не правя снимки на хора, но в далечината съм хванала някой друг човек, затова и ми беше трудно от една страна да не се отделям от групата ни, от друга да заснема нещо красиво и невероятно.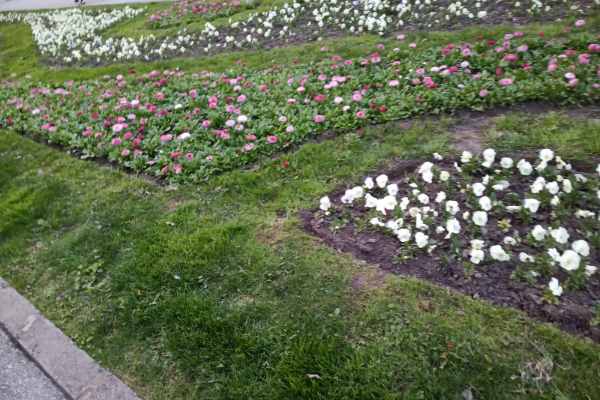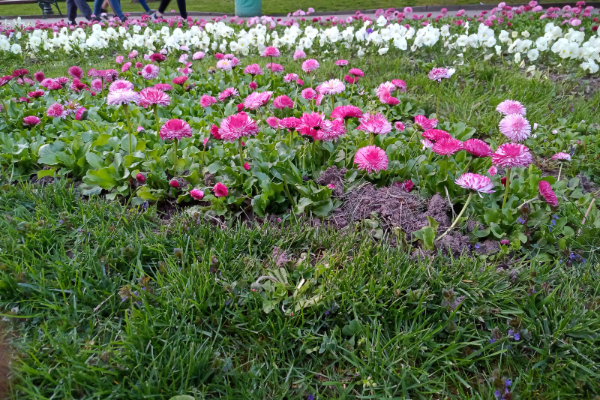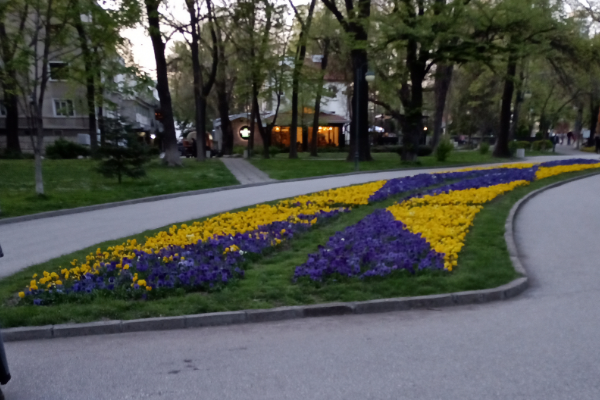 Колегите ми като видяха че съм толкова ентусиазиран "фотограф" дори нарочно ме насочваха към интересни кадри! Като това дърво с тези прекрасни розови цветове.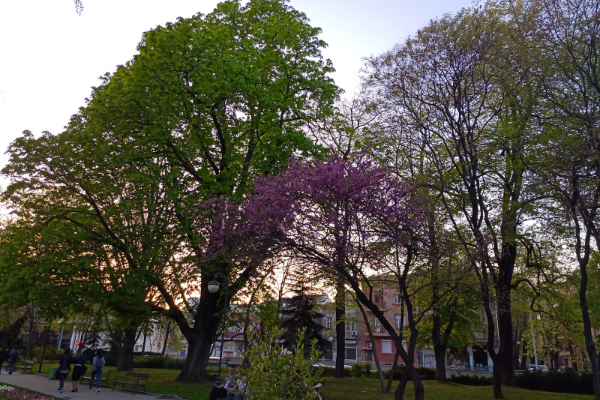 Целият градски парк беше осеян с различни декорации - чешми, монументи и паметници.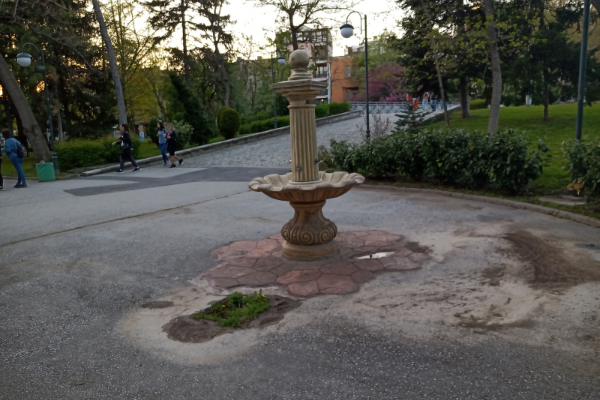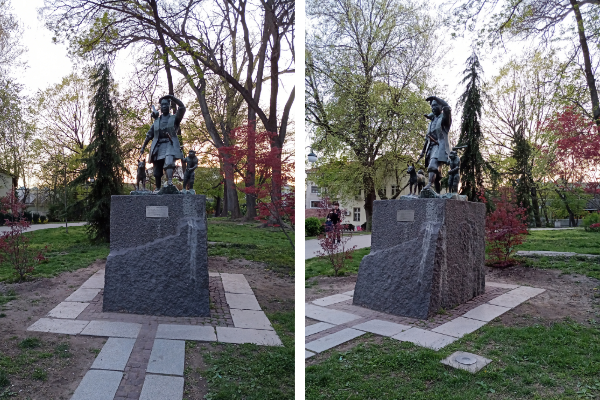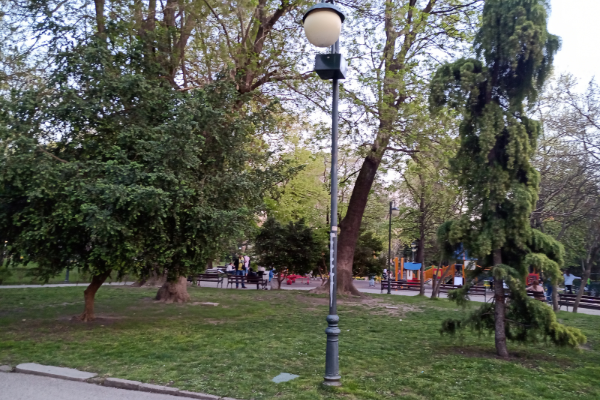 Дори имаше експозиция на нещо, но така и не успях да мина от там за да разбера точно за какво става дума.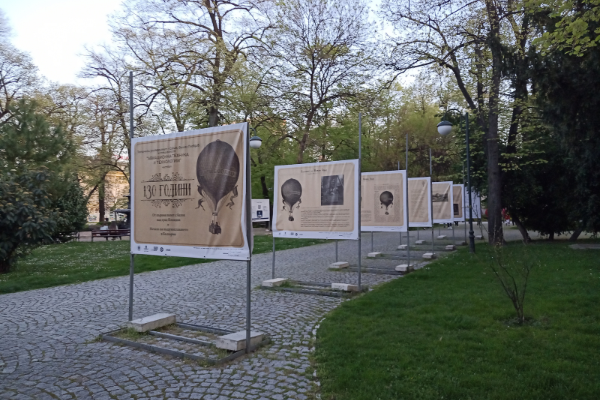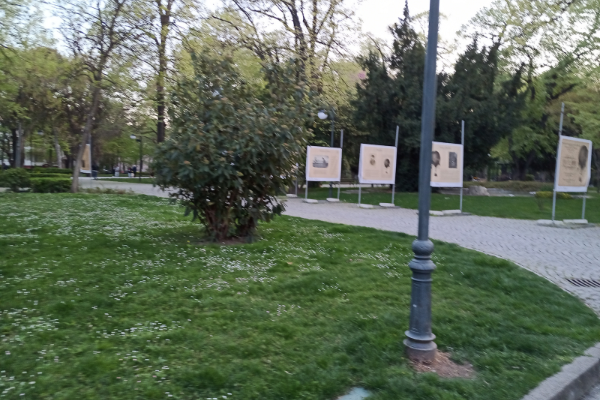 Направи ми впечатление че всичко е толкова чисто. На всякъде можеха да се намерят такива красиви кошове за боклук. Ще кажете, че не е нещо особено, но прави впечатление когато нещо се поддържа.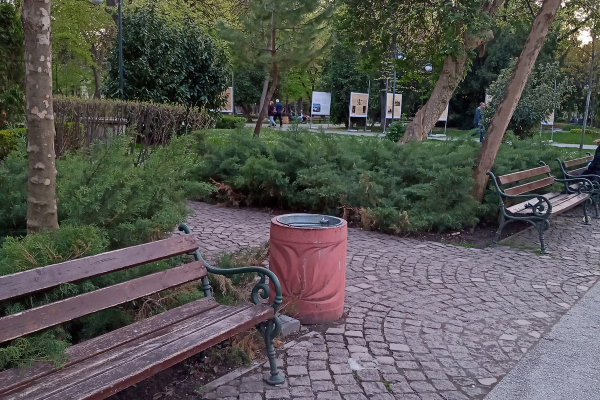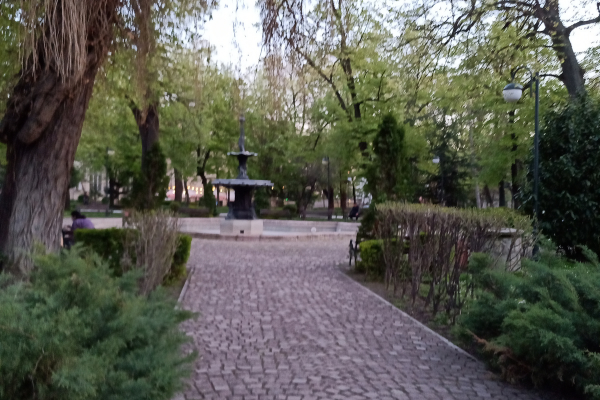 Без малко да забравя, в края на градския парк или поне до там до където вървяхме ние имаше и басейн, или поне според мен беше басейн, възможно е да е било някакъв гигантски фонтан.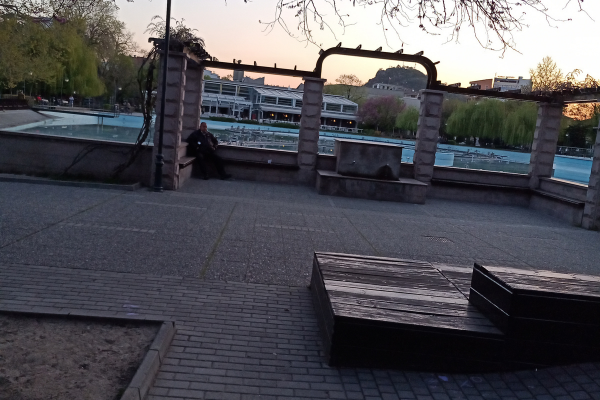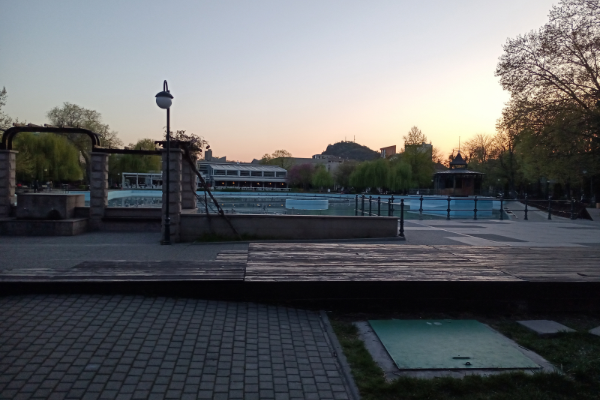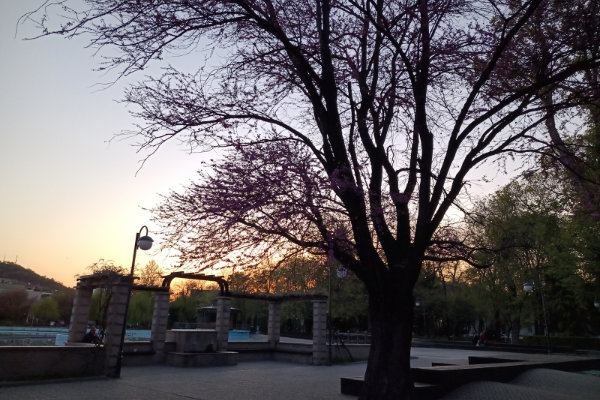 Там имаше толкова много дебели дървета, което ще рече че те са стари и вероятно са видели толкова много промени в града.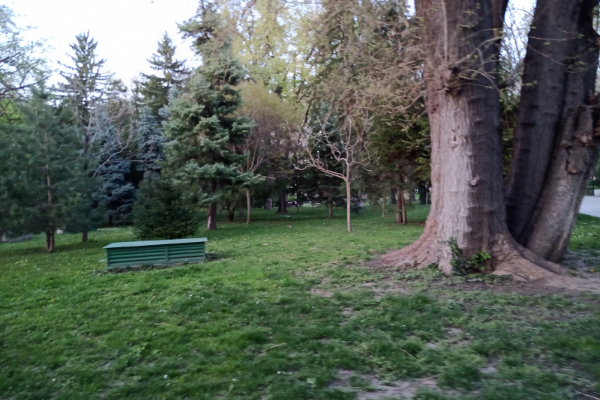 Радвам се че успях да посетя това невероятно място. Определено бих го добавила в списъка си с места, където искам да се връщам отново и отново. Престоя ми там беше близо 3 дни, но не успях да разгледам и 1/20 от цялото това магнетично място! Подготвям статия за античната част на града, която честно казано ми направи най-голямо впечатление, но този материал ще е готов идните дни.
Надявам се ви е било интересно да се потопите поне за малко в природата и красотата на този град!

Thank you for reading and have a gorgeous day!
---
---