I Am Alive Challenge Day 61stish With Patrick Simpson

---
I Am Alive Challenge Day 61stish/

with Patrick Simpson
I hope you have had a great Thursday so far!
So it's been a while since I posted here for the I Am Alive Challenge.
I have some stuff going on offline that is dictating my time right now.
I am not going to share my pains here with you...just know I still believe in this challenge.
I have managed to at least keep up with posting my Luke Is Alive videos...It only takes an 1 and a half for me to get it done and posted.
Also during this time since I last posted, I have invested into Vibes via VIBESSM (their mining token)
I figured since I am going to be posting there, then besides staking my vibes, I needed to own some mining tokens from them as well.
I used my HBD and converted it to Hive then sent it to Hive-Engine so I could make this investment.
I only was able to get 8.1 Vibessm this time, but I will continue to invest each month until I have a 100 or so.
I will be doing the same for CTPM(I have 6 now) and Workerbee(I have 27 now)
I also delegated 50 Hive Power to @ctpsb, I may do more after I see how much recurring income comes from the delegation.
I still Have my origianal 50 Hive Power Delegated to Hive list..it has grown to where I have 111.66 staked.
I am at 290 HP, 1351.369 CTP Power,189 Vibes Power, 61 CineTv power, 291 Alive power.
Vibes,CineTV, HP ,CTP power ,Alive power are the ones I am most focused on right now.
My goal is to by the end of August to at least double them all!!
I am 5 shy from my goal of 50 followers in 90 days....I want to go ahead and get focused on turning that into 75 over the next 90 days.
I also have created several new LCP's and Splash pages for I Am Alive Challenge, Click Track Profit, The Hive Guide and My Newest Favorite Game...Rising Star
I hope you've seen them around, I hope you enjoy them and like them as well.
To get Involved In this Simple Daily Task And Get Paid it
You Need To Join Click Track Profit
click the image below, opens in new window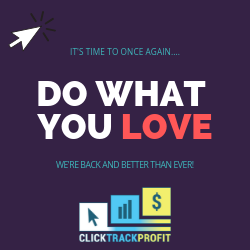 Here is where you need to go to get tons of PLR for free, plus new members get tons of free advertising!

opens in new window
Do You Want To Get The Most Out Of Hive Blockchain?

These 2 programs have helped me get a great start here on this platform!
The Hive Guide

opens in new window
I Am ALive Challenge Guide

opens in new window
Join Me Here When You Have Time And Get Free BitCoin

opens in a new window
Until Tomorrow, Keep Showing Up With Me And Scream Your Alive!!

Peace and Love To Yas!!
---
▶️ 3Speak
---
---