RISING STAR - WEEKLY PROGRESS AND 1000 STARBITS GIVEAWAY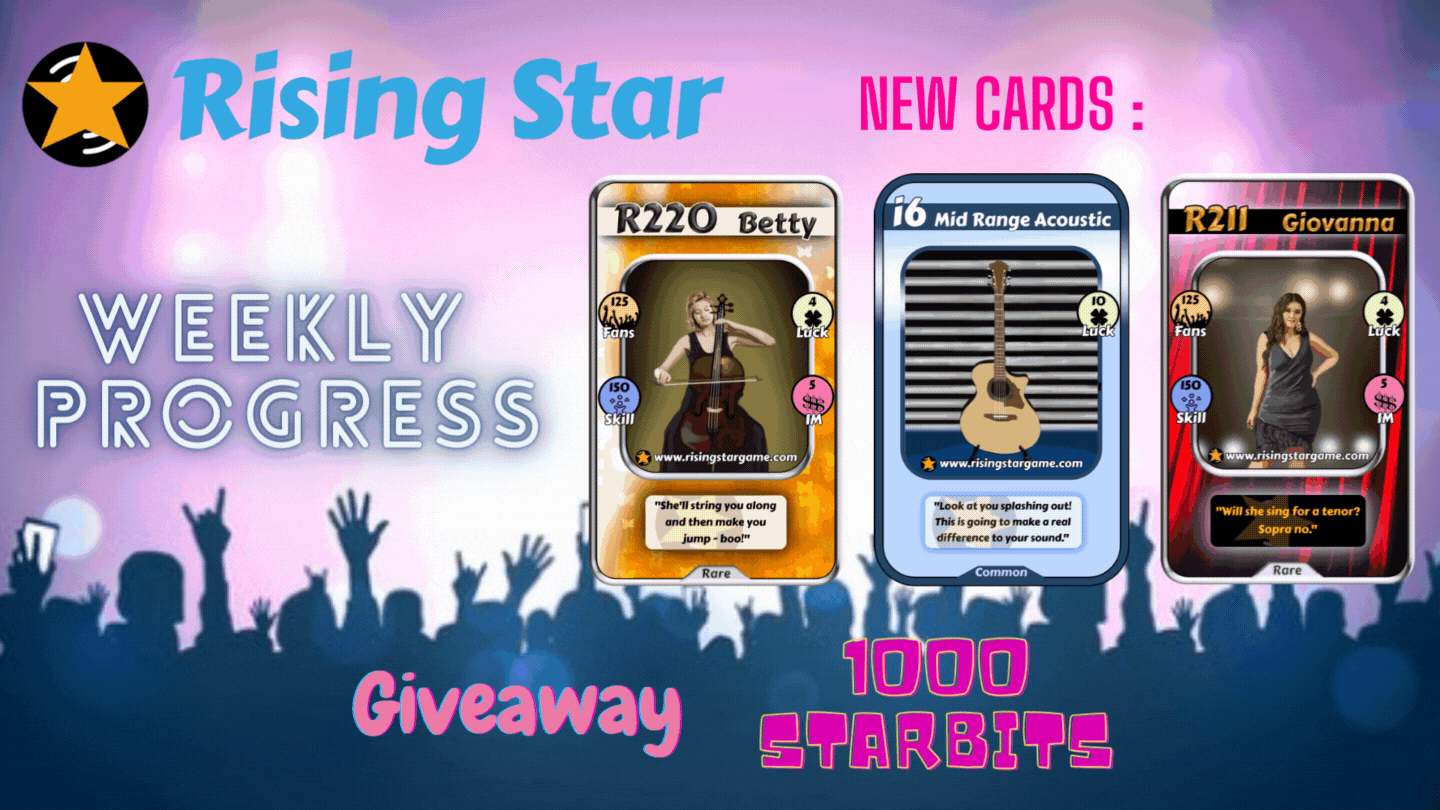 ~ Hello all of my friends, Rising Stars Lovers😍 ~
Welcome to my blog,
@queen-silvia
. This is my second post related to Rising Stars (one of my favourite games along with Splinterlands 😍) and I would like to share my weekly progress of my journey playing rising star game and There are also 1000 starbits giveaway for the rising star community. In the last week (1
st
- 6
th
of August 2022) I have bought 3 cards which helped me to fulfil the requirement to do all the standards missions in hometown including Saturday Headline which requires 300 fans. Alright, what are all the three cards? Let's check this out 😁 :

Alright, In this article I will share my ideas about the following topics :
Card purchasing last week
Card collections
Achievements
1000 Starbits giveaway plus 2 LEO

💰 CARDS PURCHASING LAST WEEKS 💰
Here are my cards purchasing last week :
| | | |
| --- | --- | --- |
| R220 Betty | i6 Mid Range Acoustic | R211 Giovanna |
All of starbits I got from standard mission last week has spent to buy these 3 cards. All I did is just reinvesting what I got from the game in order to complete higher missions and unlock the new zone. In the weekend I am planning to use 1000 or 2000 starbits as a giveaway for the hive community. Sharing and keep in touch with Rising Stars lovers is always fun. 😍

The purpose of purchasing i6 Mid Range Acoustic is to unlock Local Gig Circuit and here it is, the zone is unlocked and now I can complete new missions.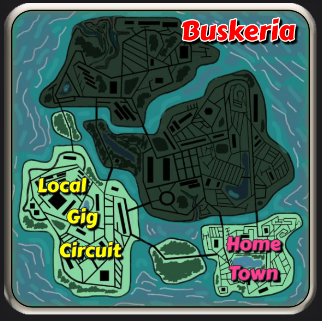 In order to complete new missions in Local gig circuit, I need more fans, so all I am gonna do next week is still keep completing standard missions, collect starbits and use it to buy new good cards to increase fans, skill, luck etc.

🎼 CARD COLLECTIONS 🎼
Here is my cards collection after 2 weeks playing Rising star with $3 capital only and I got the capital back in the first week 😘. So this is the real free to play to earn guys. Once you get the ROI, this game is very exciting since you will never think about your investments and grow your account freely.

💰 ACHIEVEMENTS 💰
I have completed 363 missions so far. The detail of the completed missions is given in below table :
| | BUSKERIA | |
| --- | --- | --- |
| Mission | Number of completion | Alteration from previous week |
| Illegal Busking | 27 | 5 |
| Open Midnight | 39 | 6 |
| Mid Week Support Slot | 54 | 17 |
| Busking with a License | 24 | 8 |
| Midweek Headline Slot | 30 | 15 |
| Saturday Support | 9 | 3 |
| Saturday Headline | 1 | 1 |
All of my missions are being done in Buskeria since my fans from cards is still 360, but once my fans increased after buying cards in a regular basis, I will start doing missions in local gig circuit.

⭐️ 1000 STARBITS GIVEAWAY PLUS 2 LEO ⭐️
Alright everybody, now let's move into my first giveaway for Rising Star where the lucky winner will receive 1000 starbits 💰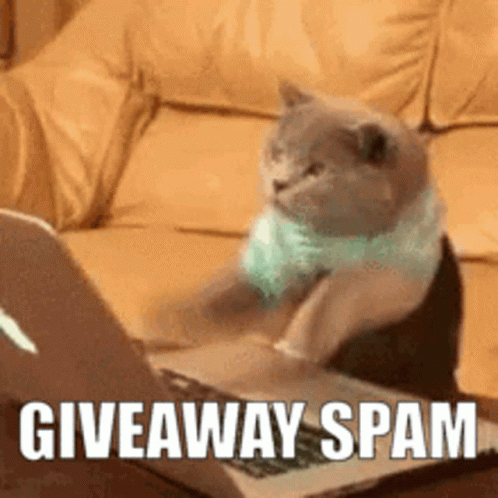 I will use Wheel of Names for the drawing and the name picked out will be given the starbits so make sure to leave your IGN in the comment section below 😘
How to participate :
Please put your IGN (In-Game Name).
Since I just started joining Hive community in May 2022, I do hope I could get new friends as many as I could, so If you don't mind, please follow me guys, I'll be following you back (but it's not mandatory). I do hope we can discuss a lot about any ideas regarding rising star at the comment section.
Upvote is not a requirement but it will be greatly appreciated to increase the quality and the quantity of the next giveaway.
The winner will earn an additional 2 #LEO if they commented using the #LeoFinance interface.
The pay-out for the winner will be announced 7 days after this post has been uploaded (August 17, 2022).
👋Good Luck for all and see you in the next post👋

Alright, that's the end of this article guys, Thank you for visiting my blog. See you later and take care~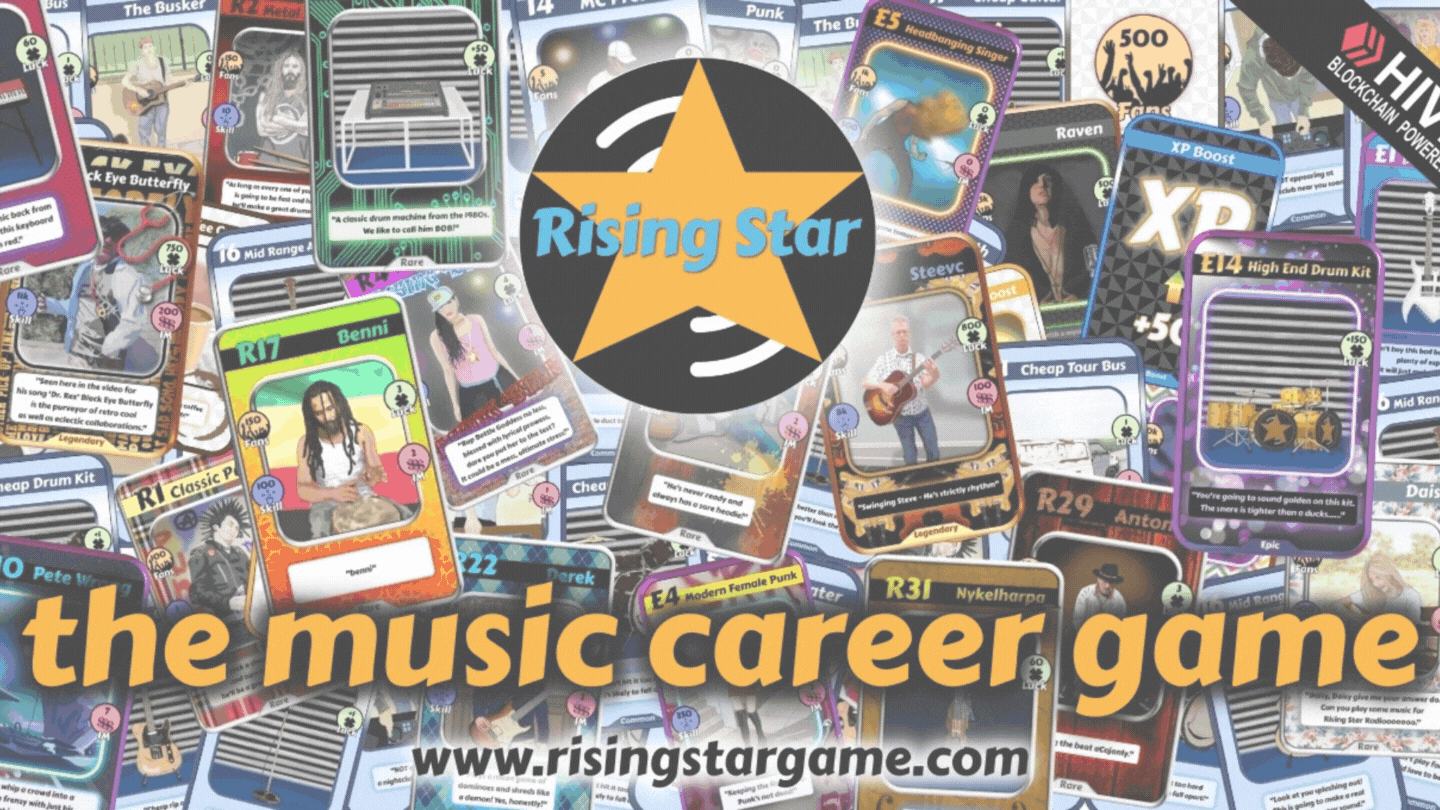 - CREDIT -
@risingstargame, @musicvoter, & @musicvoter2 : For creating a very cool game which can convert our time into money.
@hive : The great blockchain where we can write our opinion regarding game and share to the community.
@carrieallen : For the ultimate markdown tutorial. It really helpful.
Source of Picture :
https://hive.blog/@risingstargame
---
---