⚔️SHARE YOUR BATTLE CHALLENGE⚔️ : 🌊FLYING SQUID🌊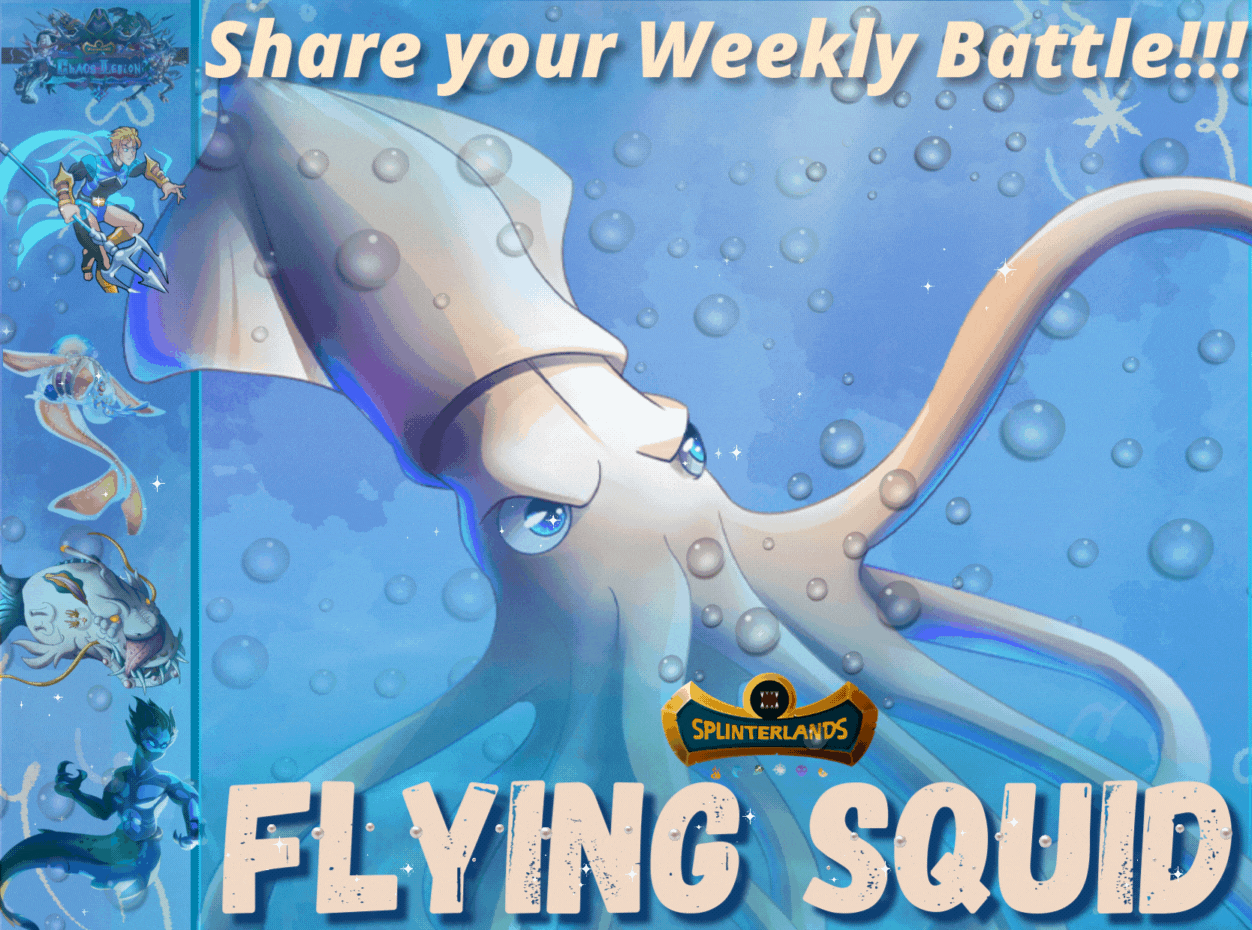 😊Hey There!
A warm welcome to another splinter-week battle challenge with the theme card 🌊FLYING SQUID🌊 of the Water Element. 🌊FLYING SQUID🌊 is a really interesting card with amazing abilities and I'll show you why in abit. Before that, there's plenty more days left, so if you want to take part in the Splinterlands' weekly battle challenge, simply go to 👉SHARE YOUR BATTLE Weekly Challenge! FLYING SQUID to read up the rules of challenge and subscribe for future battle announcement.

| THEME CARD INFORMATION:🌊FLYING SQUID🌊 | |
| --- | --- |
| EDITION | CHAOS |
| RARITY | COMMON |
| ELEMENT | 🌊 - WATER |
| LEVEL | 8️⃣ |
| MANA COST | 7️⃣ - POINT |
| | 3 - MELEE POINTS |
| | 5 - SPEED POINTS |
| | 9 - HEALTH POINTS |
| | REACH ABILITY |
| | BLIND ABILITY |
The 🌊FLYING SQUID🌊 is a fascinating card. Squids don't fly but they can take off from the water and glide above the surface for a long distance before returning back into the water.
This cards attack type is Melee, and it is part of the Water unit. It costs 7-mana to use in battle , as a result, it will be an excellent card for both mid & high mana ruleset battles.
Let us now delve deep into this monsters to discover what makes them so unique. I am using a level 8 regular foil and monsters together have a

3-melee,

5-speed, and

9-health.
Squids are well-known as aggressive predators who blind their prey by shooting ink into their eyes before attacking with their tentacles. Hence, this 🌊FLYING SQUID's🌊 awesome abilities;
REACH ability- This ability allows Flying Squid to attack as a main tank from second position.
and then the
BLIND ability - Melee and Range attack enemies will miss their attacks on this Squid.
This monster card can cause great damage once engaged with a good backup team and placed in a favourable position.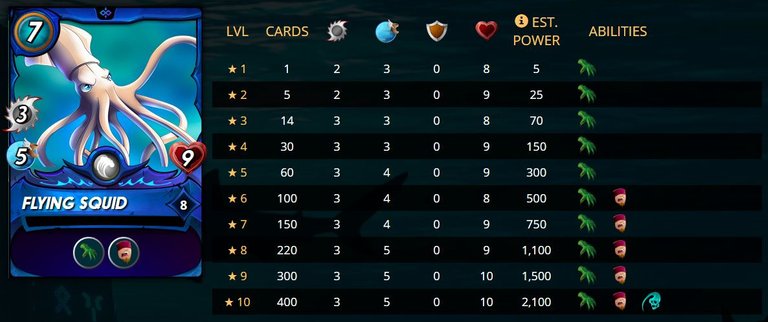 At level 1 it has 2-melee attack at 3-speed, 8-health, and the Reach ability. This melee attacker can easily be used in the second position of lineup while a defensive card secures the first. Even at this first level, its 2-melee attacks and high health can be very useful.
level 6 this card gains 3-melee attacks at 4-speed and 8-health, as well as the Blind ability. All enemy melee and range attacks have a higher chance of missing with the help of the blind ability. This ability affects all enemy melee and range monsters, so if used correctly, you can avoid multiple attacks with the Blind ability.
At Max level 10, this card has 3-melee attacks at 5-speeds and 10-health, as well as the Backfire ability. At max level, this card can perform exceptionally well thanks to the blind and backfire abilities. While the enemy monsters will miss more attacks on you due to the blind ability, every time they miss an attack on the 🌊FLYING SQUID🌊, it will attack them back with the backfire ability.
---
---
✅RULE SET CONDITIONS THAT FAVOURS THE USE OF FLYING SQUID IN BATTLE✅

HOLY PROTECTION:
All monsters
have divine
shield ability✔️
EQUALIZER:
All monsters
health equal
highest base
health of
either team✔️
AIM TRUE:
Melee & range
Monsters hit
their target✔️
MELEE MAYHEM:
Melee monsters
can attack from
any position✔️
SUPER SNEAK:
All monsters
gain the Sneak
ability and attack
last monster on
enemy lineup✔️
UP CLOSE &
PERSONAL: Only
melee monsters
can be used✔️
---
---
⛔️RULE SET CONDITIONS THAT DOES NOT FAVOUR THE USE OF FLYING SQUID IN BATTLE⛔️

KEEP YOUR DISTANCE: Melee
attack monster not allowed❌
BACK TO BASICS: All monster
lose abilities❌
---
---
👉🌊FLYING SQUID🌊 MARKET PRICE CHART (REGUALAR FOIL AND GOLD FOIL)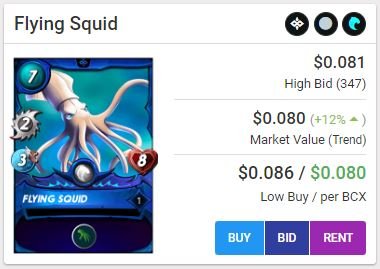 You'll see from the Regular foil, that this card is very affordable to buy now with least price at 0.086$ and all time high at 0.18$.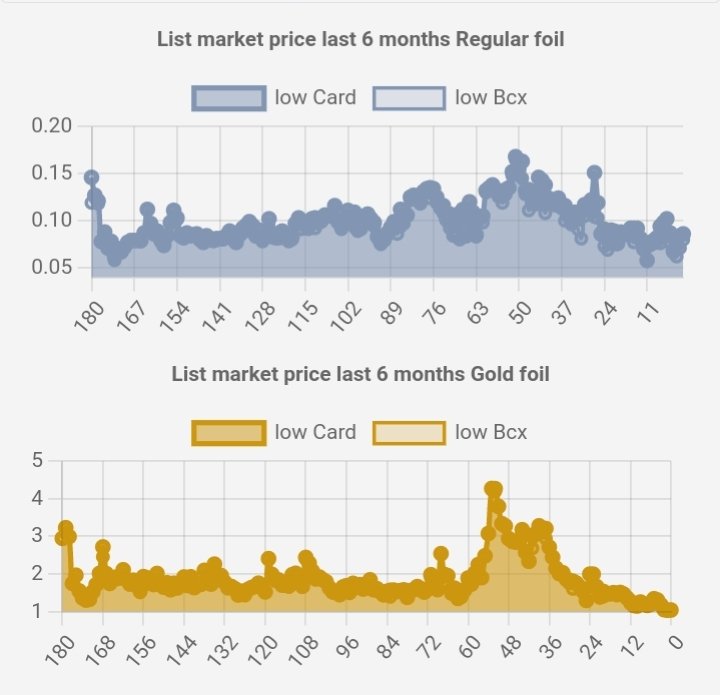 While the Gold foil has been in demand from players in higher leagues, with the least price at 1.037$ and all time high at 4.5$.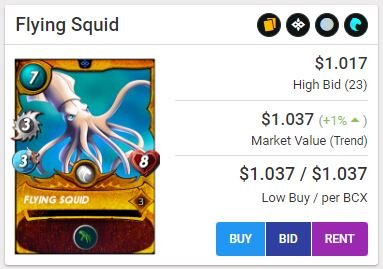 You can buy or rent this card easily in-game SPLINTERLANDS or PEAKMONSTERS. Buying the gold foil now at this prize will be the wise thing for me to do as I am back in Gold I league now and approaching diamond, never know how the market turns out.
To thoroughly make good use of the 🌊FLYING SQUID🌊, you'll have to level up to max, then battle your way up to experience it's full usage.

⚔️ THE BATTLE ⚔️
---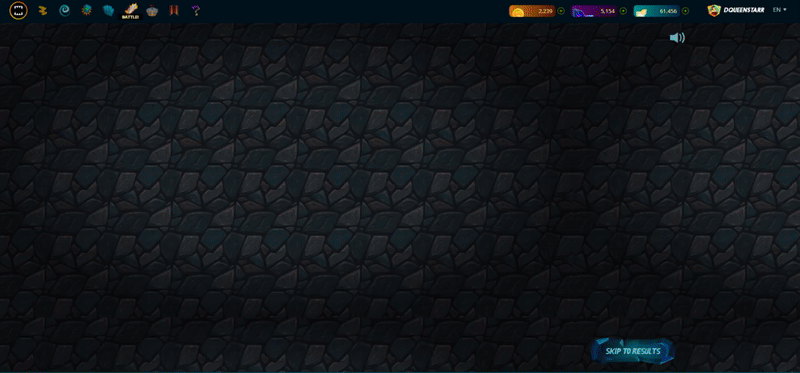 ---
| RULE SET | |
| --- | --- |
| STANDARD | MODIFICATIONS TO THE RULES AND MECHANICS |
| MANA CAPACITY | 28 |
| AVAILABLE ELEMENT | only Water🌊, Earth🍃, Life🌬, Death💀 and Dragon🐉 elements allowed |
This was a low mana cap battle with the EQUALISER and HEALED OUT rule set. Meaning all healing abilities were removed from monsters and summoners, but their initial health equaled the highest health of opposing team.

⚔️ TEAM LINE-UP ⚔️
| BUFF | SUMMONER | ELEMENT | LEVEL | RARITY |
| --- | --- | --- | --- | --- |
| +1 Magic, +1 health, +1 speed | | Water | ⭐️⭐️⭐️ | LEGENDARY |
STRATEGY:
😂To be honest, I have always loved this summoner for the water deck. Either this or Alric. I thought to not show up weak, so I summoned the strongest summoner of the water element, the great VALNAMOR. 🌊FLYING SQUID🌊 a melee attack monster will peer perfectly with him and so will the rest team. I rented this card and It's worth it. How about the Extra Health and Speed? Let's attack!!!.
| POSITION | CARD | ABILITY | LEVEL | RARITY | STATS |
| --- | --- | --- | --- | --- | --- |
| Front-line | | NONE | ⭐️⭐️⭐️ | LEGENDARY | 1-MELEE, 3-SPEED, 2-HEALTH |
STRATEGY:
In front line comes the TORRENT FIEND, a zero-cost unit employed solely as a sacrifice unit, positioned to deal with cunning opponent monsters. This card can take a few blows if you're lucky, and I employed it only for that purpose, not as an attacking unit.
POSITION
CARD
ABILITY
LEVEL
RARITY
STATS
second-line
BLIND, REACH
⭐️⭐️⭐️
⭐️⭐️⭐️⭐️⭐️
COMMON
3-MELEE,5-SPEED, 9-HEALTH
STRATEGY:
Next comes the theme card 🌊FLYING SQUID🌊, thanks to it's Reach ability it can easily be used in the second position, cause it will surely take the most hit being front-line and I want the blind fold on my enemies for longer, hence this position is perfect for it.
POSITION
CARD
ABILITY
LEVEL
RARITY
STATS
third-line
OPPORTUNITY, POISON
⭐️⭐️⭐️
⭐️⭐️⭐️⭐️⭐️
COMMON
5-MELEE,4-SPEED, 6-HEALTH
STRATEGY:
The DEEPLURKER is a powerful melee attack monster with good health and speed. Attack and eliminate the opposing monster with the least amount of health while poisoning them at start of each round.
| POSITION | CARD | ABILITY | LEVEL | RARITY | STATS |
| --- | --- | --- | --- | --- | --- |
| fourth-line | | FLYING, DODGE, DEMORALIZE | ⭐️⭐️⭐️ | LEGENDARY | 4-MAGIC,6-SPEED, 7-HEALTH |
STRATEGY:
PHANTOM OF THE ABYSS is a 3 star⭐️⭐️⭐️ Legendary monster who because of his 'Flying' and 'Dodging' abilities, he has a 100% chance of dodging enemies, whether melee or ranged. If that monster has the ability to fly or evade, it cancels out the effect of those abilities. This case is highly unlikely, and that's what makes this powerful monster one of a kind. Another ability he has is the demoralize effect to melee attack.
Without further ado, let us now enter the battleground.

---
⚔️ROUND 1⚔️
---
The Enemy came at me with the Earth element, Enemy-QUIX THE DEVIOUS as Summoner. Enemy-UNICORN MUSTANG in first position, Enemy-DRAGON JUMPER in second, Enemy-SCREECHING VULTURE in third, Enemy-BROWNIE in fourth, Enemy-DOCTOR BLIGHT in fifth, and Enemy-FURIOUS CHICKEN in last position. Tbh I was sorta worried that I might have picked the wrong lineup, but, Let's see what happened.
Summoner VALNAMOR gave all team monster +1 health and +1 speed boost, while +1 magic to PHANTOM OF THE ABYSS as expected. 😩But Enemy-QUIX THE DEVIOUS takes away the +1 speed point, lucky I had no range monster.

🌊FLYING SQUID🌊 blinds all enemy monsters, while PHANTOM OF THE ABYSS demoralizes as expected.

Enemy-BROWNIE gives all enemy monsters the Swiftness and inspire ability😏

Round 1 starts with PHANTOM OF THE ABYSS launching the first attack on Enemy-UNICORN MUSTANG which affects it's health -1, magic reflect hits back at him, while Enemy-DRAGON JUMPER swiftly attacks back, costing -3 of Phantoms health.

Enemy-UNICORN MUSTANG attacks TORRENT FIEND -4 health, 🌊FLYING SQUID🌊 responds by attacking Mustang too.

Round 1 ends with multiple attacks on Enemy-UNICORN MUSTANG by TORRENT FIEND and 🌊FLYING SQUID🌊 brining it's health down to 1.
---
⚔️ROUND 2⚔️
---
Round 2 starts with an almost deadly attack on PHANTOM OF THE ABYSS by Enemy-DRAGON JUMPER -4 health. followed by multiple missed attacks on Phantom and TORRENT FIEND.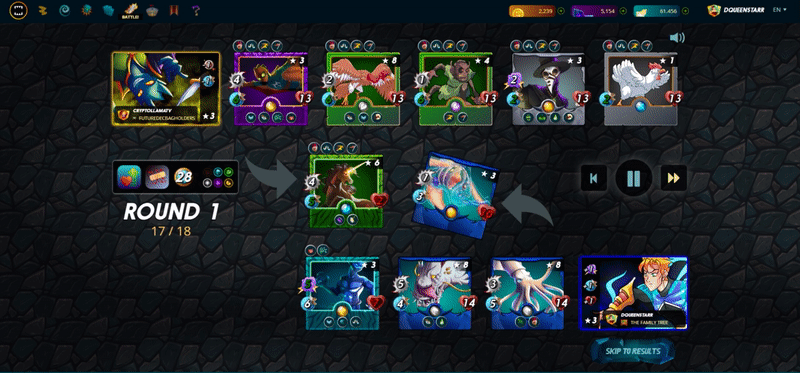 🌊FLYING SQUID🌊 then launches a deadly attack on Enemy-UNICORN MUSTANG killing it immediately🥂.

Round 2 ends with DEEPLURKER attacking and poisoning now front line Enemy-DRAGON JUMPER.
---
⚔️ROUND 3⚔️
---
Round 3 starts with aggressive vengeance as PHANTOM OF THE ABYSS launches a deadly on Enemy-DRAGON JUMPER, killing it immediately -6.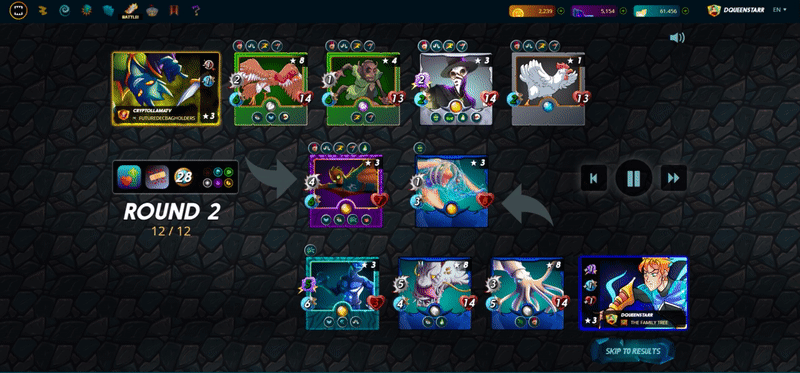 Round 3 ends with Enemy-DOCTOR BLIGHT attacking and killing TORRENT FIEND.
---
⚔️ROUND 4-7⚔️
---
Round 4 starts again with PHANTOM OF THE ABYSS launching a deadly on now frontline Enemy-SCREECHING VULTURE -6, immediately 🌊FLYING SQUID🌊 swoops in and kills it -1 dead.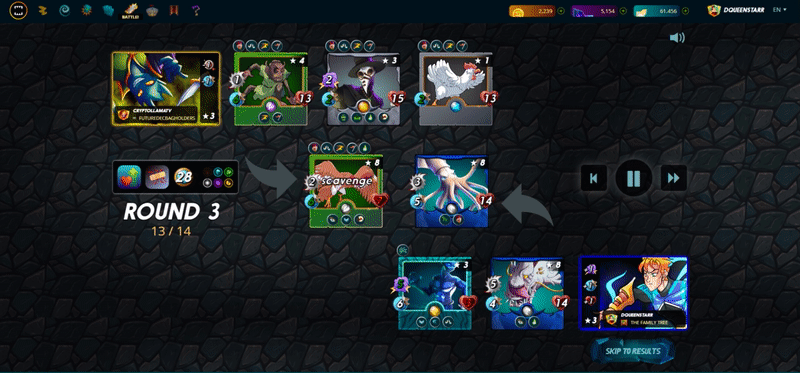 🌊FLYING SQUID🌊 launches again launches a deadly and immediately kills Enemy-BROWNIE.

DEEPLURKER attacks and poisons Enemy-FURIOUS CHICKEN while Enemy-DOCTOR BLIGHT attacks and poisons 🌊FLYING SQUID🌊.

PHANTOM OF THE ABYSS attacks Enemy-DOCTOR BLIGHT , followed by DEEPLURKER and finally 🌊FLYING SQUID🌊 finishes off the job and kills last standing opponent Enemy-DOCTOR BLIGHT.
---
⚔️FINAL RESULT⚔️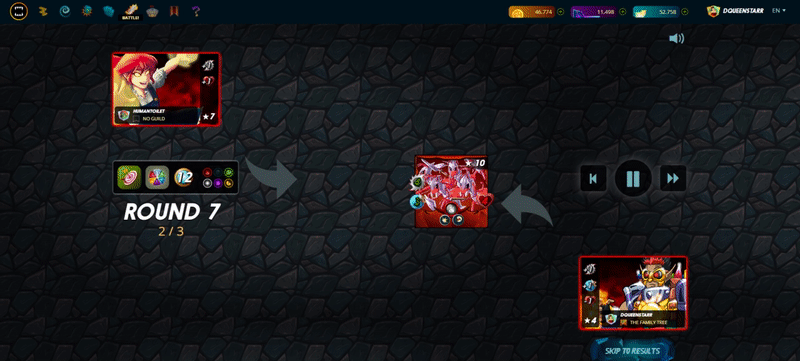 🌊FLYING SQUID🌊 and TEAM lets out a roar FLAWLESS VICTORY!!!
👉 CLICK ON LINK TO THIS BATTLE 1: 🌊FLYING SQUID🌊

✅A SECOND BATTLE IN WHICH I ENGAGED 🌊FLYING SQUID🌊 BUT AGAINST LIFE SPLINTER👇
This was a 30 mana cap battle. 🌊FLYING SQUID🌊 was in a second position, still same lineup as first but with ICE PIXIE add in backline. Battle finished in 6 rounds, 🌊FLYING SQUID🌊 strategically taking out monsters one at a time, clean and easy.
👉 CLICK ON LINK TO THIS BATTLE 2: 🌊FLYING SQUID🌊

DO I LIKE 🌊FLYING SQUID🌊?
I do like this card 🌊FLYING SQUID🌊, because of it's excellent abilities. In the whole splinter cards, it is among the few with Blind ability, pretty awesome. When placed in favourable position or backed by supporting monsters such as in both battles, it is able to cause great damage.
To be fair, I definitely am glad to have experienced max potential, and would make use of in water splinter battles going forward. It has pretty awesome Speed and health, that's already a slam dunk. This only demonstrates that if you play the water splinter and at decent mana cap, then this is a card to have on deck.
In summary the battles were exciting to watch and I will keep seeking more ways to own max level, and engage 🌊FLYING SQUID🌊.

DID MY STRATEGIES WORK AND WHAT LESSONS DRAWN FROM IT?
Yes, my strategy worked very well. It was a good lineup and strategy for this battle⚔️
🌊FLYING SQUID🌊 as a best bet is second line. It's tank isn't for resistance or should i say, I want this blind and reach abilities holding off my enemies for a long a possible while i do damage. If you add monsters with interesting abilities as support, then it will be more difficult to target and kill it.
When using here on deck, always pick summoners that enhance or support it's attack type, like in the case of VALNAMOR or KEYLA FRENDUL are good summoners to use with 🌊FLYING SQUID🌊. Victory is granted at 85% the time with this in place.

When using the 🌊FLYING SQUID🌊, place together with supporting monsters like DEEPLURKER for poison on enemies each round.

I would recommend this Lineup 💯. I welcome your opinion, objections and recommendations to further make good use of her in comment😊
🌊FLYING SQUID🌊 is no doubt a decent card. This challenge has surely exposed it's usefulness in battle.

😊That will be all about my weekly battle with 🌊FLYING SQUID🌊 as the themed card.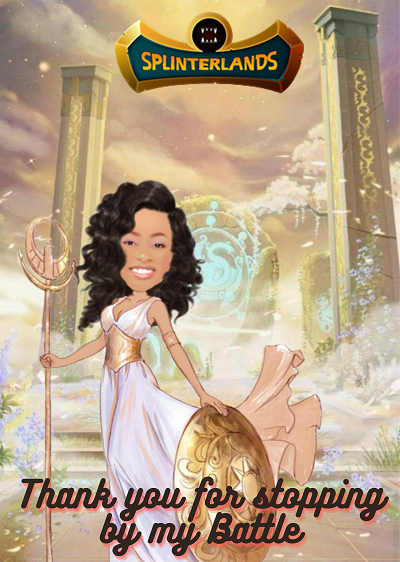 Worthy Notes:
✅All the images are taken from my in-game at WWW.SPLINTERLANDS.COM
✅Cover made in CANVA
✅My gratitude to THE PIMP HOUSE for the guild support.
✅Click on this Banner to join Hive's House of Help community THE TERMINAL

✅Edited Splinterlands text dividers in PS5 as provided freely by freeztag.
😊Until next Splinterlands Battle, Hive, Vibe & Be Lucky🍀
All content is mine unless otherwise Noted
queenstarr ©2022
---
---