Carbon Crisis and Our Selfishness
We have delightedly mutilated Mother nature but never did she protest. Does that mean she enjoyed it all along or she is just too shy to react? Possibly, she is both. A part of her existence has this enormous capacity to undergo the cruellest of behaviour and the other is most likely convinced to see it through; cause she knows that she will eventually be victorious.
Humankind— is just a flash in the pan. Nature was here long before the existence of the human race and will remain so even if the population is wiped out like dinosaurs. So, it's just about the time and seems like Mother Nature is handling it quite wisely.
I was having this sort of conversation the other day when the sun was blazing hot with little to no breeze at all. Unluckily, I had to visit one of the most polluted cities in the world yesterday for some urgent reasons. I can't remember when is the last time I left my tiny cave except for that special offsite and usual grocery shopping from the nearby market which is a walking distance from my residence, so, I had no idea what was going on outside. Therefore, the sun didn't want to miss the opportunity to take a turn on me and I felt like I won't make it through the day. To top it off, I had a heavy lunch with the man I was sharing some life views with. And the result— I had to retreat to my cave and take a nap for a long 13 hours with tiny breaks.
Anyway, it's electric vehicles we were talking about. Even though it has many positive sides, apparently, the long term effect is also alarming. It can be a steroid for a short term boost to the global climate as carbon emissions from burnt fuel goes to zero— from cars to be specific— and that's a remarkable achievement towards attaining carbon-neutral goals.
But what we do not see is the process in the making of that electric equipment, the aftermath once they come to their life's ends. In some scenarios, the EV stations may demand equal energy that an average power station produces. And what will power those power stations— gas, coal, or oil perhaps? Then what's the deal here— more electric vehicles mean more power stations, and eventually, the carbon footprint remains the same as now. Really not a so smart solution. But yes, if we can switch to alternative energy sources like wind and solar, then there is a possibility. Even though the debate is still there, on a bigger picture, I assume they can be sustainable alternatives to carbon-producing energy equipment.
At some point in our conversation, we landed on discussing what might happen to the F1 racing. The topic was lucrative enough and both of us were super excited about it, but, he then said we shouldn't watch the event to keep it at bay. Even though I do not want to quit enjoying it, at least not in the near future, I feel guilty for such a waste of energy and tyres.
---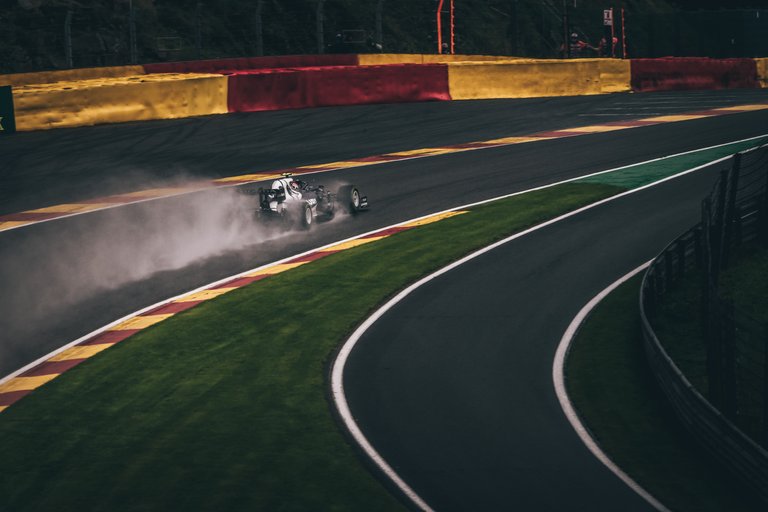 Alexandre Brondino on Unsplash
---
All those roaring engines, I believe their energy consumption is equivalent to any small town's usual energy usage. And the degree to which they burn and dispose of tyres, they can easily fill a mid-sized pool. But the excitement it brings— I am willing to intake less oxygen than required and live a little less for that.
That buzz of the engines is pure music to my ears and when the cars crush, I feel like I am experiencing the hell's fire from a safe distance. For people like me, probably the world will never be able to attain the goal of becoming carbon-neutral. Well, I take the blame on myself— after all, you guys need someone to pass on the blame, right?
---
---