Never Thought I'd Do That
Let me laugh out loud first 😂
Literally, I didn't think I would do a product review and share it with others. But here I am, cause I felt it's necessary to let others know what I have gone through using it.
It's nothing usual, also, not so unusual— reviewing my father's commuter bike is putting me into an uncomfortable situation— the same feeling that a woman gets standing in a queue with other men in a ferry to attend the shared washroom or all men staring at her when she first unlocks the bathroom and steps outside— it's so creepy I can tell you.
---
Anyway, my old man bought a TVS Stryker 125cc commuter bike after getting discharged from his Yamaha FZ-S. At first, he was unwilling to buy anything but FZ-S or similar, but, the budget protested. And he seemed to be happy with the new one.
---
Anyone viewing TVS Stryker will surely fall in love with its sleek design and semi muscular look, but, what's inside matters the most–- well, when you are looking for reliability instead of the outlook.
That's what I will let you know except for technical specs; you can always know it by a little Google search.
---
---
This weekend I went for a 160km ride with this little engine to attend my school program. Just to let you know, I have had a nomadic academic life mostly due to my father's job context. Kindergarten in one place, then the last two years of my primary education in a remote place for the purpose of attending the scholarship program, then my secondary and higher secondary education in a new place and finally, pursuing my university degrees somewhere else. Well, I would be relieved if that's the end, currently, planning to pursue further education in another place, making it stretched to a plethora of regions, cultures, and social contexts— like a street hooker with no particular place to stay and spend the life altogether.
Okay, let's get back to business, starting with what are the negative sides I have noticed about the bike.
---
Paint Quality:
Can't say if there are any other reasons, but the glossiness is lost on the fuel tank's surface in just 3k kilometers. Other parts are okay but look like the paint can't sustain the usual friction for a minimum level of expectation.
Switches:
Even though the bike looks cool, the switches on the handlebars don't look cute. To me, they are unnecessarily big and don't fit the context. Smaller sizes would look great, perhaps. Also, their finishing quality could use some inspiration from Pulsar NS 160, my former bike.
Suspension:
You may find them quite functional but not as expected on a bumpy road. It may feel alright if you are riding alone, but riding with pillion can make you feel uneasy while driving on uneven roads. The rear suspension is too jumpy and can easily throw the pillion out of the back seat if you don't brake on holes.
The same thing happened with my father— I was driving around 50kmph and didn't notice a hole in the middle of the road. It threw his phone out of his chest pocket and I had to collect different pieces from the road afterward.
So, be careful when you are carrying a pillion on your TVS Stryker.
Vibration:
All TVS bikes have this problem; they start vibrating after reaching a certain speed. But for TVS Stryker, the limit is only 52kmph. I have felt extreme vibration every time it reached 53kmph and above. Trust me, it'll shake your whole body like a massage chair. But once it reaches 60kmph and above, surprisingly, the vibration level drops— or, should I say, it becomes too regular that numbs the feeling!
Headlamp:
No, I didn't like the halogen bulb as it's not bright enough and makes it hard to see clearly at night. Signal lights are okay and properly lit to be visible from a long distance.
Seat:
Very very uncomfortable. My back was hurting only after driving 17-20kms, and my bottom was burning like hell. Can't say how the pillion feels on a long drive but the driving seat is not pleasant at all.
Mileage:
Although I didn't check the mileage, but based on the official statement, it doesn't have competitive advantages.
---
Now, to highlight a few positive aspects of the bike, I must say it's perfect for a person who needs a roughly 20km ride a day within the city. For a detailed review, let's start with—
---
Appearance:
The bike looks stunning, nicely toned, brilliantly engineered body parts, and has a decent sporty look for a commuter.
---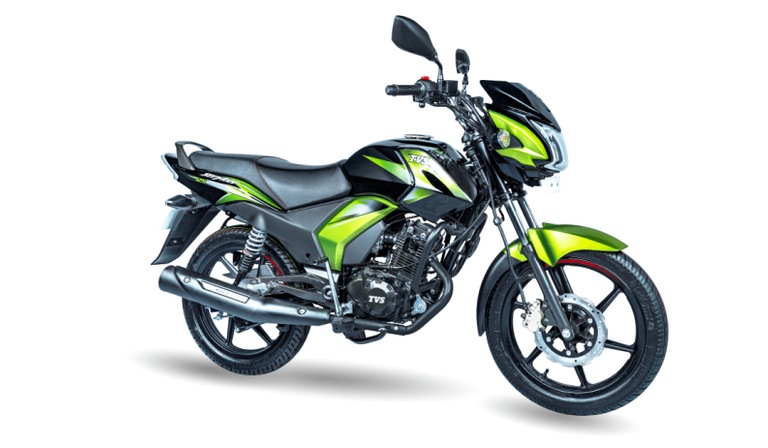 source
---
Price:
Could be the best value for money only if a few things could be sorted out, including comfort and headlamp— where a LED bulb is expected.
Brakes and Tyres:
Fairly good and gives you confidence even on emergency braking. But I didn't find any major impact on the speed during engine braking, and it's kinda disappointing. As I only have driven 150km or so in two days, I can't really say if the brakes work well under extreme conditions like excessive heat or after riding the whole day. But it'll be enough, I guess.
Acceleration:
For a commuter, the level of acceleration is unbeatable. It just goes rocket in the first gear and continues to do so for small-scale acceleration needs. But if you want it to run quickly when you are already driving at 50kmph or above, it loses its appeal. Well, for a 125cc commuter, you can't complain, not really.
---
So, the verdict?
Well, if you are a city rider, take it. But if your riding journey frequently hits the highway, you better try others. It's good for the eyes but not for your bottom, gives you quick acceleration at the start but fails you on top speed, lits the rear more than the front, easy to handle and comes with good brakes but the lightweight shakes the confidence when performing an emergency brake.
Overall, it's good for commuting and a bit of fun riding.
Anyway, the reviewer is 5′ 8″ and weighs about 141 lbs. In two days journey, it covered around 160kms including 146kms on the highway— with and without the pillion.
---
---