My Hive stats : Gearing up for first HPUD of new year 2022 .
My Hive stats : Gearing up for first HPUD of new year 2022 .
In my last report I reported that I gained some 50 HP in a week and current week as compared to last week is not bad at all, I am still able to add another 45 HP in my account, that is almost $90 addition in account value, taking Hive value at $2.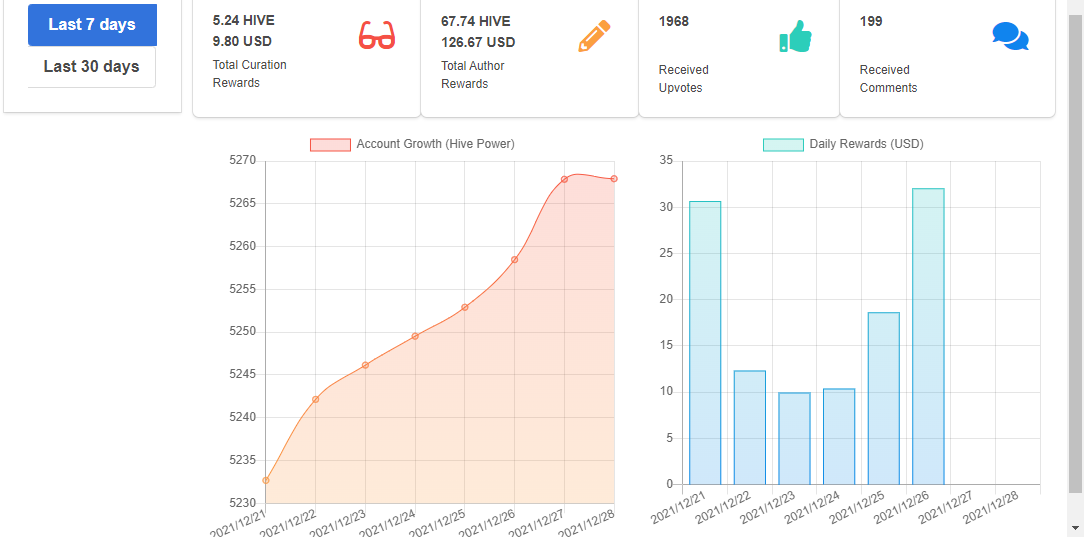 My current HP is now 5268 HP and in last report it was 5222 so it is increase of almost 46 HP here. This also give me a good feeling because I have accumulated some 165 liquid Hive till now to powerup at the first HPUD of the new year.
I checked in https://hivebuzz.me/ranking and find that user that having 5405 HP power is showing as Dolphin and if I add my current HP 5268 with liquid Hive available in my account i.e 165 the count will become 5433. I am pretty sure with 5433 HP I will definitely become a Dolphin in New year Day.
My curation HP for a week come at 5.24 Hive and I want to scale this HP to 7 Hive, a one Hive for a day. I am really hopeful that I am able to scale it also very soon and may be before the end of January 2022, I will be adding 1 Hive daily for my Hive Curation efforts only. But with current Hive price , I am getting close to $10 a week and I do not feel it is too bad.
When I checked the HiveBuzz for my ranked based on the HP , I found myself at 1930 position as compared to 1949 position and it certainly improvement of 19 rank though it does not matter much.
Hive tokens will also help in HP
I do not if you have heard about NEOXAG , Neoxian city run by @neoxian and @neoxiancityvb bot that upvotes for Hive by accepting payment in NEOXAG token. So this is one way to boost your HP by using NEOXAG earned from post.
So if you earn NEOXAG in your post and keep dumping in market then you should give try to this bot.
Hive-Engine exchange do not have fees so I am able to create some extra Hive by buying low and selling high too.
Deisel pools are new kind of passive income generator and I have put them also in my radar for generating some income from there too.
Gaming porfolio.
I have some nice gaming portfolio but I currently do not use it to increase my HP but maintain them independently and re invest there money back to them. I have now staked more then 100K SPS and still accumulating SPS. I feel my SPS stake in future will bring more Hive for me but as of today I am accumulating more SPS.
Maybe I will be still contained in Hive metaverse.
One of the goals I was thinking to explore outside other coming cryptocurrencies but I feel Hive is giving me too much in the plate that I think I may still fully engrossed in Hive for next year too. If NFT in Hive get even the fraction of traction happening in WAX and ETH, Hive is set to explode and I feel it is best to me to create a strong HP first that will help in steady income also by delegating and curating.
Do not forget Ragnarok
Before I sign off , I like to mention about the upcoming new game Ragnarok in Hive , Free NFT will be for grab and snapshot of your Hive account will be done on 6th January,2022. Since @theycallmedan is the investor behind the game, I am really looking forward for claimdrop and game launch.
What I am looking next.
I read in ONEUP discord that a kickstarter might be announced soon. I am currently thinking to put some $100 in that new game.
Apart from this I am looking forward to the game development by ehon team too.
Please feel free to upvote,reblog and comment.
Posted Using LeoFinance Beta
---
---