My Hive stats : Saving Hive for a Power Bee badge.

My Hive stats : Saving Hive for a Power Bee badge.
At the time of writing this post , Hive was trading at 30 cents with some -14% down on it's value. Definitely price is not in the range where I like it to see but it also not deterring me to keep moving forward for my Hive Goals. This current bear market has already eaten up the year 2022 and we can only wish that new year 2023 will bring us the good news. Preparation in current market is needed to reap the benefits in the bull market. My Hive goals and stat though independent of market price but good Hive price is always cherished, I actually backed off from buying packs as I do not want to spend large sum of Hive as Hive price is low.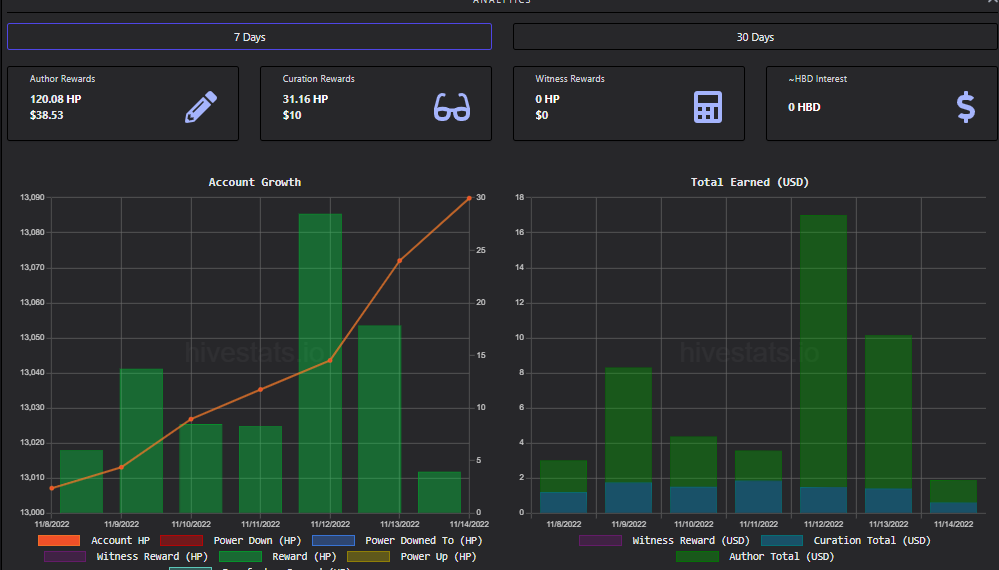 As far as my Hive stats go , they are definitely now on downtrend if compared to previous week but actually they are good as I have amazing previous week and I know that replicating the success of that week is not an easy task. If I concentrate on this week numbers only, look like equivalent of 120 HP is added by Author rewards and 31 HP added by curation rewards. This total make 164 HP alone and it is more then my weekly HP goal of adding 125 HP week.
Even with this nice total , I see my HP is still behind 32 HP as it supposed to be and the reason is that 120 HP is paid to me as HP and HBD. I converted my HBD into Hive, I have sufficient balance to match this week goal and even next week goal.
Selling GLX also yielded me some nice swap.hive that is currently in Hive Engine and I am thinking to make my total of 1000 Hive and use HPUD to powerup and get the power bee badge.
My next week goal is now 13250 HP but my December HPUD goal is to get past of 14K HP mark and may end this year with 15K Hive power.
Posted Using LeoFinance Beta
---
---