Rising Star #47 [EN/PT]
English
Hello friends, I'm bringing you my rising star account update.This is just an update I'm doing to show you my progress in the game. Last post my account was like this.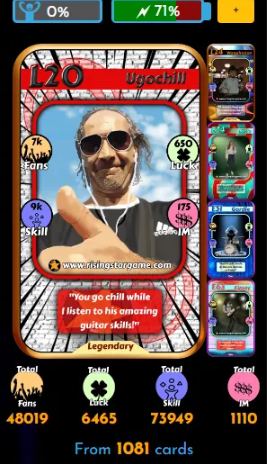 It's been quite a while since my last post. Since then I opened a lot of packs.
I'm going through a period so I have a lot of work and much less difficult than the costume one, I won't give it as often as the 5 minute quests as I would like.
My account is now like this: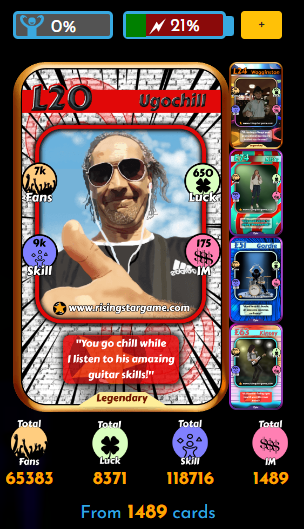 It seems little for a 3 month evolution. But I recently cashed out some of my starbits to buy Hive. And I made a purchase of XP cards, they are very expensive.But anyway almost 20K fans more.
Today I opened a new pack to celebrate New Cards Day but only rare and common cards came.
**Next goals: **I still haven't decided what to do next. I'm thinking about whether to buy another XP card to get to level 200 faster, which is my next big goal.
About the game: The biggest news about the game since my last post is yet to come, the Raves. I'm really looking forward to seeing how it works, despite having only one FA card. I want to see more about Raves to see if I buy some FA on the market or invest more in FC.
Thanks for reading and GG! 🤩
If you haven't played the game yet, start with the link.https://www.risingstargame.com?referrer=rafasete
---
Português
Olá amigos, estou trazendo para vocês a atualização da minha conta de RisingStar. Esta é apenas uma atualização que estou fazendo para mostrar meu progresso no jogo. No último post minha conta estava assim.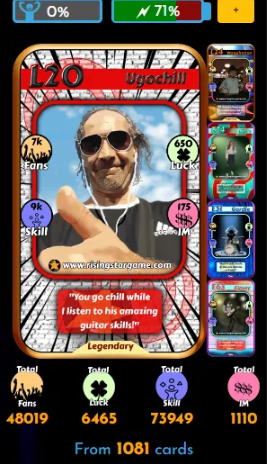 Ja faz um bom tempo desde meu último post. Desde então abri muito packs.
Estou passando por um período por isso tenho muito trabalho e muito menos difícil que o de traje, não darei com tanta frequência quanto as missões de 5 minutos como eu gostaria.
Minha conta agora está dessa forma: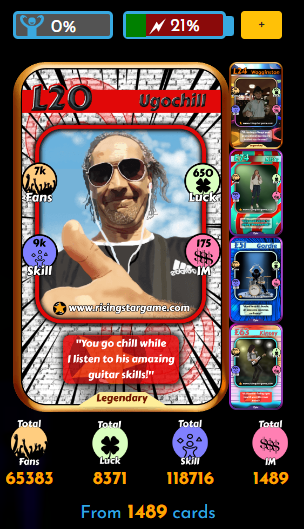 Parece pouco para uma evolução de 3 meses. Mas recentemente saquei um pouco dos meus starbits pra comprar Hive. E Fiz uma compra de carta de XP, estão bem caras. Mas de qualquer forma quase mais 20K fans.
Hoje abri um pack novo pra comemorar o New Cards Day mas veio apenas cartas raras e comuns.
Próximos objetivos: Ainda não decidi o que fazer a seguir. Estou pensando se compro outra carta de XP para chegar mais rápido no nível 200 que é meu próximo grande objetivo.
**Sobre o jogo: ** A maior novidade sobre o jogo desde o meu último post é ainda o que estar por vir, as Raves. Estou muito ansioso pra ver como vai funcionar, apesar de ter apenas uma FA card. Quero ver mais sobre as Raves pra ver se compro algumas FA no mercado ou invisto mais no FC.
Obrigado por ler e GG! 🤩
Se você não conhece o jogo ainda entre a partir do link: https://www.risingstargame.com?referrer=rafasete
---
---