Air Drones: advanced multipurpose technology.
Drones, also known as Unmanned Aircraft Systems (UAS), have significantly increased their contribution to activities that are difficult or risky for humans to access, making incursions into unexplored spaces or from novel perspectives, offering images or unpublished data of great value to the private and public sector.
---
They are so popular that we have seen one at some point. They can be fixed wing or rotarywing, and are classified according to the number of engines, the most common being the 4 engine or rotary wing quadcopters, although there are also 6 and 8 engine or hexacopters and octacopters, respectively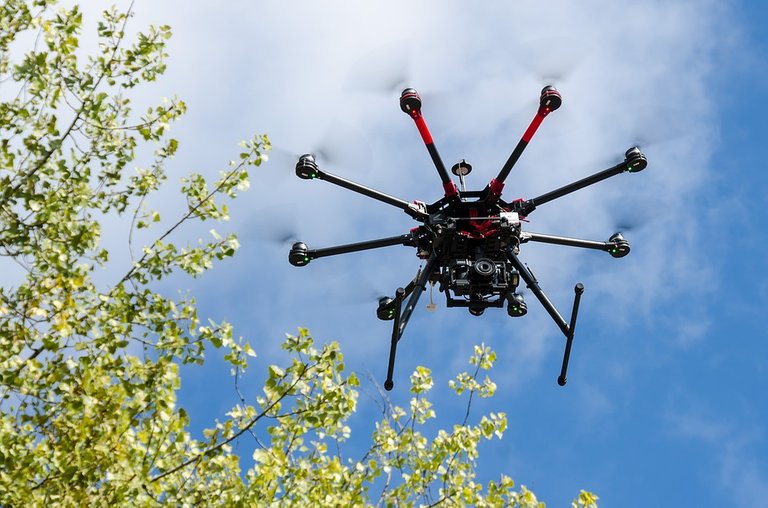 Source

Their size and weight is variable, from less than 3 kg called mini drone, to more than 150 kg called heavy drone.
---
Their use should not be underestimated, it involves risks for operators or pilots and the environment where they are used, for this reason it has been improved and continues to review the regulations related to the responsibility of owners, pilots, organisations that use them, associations or organisations linked to aeronautical safety.
---
Their usefulness is very diverse and continues to grow, due to their success in commercial, professional, scientific research, entertainment, surveillance, control and security applications.
Among the most frequent uses are:
(a) Transmission and/or recording of images, for advertising purposes, panoramic views of sporting or cultural events, traffic control, exploration and evaluation of areas of difficult access, surveillance and security functions, rescue and;
(b) Data capture for precision agriculture and process control, among others. More recently, it has also emerged as an option for parcel and package delivery.
---
Currently, market requirements are geared towards increasing flight time and autonomy, diversifying data capture, processing and transmission, use in closed or confined spaces, increasing payload capacity for deliveries and reducing the risk of personal accidents and damage to third persons.
---
Drones have proven to be very useful and continue to evolve, so it may be attractive for you to venture into this area. If this is your case, remember that formal training as a drone pilot is essential.
---
The proper and responsible use of technology makes all the difference.
---
See you soon dear ProjectHope friends!


Bibliographic Sources
(1) Unmanned Aircrafts Systems (UAS) – IATA Drones. Link
(2) INAC (2017). Legislación venezolana en materia de Aeronaves Pilotadas a Distancia (RPAS) Link
(3) FAO (2020) Tres formas en que los drones nos ayudan a gestionar mejor la tierra y proteger al planeta. En los proyectos de la FAO en Myanmar y Filipinas se utiliza tecnología para impulsar la sostenibilidad y la resiliencia. Link


Source 1 Source 2
The figures used are from https://pixabay.com/. The banners were created using PowerPoint
---
---