A New Line of Hive Promotional Clothing - Asking for Feedback from the Community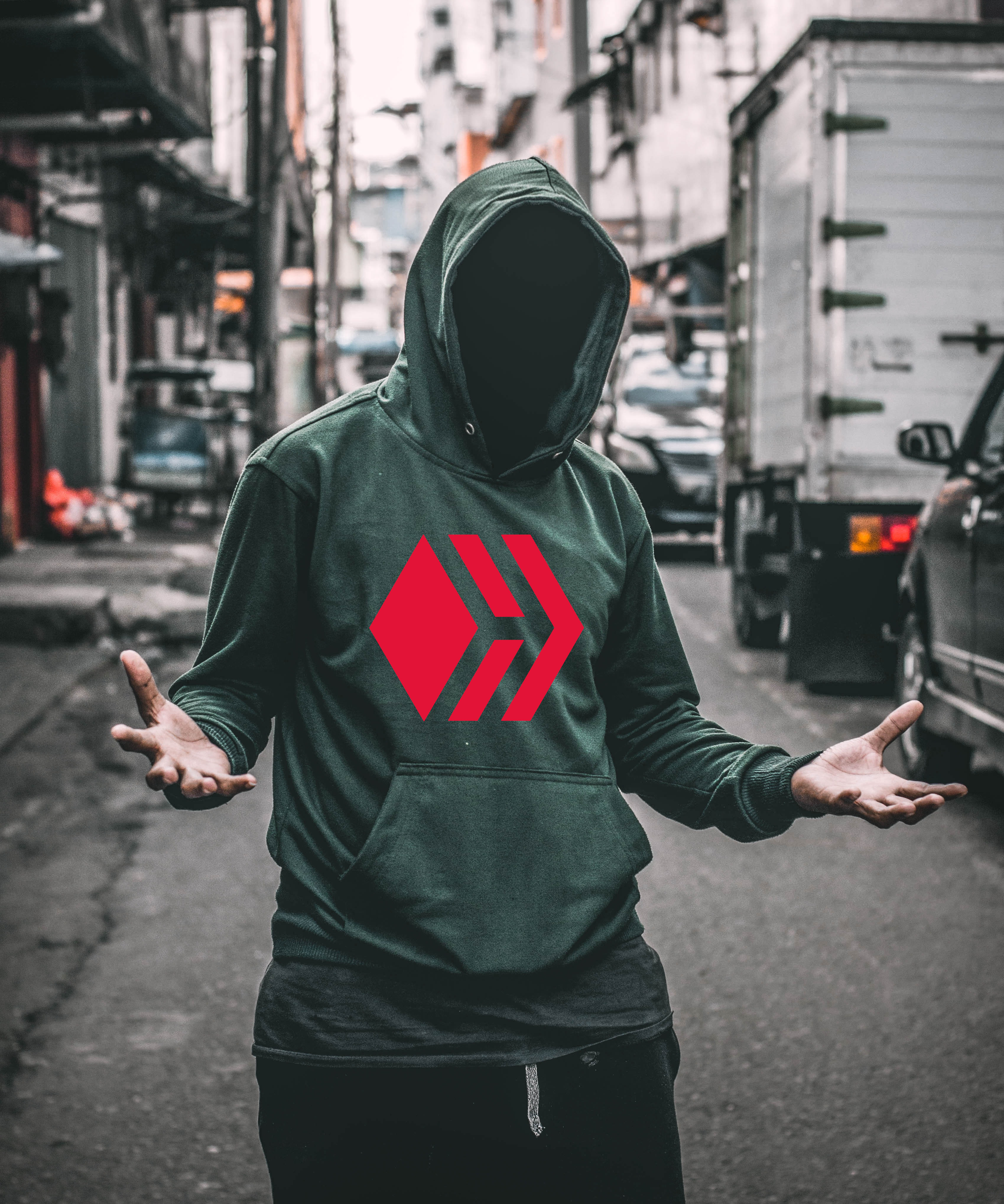 Photo modified from an image by The Ian on Unsplash
Introduction
I've had this idea for a while to make a clothing range promoting hive specifically through the amazing digital art that is created in many of the hive communities.
I learned my trade as a writer, and in fact, it is where I make the majority of my income ghostwriting for some large websites and companies. But my passion is creativity as an expression of the soul in all its forms- from fiction to poetry, music to digital art. These are the things that make my life worth living, and hive provides a platform for me to engage many of these passions and be rewarded for it!
I only recently learned how to make digital art by spending many days watching tutorials before joining the LMAC (let's make a collage) community in which I have won a few rounds.
But the other day when writing a post celebrating hive's second birthday and the launch of SPK network's Larynx miner token it suddenly hit me that some of my more impactful art could be used to catch the eye of people out on the street.
Imagine you're walking down your local high street and someone asks you where you bought that amazing hoodie from? And you answer - I bought it with hive cryptocurrency I earned from writing or playing Splinterlands, or vlogging etc.
Wouldn't that pique the interest of this person who has maybe only ever heard of Bitcoin and is influenced by the many negative mainstream press stories we see proliferating every few months.
Plans, Designs and Queries
So, I have been busy with planning this possible business venture, but I wanted to gauge the sentiment of the community and see if there is actually a market for various clothes with hive-inspired art that clearly promotes hive blockchain.
Eventually, I would like to have a range of 2-3 colours of t-shirts and hoodies with multiple eye-catching designs, but for now, I have spent some time this morning on photoshop manipulating a CC license stock image from pixabay to illustrate what my first hoodie might look like.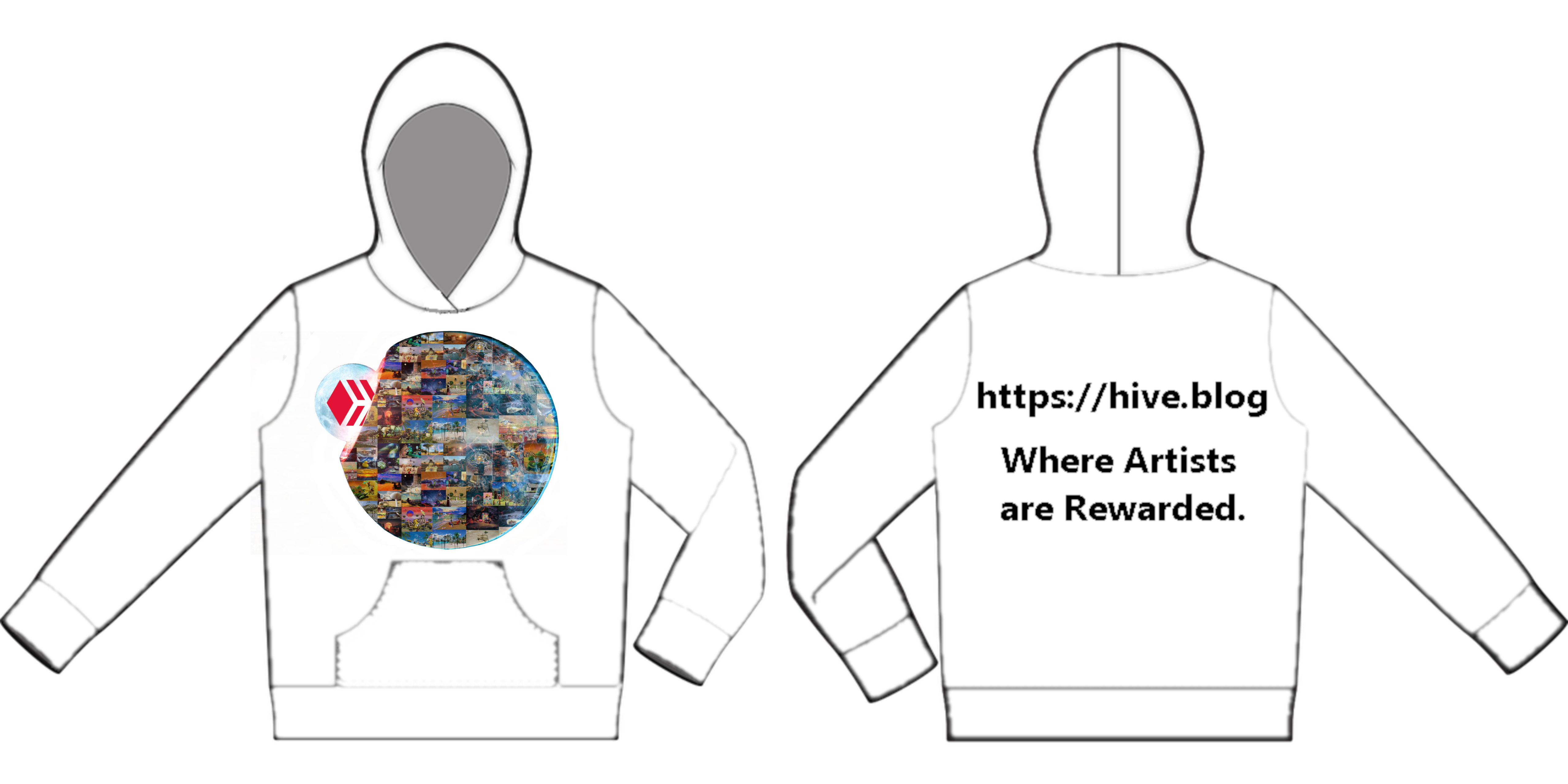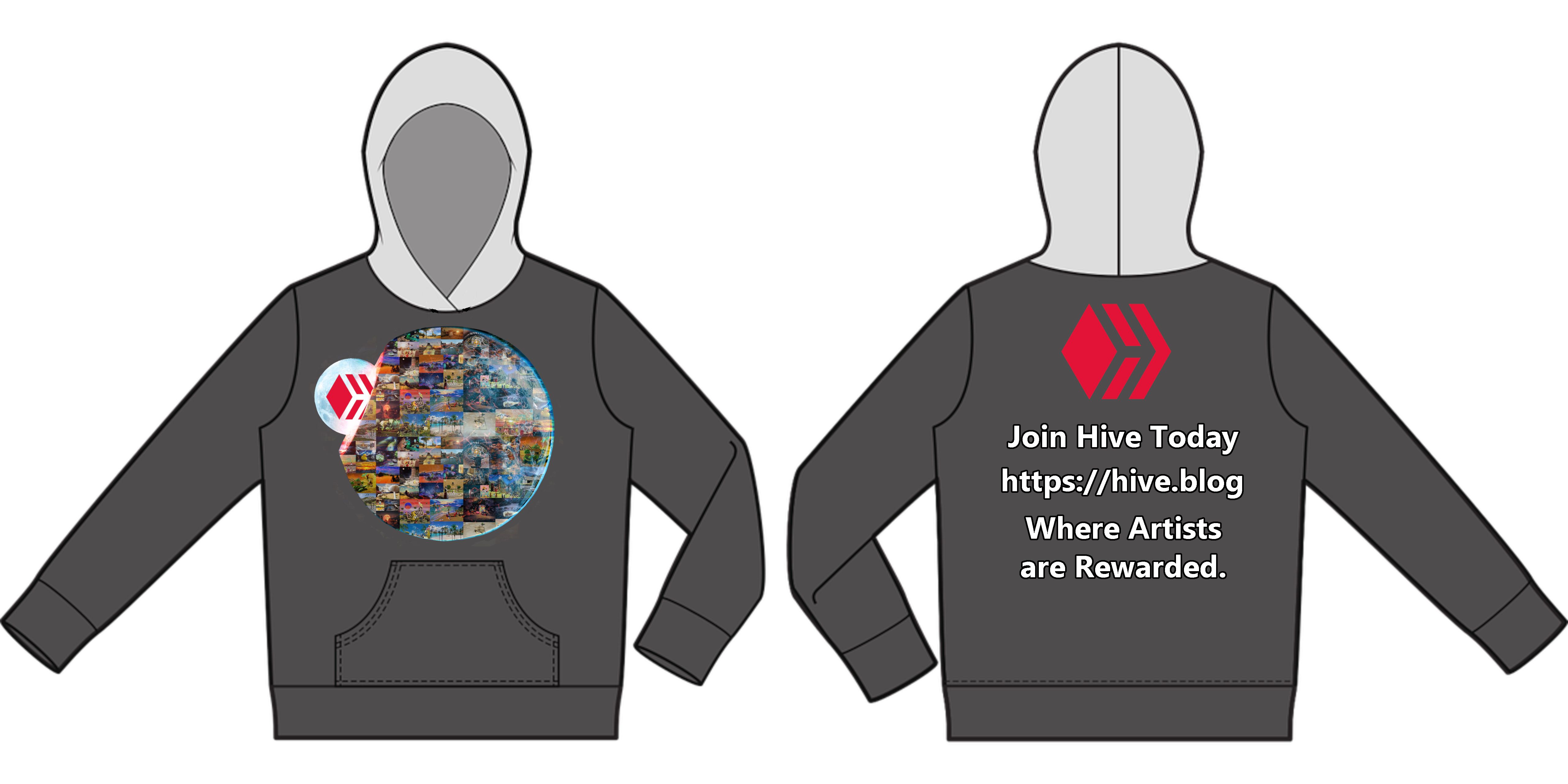 Initially, I would like to have white, black, and grey versions of these hoodies, and would probably change them all to include the text (and logo) on the back of the grey design above.
These hoodie designs are aimed at artists. I live in Liverpool in the UK, a city famed for its art and I have spoken to many artists who make little to no money from their work and advised them about hive and NFTs. But they are often reticent having heard too many scare stories, and they don't follow up on my advice.
I think a garment like this with the website clearly visible removes that word of mouth effect as people can just visit the site and make up their own minds.
Plan of Action & Request for Feedback
I shall wrap up this blog by saying I have already queried Printsome about an order for 100 of these hoodies just to get an idea of costs. Printsome is an industry leader in Direct to Garment (DTG) printing and has produced promotional garments for clients like Facebook and the Tate art gallery.
I will be getting busy over the next week designing digital art that promotes hive in different ways and to different subsets of content creators and shall be looking to add them to a line of hive clothing including both hoodies and t-shirts.
And it goes without saying that if/when I get a dedicated e-commerce website built you will be able to buy your brand new spanking hive hoodie or T-shirt with hive or HBD 😃
Please let me know what you think in the comments section. Would you buy a hoodie like this? Are there any suggestions for changes you have?
All feedback is welcome and appreciated.
Thanks for reading.

All image sources in this post are CC licence, digital art made by me using GIMP Photo Editing Suit.
If you have enjoyed this creative post, please check out my homepage @raj808 for similar content.




Interested in earning, trading, buying or selling crypto?
Join Presearch privacy focused browser that rewards you with crypto
Sign up to Bittrex here.
Sign up to Coinbase here.
Sign up to Swissborg app to instantly buy crypto here.
Use my referral link to sign up for Crypto.com and we both get $25 USD.
If You Have Found Value From this Post and Want to tip extra, Crypto Donations Are Welcomed:
►Donate Ether and ERC20 Tokens: 0x32321615174AF3Da6074Cf79DED8269cA7a8eB24
►Donate Bitcoin: bc1q8wutj8u6ush7s8mucphfxf7gzrexeywmuqm8g3
►Donate Bitcoin Cash: qzt7c0czw0q988h93jvcz2rq5gy0s3h9pg2pk700ev
►Donate Litecoin: Lfsnz3pbT5V9N6WWGRaBsgKs9EvFeqzcPm
►Donate BNB: bnb1xeu94exteel9w3g8g44e6g595kvrqlgzm0crq4
►Donate Monero: 49PovXGcM9Y7JYeRJ35W9xZGrdivvLaMbVtGc3WDv6amCm5wqA854SvJNWxaEqjTz18K5YVPj5D6619C3bvNHsrG7oD1whb
►Donate Tezos: tz1SJUkpeznKE6bEhbX81YFdUQS5BprA4ot8
►Donate XRP: r35quYTThThN7yNvkJxyhLFAPyju3tsT35
---
---