100 Hive Experiment Staking Game Coin | 19th Day Report, Some Declining APR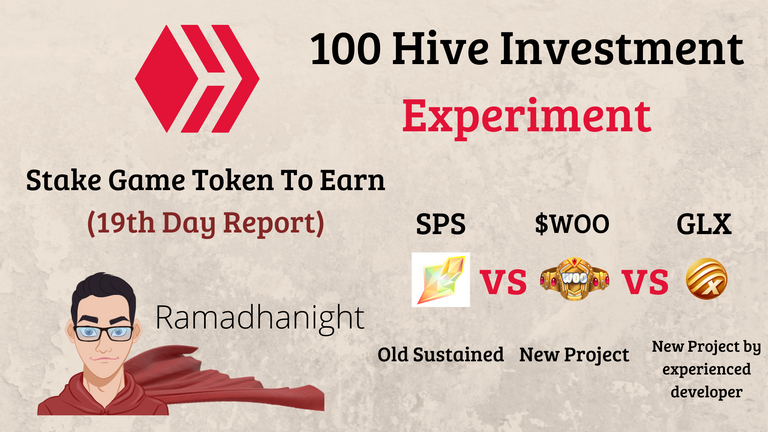 ---
Introduction
Hello Everyone !
Welcome back to Ramadhanight's Hive Blog. Today i would like to share about my investing report on game token to gain some airdrops. My subject is SPS, WOO, and GLX. Now that another week has passed, i saw a declined APR of all subject based on hive, let's see how my airdrops goes !
---
Why Investing on Staking Game Token
Before going to the main point, i want to share my thought on investing on game token staking. There are some reason why i prefer to invest my money here :
1. Earn passive rewards. Just like the HP delegation, it's like anybody dream to earn money while sleeping, right ? You just need to put your money and get the daily airdrops while it last;
2. It's safe from thief. Because unstake is have a month time delay, your money can't just taken away from you instantly;
3. Help the game developer and community. By staking game token, you help the tokenomics to grow so the developer could develop their game and gamer could have better game environtment.
---
My Game Token Choice
I chose 3 game token that i found most interesting on hive.
1. SPS. It's token from Splinterlands Game, a play to earn game that proved to keep developing with many interesting project. The developer seems always having way to keep the game going as well the game token. With their newest Genesis League Soccer's token is added to SPS staking airdrop, makes SPS staking is having more interesting and profitable.
2. $WOO. This is my chosen new game on hive that i think interesting. They bring new concept with wresting theme and already got some licensed NFTs from real wrestler. They also offer nice airdrops by staking $WOO.
3. GLX. Mentioned on 1st list, this game token is rising up very rapidly with crazy APR up to 6000% on it's early day of launch! I wonder how long this too-good-to-be-true Airdrop could stand.
---
My 19th Day Report
Fyi, i use my alt account for this experiment, 1 account is for SPS and WOO Stake, and another account for GLS, so the airdrops for GLS won't mixed with SPS staked.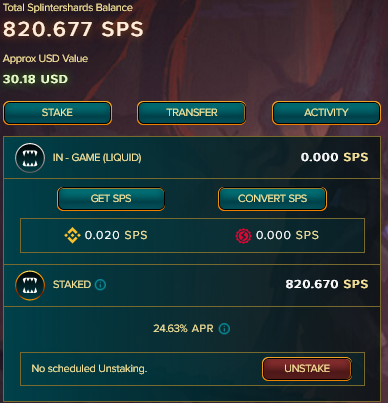 *staked woo compounded until 19th day

My initial investment all start with 100 hive. SPS and WOO are started at same time, 13th November 2022, while GLX started on 14th November 2022, there were around 20 hours of gap between them, this is because GLX was not on my original idea, but then i think this is very interesting to included on my experiment, so i decide to top up some hive and get GLX in as well. The converted hive into each token are shown on picture above.
On 16th November 2022, i made the report on my 3rd day staking, you could see the report on this link
https://peakd.com/hive-167922/@ramadhanight/100-hive-experiment-staking-game-coin-or-3rd-day-report
Then on 21th November November, i made the 2nd report on my 8th day staking, you could see the report on this link
https://peakd.com/hive-167922/@ramadhanight/100-hive-experiment-staking-game-coin-or-8th-day-report
Now let's talk about how the aidrop goes on last 11 days. I had my aidrops claim on 22th Nov, 24th Nov, 28th Nov, and 2nd December. You could see the detail on picture below. The hive convert is based on each claiming day.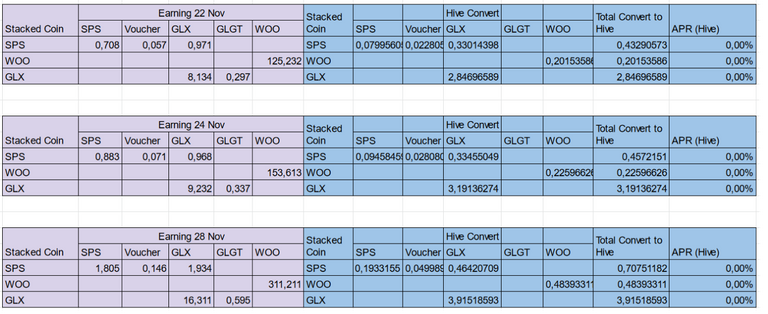 I will only tell you the cummulative token that i collected on last 11 days because it would be too long to read all the day's detail. By staking 820 sps, i got 5.085 SPS, 0.411 voucher, and 5.797 glx on my last 11 Days of staking. I have sell all of them and got 2.2688 hive in total. This is mean that from my last 11 days of staking, i got 2% of my investment as return which give me around 75.22 of APR (compared to 100 hive invested). For the all time stats, i have earned 5.654 hive from my investment on SPS staking which set the APR around 106%.
Let's move to the WOO, i claimed 877.502 $WOO for my staking in last 11 days. I couldn't sell this $WOO since it goes straight to my staking $WOO, but based on each claiming day market, it's valued at 1.279 hive. This mean i got staking woo with value 1.279% of my investment in 11 days which set the APR based on last 11 claimed token is on 42.44%. For my all time stats, i already claim $WOO with value 2.452 hive with APR on 47.11% This is actually still a big amount of APR, but might seen small because the other were having crazy APR. I will wait for another week to see how many i got then will unstaking it based on that ammount to make it fair, because right now my $WOO is bulking while another token is not.
Last is the GLX. I got 46.853 GLX and 1.71 GLGT for staking 135.4 GLX in last 11 days days ! Converted to each claiming day market, i earned 13.05 hive which is 13% of my initial investment which set the APR based on last 11 days return to my hive initial investment is on 476% ! For my all time stats, Stacking GLX gave me 49.622 of Hive and having 1006% of APR if there is no changed (surely will changed 😂), but i've almost got 50% of my BEP anyway~
---
Token on Token APR
Since the APR that i explained above are based on my hive investment, the token price is having big impact on it. I also want to serve you with the APR based on their own token. Since SPS's airdrops is split between sps, voucher, and glx , i convert all of them into hive then use the last market price to convert it into sps. I serve the claimed token on last 11 days and it's comparison to the initial investmen on below's picture.

If we compared it token that claimed to token invested, we could see the SPS staked return on last 11 days is on around 91.38%, while WOO is having 61.15% of APR, and GLX is having 1148% of APR. But you have to remember that at this comparison, the APR of your investment value might declined because the token value is declining as well.


Sps chart shown sps value on hive is slightly decline


$WOO chart shown $WOO value on hive is declines as well


GLX chart shown GLX value on hive is declining as well but now on stable value around 0.2 on last 7 days
---
Conclusion
There declining of APR from each token due to the token value that is declined compared to hive. Staking GLX still having highest APR with 476% of APR based on last 11 days claimed token convert to my hive investment and 1148.2% of APR based on token invested.
SPS staking is having 75.2% of APR based on last 11 days claimed token convert to my hive investment and 91.38% of APR based on token invested.
WOO staking is having 42.4% of APR based on last 11 days claimed token convert to my hive investment and 61.15% of APR based on token invested.
GLX might having highest APR but be carefull because this might dropped significanly soon due to too many new GLX are come to the circulation. SPS having 2nd highest APR, but is very depended to GLX airdrops as well. WOO have lowest APR compared to SPS and Airdrops, the airdropped token is come as staked token as well, but not depended on token that just launched that might having higher risk on losing it's value.
---
Final Words
Thank you for kindly read my post, if you have an idea on investing in hive with great return, please tell me on comment section. You can suggest me another game with interesting airdrop as my next subject of experiment as well !
Notes: All this post is not a financial advice, just my experiment that i want to share. Please do your own research before investing into any investment instrument.
Set beneficiary to
@indonesianhiver
for all Indonesian hive blogger development
---
Credits
Hive for the very useful blog and community platform
Mrs. carrieallen for the very useful ULTIMATE Markdown Tutorial
All curators for the upvotes
Canva for the free photoshop
Splinterlands, Genesis League Soccer, and Wrest online organization for the great project

~See You on Another Ramadhanight's Hive Blog~
---
---