SEXUAL HARASSMENT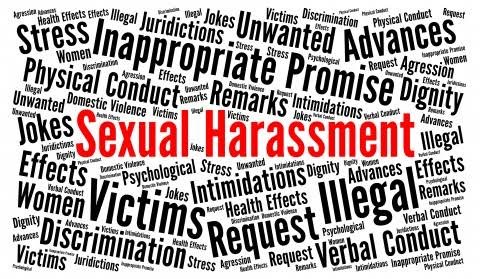 Source
This post is translated in Spanish and Portuguese
Sexual harassment
Sexual harassment can be said to be a behaviour depicted by the making of distasteful and unsuitable sexual remarks or physical advances..
This can happen anywhere,in a work place ,school or any other professional or social gathering..
It is an unpleasant sexual behaviour that's offensive, humiliating or intimidating. It can be expressedin writing, verbal or physical and can happen in person or online.
Both men and women can be the victims of sexual harassment.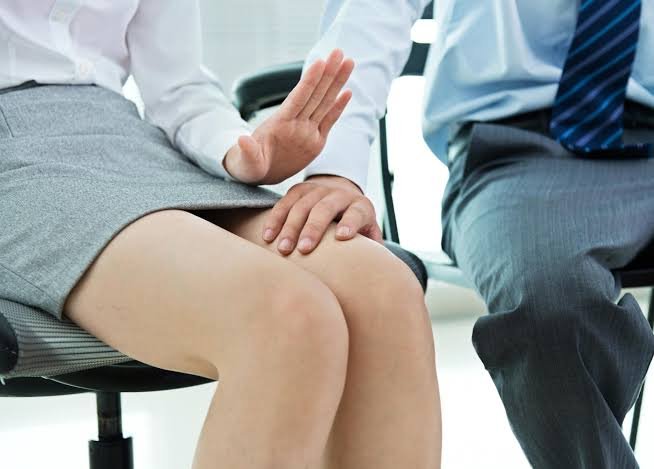 Source
When it happens at work or in school it may amount to sex discrimination. Some people are sexist.
They probably don't believe in equality and they don't think that men and women can do the same job because of the differences they perceive between genders. Some people consider coquetry harmless, but in many cases, it isn't..
When flirting makes you feel awkward, uncomfortable or offended, it has crossed the line.
Harmless flirting makes you feel good. Harassment makes you feel bad, angry or unsettled.
There is a type of harassment which is known as "quid pro quo sexual harassment" whereby some kind of benefit is offered in exchange for some form of sexual favor.
It should be known that any kind of communication that falls outside the realm of general and inside the realm of personal, it could be sexual harassment.
When someone shares personal information you're uncomfortable hearing, including talking about a recent fight with a spouse, a breakup, or any other domestic related chatter, it can be a subtle form of sexual harassment.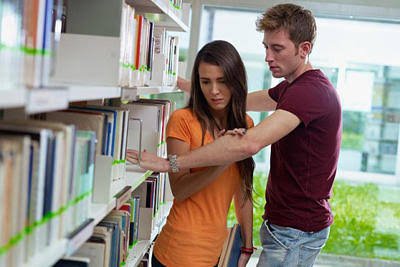 Source
Sexual Assault can also occur If someone is sexually harassing you in a way that causes you to feel humiliated, pain, fear or intimidated..
Even online ,Some people still behave inappropriately toward you, know that no one deserves, or asks to be sexually oppressed. Everyone has the right to work and live in an environment that's free from harassment, bullying, prejudice and pandemonium.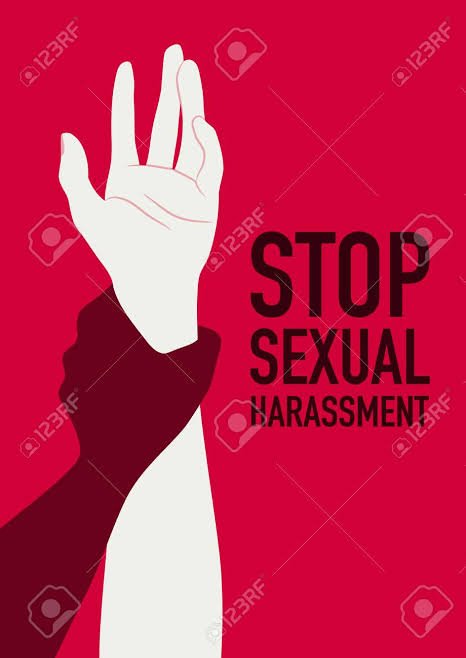 Source
Sexual harassment is illegal in many countries law..
In most cases, simply telling the harasser that you're uncomfortable, or having you can trust someone to tell that to the harasser for you even though it might not be easy as said Otherwise, you can take action LEGALLY
  Have a lovely week...

SPANISH
Acoso sexual
Se puede decir que el acoso sexual es un comportamiento representado por la realización de comentarios sexuales o avances físicos desagradables e inapropiados.
Esto puede suceder en cualquier lugar, en un lugar de trabajo, escuela o cualquier otra reunión profesional o social.
Es un comportamiento sexual desagradable que es ofensivo, humillante o intimidante. Puede expresarse por escrito, verbal o físicamente y puede ocurrir en persona o en línea.
Tanto hombres como mujeres pueden ser víctimas de acoso sexual. *
Cuando sucede en el trabajo o en la escuela, puede equivaler a discriminación sexual. Algunas personas son sexistas.
Probablemente no crean en la igualdad y no creen que hombres y mujeres puedan hacer el mismo trabajo debido a las diferencias que perciben entre géneros. Algunas personas consideran que la coquetería es inofensiva, pero en muchos casos no lo es ...
Cuando coquetear te hace sentir incómodo, incómodo u ofendido, ha cruzado la línea. *
El coqueteo inofensivo te hace sentir bien. El acoso te hace sentir mal, enojado o inquieto.
Existe un tipo de acoso que se conoce como ** "acoso sexual quid pro quo" ** mediante el cual se ofrece algún tipo de beneficio a cambio de alguna forma de favor sexual.
Debe saberse que cualquier tipo de comunicación que caiga fuera del ámbito de lo general y dentro del ámbito de lo personal, podría ser acoso sexual.
Cuando alguien comparte información personal que no se siente cómodo al escuchar, incluso hablar sobre una pelea reciente con un cónyuge, una ruptura o cualquier otra charla doméstica, puede ser una forma sutil de acoso sexual.
La agresión sexual también puede ocurrir si alguien te acosa sexualmente de una manera que te hace sentir humillado, dolorido, asustado o intimidado.
Incluso en línea, algunas personas todavía se comportan de manera inapropiada contigo, saben que nadie merece o pide ser oprimido sexualmente. Todas las personas tienen derecho a trabajar y vivir en un entorno libre de acoso, intimidación, prejuicios y caos.
** El acoso sexual es ilegal en la legislación de muchos países.
En la mayoría de los casos, simplemente decirle al acosador que te sientes incómodo, o hacer que alguien pueda confiar en que alguien se lo diga al acosador por ti aunque no sea fácil, como se dijo. De lo contrario, puedes tomar medidas LEGALMENTE **
   Ten una semana encantadora...

PORTUGUESE
Assédio sexual
O assédio sexual pode ser considerado um comportamento representado pela realização de comentários sexuais desagradáveis ​​e inadequados ou avanços físicos.
Isso pode acontecer em qualquer lugar, em um local de trabalho, escola ou qualquer outro evento profissional ou social.
É um comportamento sexual desagradável que é ofensivo, humilhante ou intimidante. Pode ser expressa por escrito, verbal ou física e pode acontecer pessoalmente ou online.
Homens e mulheres podem ser vítimas de assédio sexual. *
Quando acontece no trabalho ou na escola, pode significar discriminação sexual. Algumas pessoas são sexistas.
Eles provavelmente não acreditam em igualdade e não acham que homens e mulheres podem fazer o mesmo trabalho por causa das diferenças que percebem entre os gêneros. Algumas pessoas consideram a coqueteria inofensiva, mas em muitos casos, não é ...
Quando flertar faz você se sentir estranho, desconfortável ou ofendido, isso significa que ele ultrapassou os limites. *
O flerte inofensivo faz você se sentir bem. O assédio faz você se sentir mal, com raiva ou inseguro.
Existe um tipo de assédio conhecido como ** "assédio sexual quid pro quo" **, em que algum tipo de benefício é oferecido em troca de alguma forma de favor sexual.
Deve-se saber que qualquer tipo de comunicação que esteja fora do âmbito geral e dentro do âmbito pessoal, pode ser assédio sexual.
Quando alguém compartilha informações pessoais que você não gosta de ouvir, incluindo falar sobre uma briga recente com um cônjuge, um rompimento ou qualquer outra conversa doméstica relacionada, pode ser uma forma sutil de assédio sexual.
A agressão sexual também pode ocorrer se alguém está assediando você sexualmente de uma forma que faz com que você se sinta humilhado, com dor, medo ou intimidado.
Mesmo online, algumas pessoas ainda se comportam de maneira inadequada com você, sabem que ninguém merece ou pede para ser sexualmente oprimido. Todos têm o direito de trabalhar e viver em um ambiente livre de assédio, intimidação, preconceito e pandemônio.
** O assédio sexual é ilegal na legislação de muitos países.
Na maioria dos casos, basta dizer ao assediador que você se sente desconfortável ou pedir a alguém para contar isso ao assediador por você, mesmo que não seja fácil como disse. Caso contrário, você pode agir LEGALMENTE **
   Tenha uma linda semana ...

---
Posted via proofofbrain.io
---
---