A Book Telling About Coffee : Jép Kupi di Koetaradja

Hi coffee lovers! Today I am posting my opinion and review on a book telling about coffee. The book is "Jép Kupi in Koetaradja". The tittle of the book is in Acehnese, and in English means "Sipping Coffee in Koetaradja". Koeradja is another name of Banda Aceh, the capital city of Aceh Province, Indonesia. Today, I am in the city and staying at Hermes Palace Hotel. I got the book on a table in the hotel room. And, for sure I just got an idea to publish my review of the book in Cinnamon Cup Coffee Community.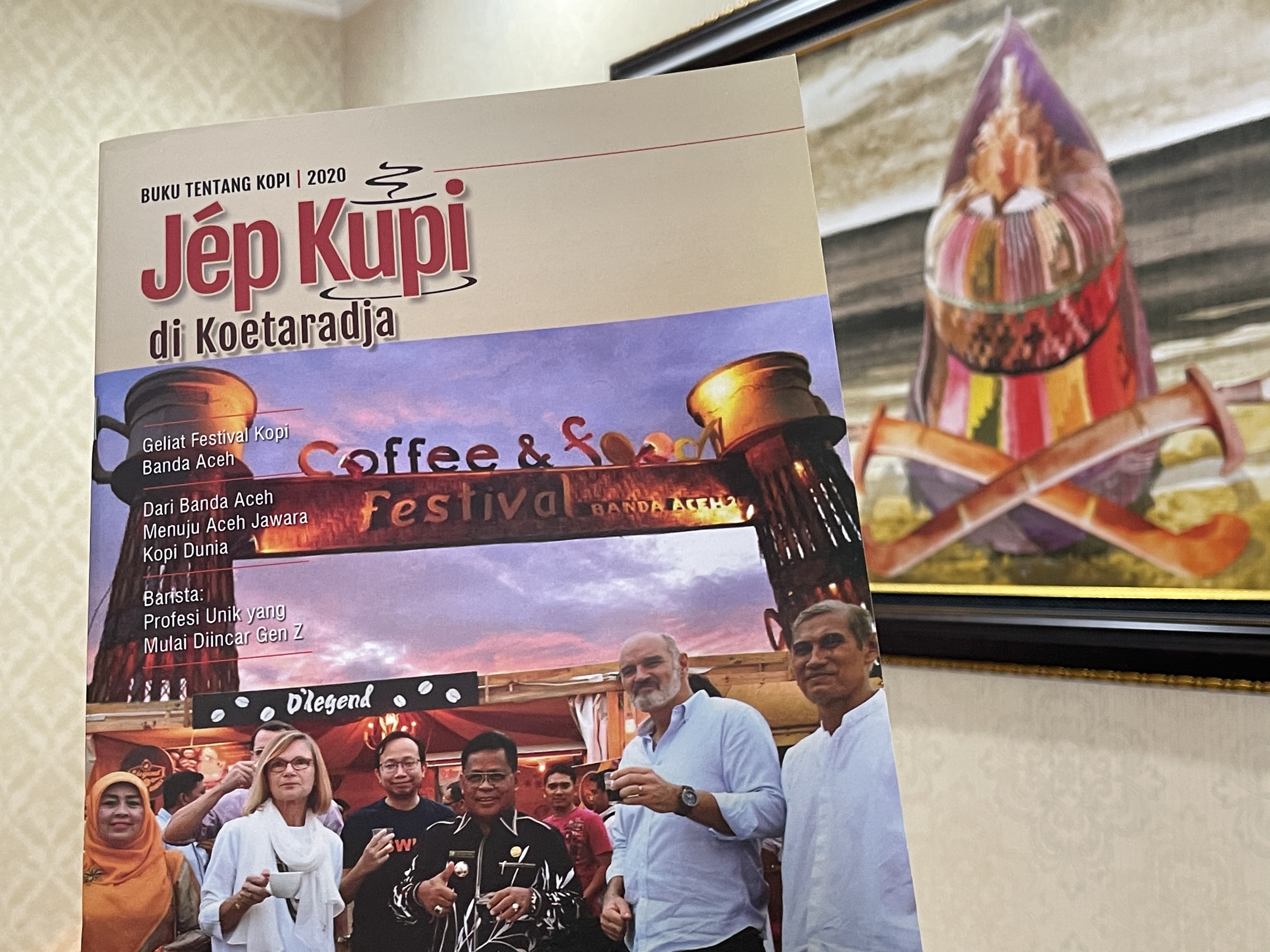 On the cover of the book is the mayor of Banda Aceh, Aminullah Usman wearing black batik. He was with foreigner tourists and some local people. The photo was taken in Aceh Coffee Fest 2019. A few months before Covid-19 pandemic.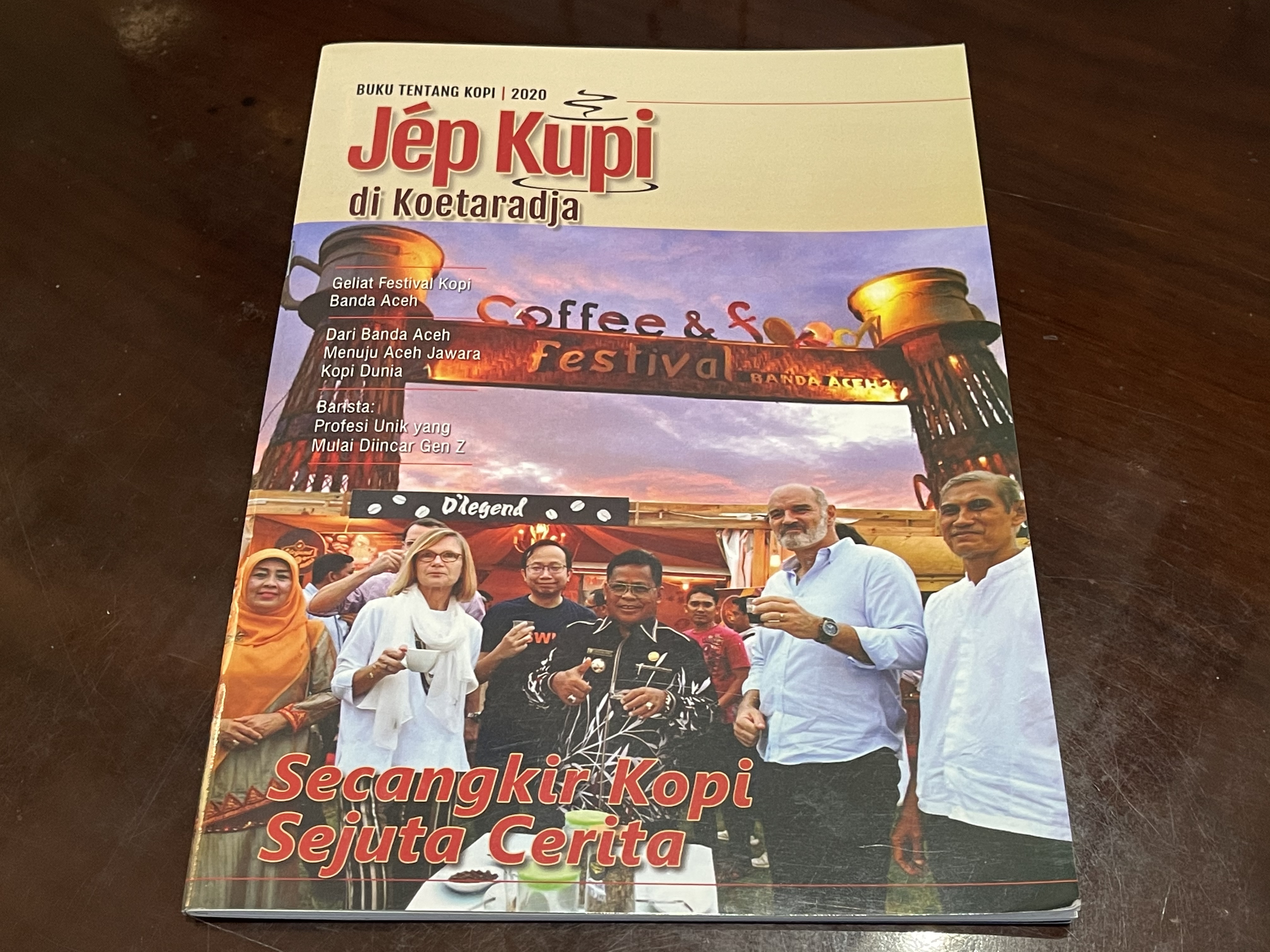 He is so proud of Acehnese coffee and more and more coffee shops are built in Banda Aceh. As a mayor, he was excited that Banda Aceh is becoming a coffee city in Indonesia. He said "Secangkir Kopi Sejuta Cerita", which means "A Cup of Coffee with A Million of Stories". That's very true as many people visiting coffee shops with different background, they have their on stories and experiences. Visiting coffee shop is not only to taste the coffee, but also to meet friends, families, business partners, and so on. The more people in a coffee shop, the more stories are produced.
The Contents of The Book
Let's take a look at the contents of the book. The mayor was telling about "Secangkir Kopi Sejuta Cerita" or "A Cup of Coffee with A Million of Stories". Then, Zainal Arifin, the vice mayor of Banda Aceh City telling about "Ngopi, Mereguk Aroma Kehidupan dan Pemecah Kebuntuan" or "Sipping Coffee, Drinking The Aroma of Life and Solving Problems". Iskandar, The Head of Tourism Deparment telling about "Banda Aceh Pusatnya Penikmat Kopi" or "Banda Aceh is The Center Place of Coffee Lovers". And many more contents of the book we could read.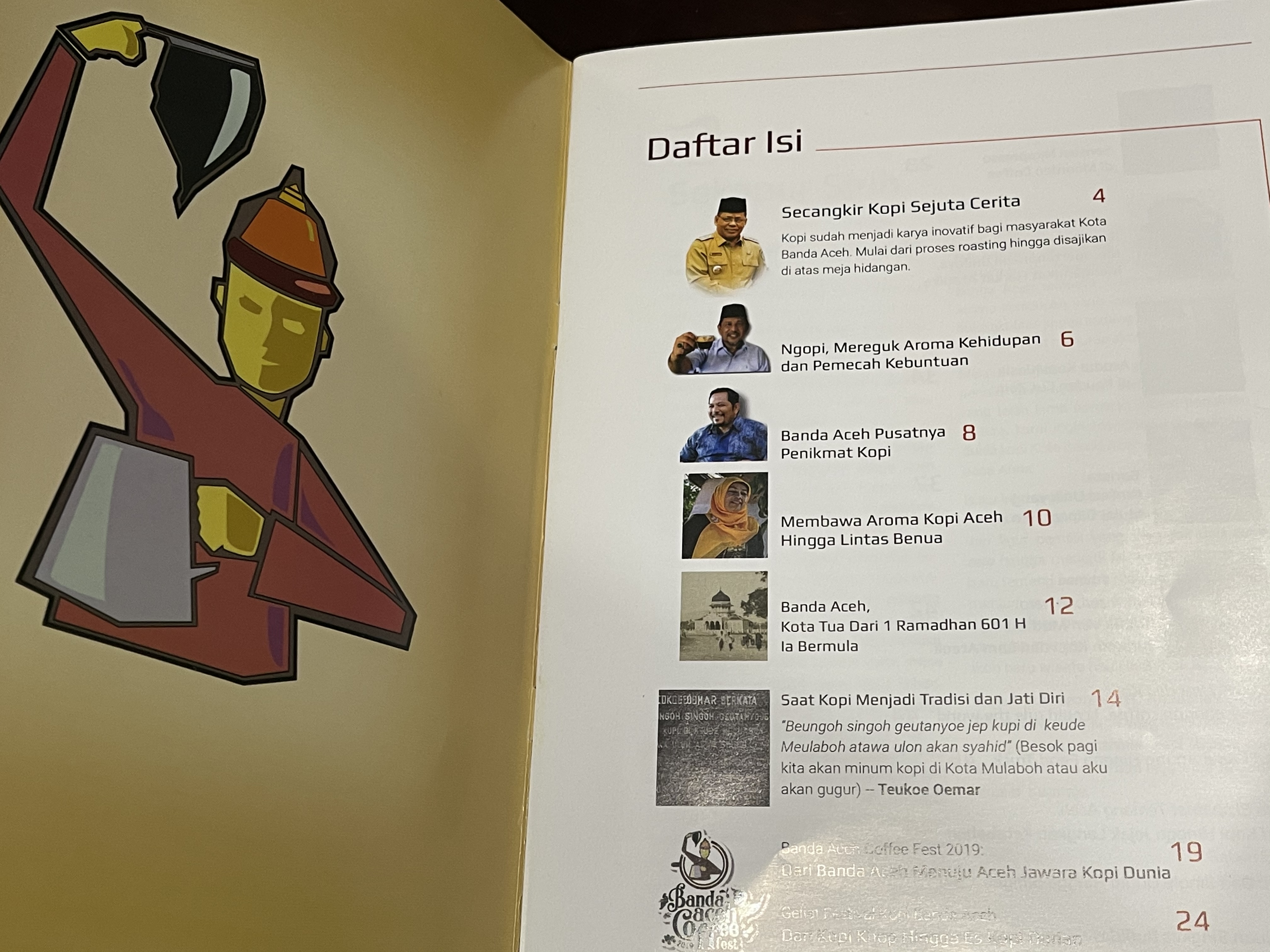 I've seen that the number of coffee shop is vast growing. We could find many coffee shops in any street of the city. I think it's reasonable to make Banda Aceh as the center place for coffee lovers in Indonesia, even in the world. Yet, most of coffees served in the city is coffee from Gayo Highlands whether it's arabica or robusta. I think coffee shops in Banda Aceh should start providing their menus with coffee from all over the world, including Ethiopian Coffee, Brazilian Coffee, Columbian Coffee, and even Blue Mountains Coffee from Jamaica. Hopefully, I could build one coffee shop serving variants arabica coffees of the world.
Banda Aceh as a Center for Coffee Lovers
It's really a big dream to make Banda Aceh as the center place for coffee lovers to taste coffee. For our region, I think Banda Aceh is already being a center for coffee lovers. Banda Aceh is one of oldest cities in Indonesia. Banda Aceh is now 814 years old.
Banda Aceh was originally established as Bandar Aceh Darussalam and served as a capital and hub for the Sultanate of Aceh upon its foundation in the late 15th century. Banda Aceh had long been at the center of protracted conflicts between the Acehnese and foreign domination, including war with Portuguese, wars with the Dutch, the Japanese, and the Indonesian government. The city rose to international prominence in the aftermath of the Indian Ocean earthquake in 2004, which struck off the western coast of Sumatra. Banda Aceh was the closest major city to the earthquake's epicenter.Wikipedia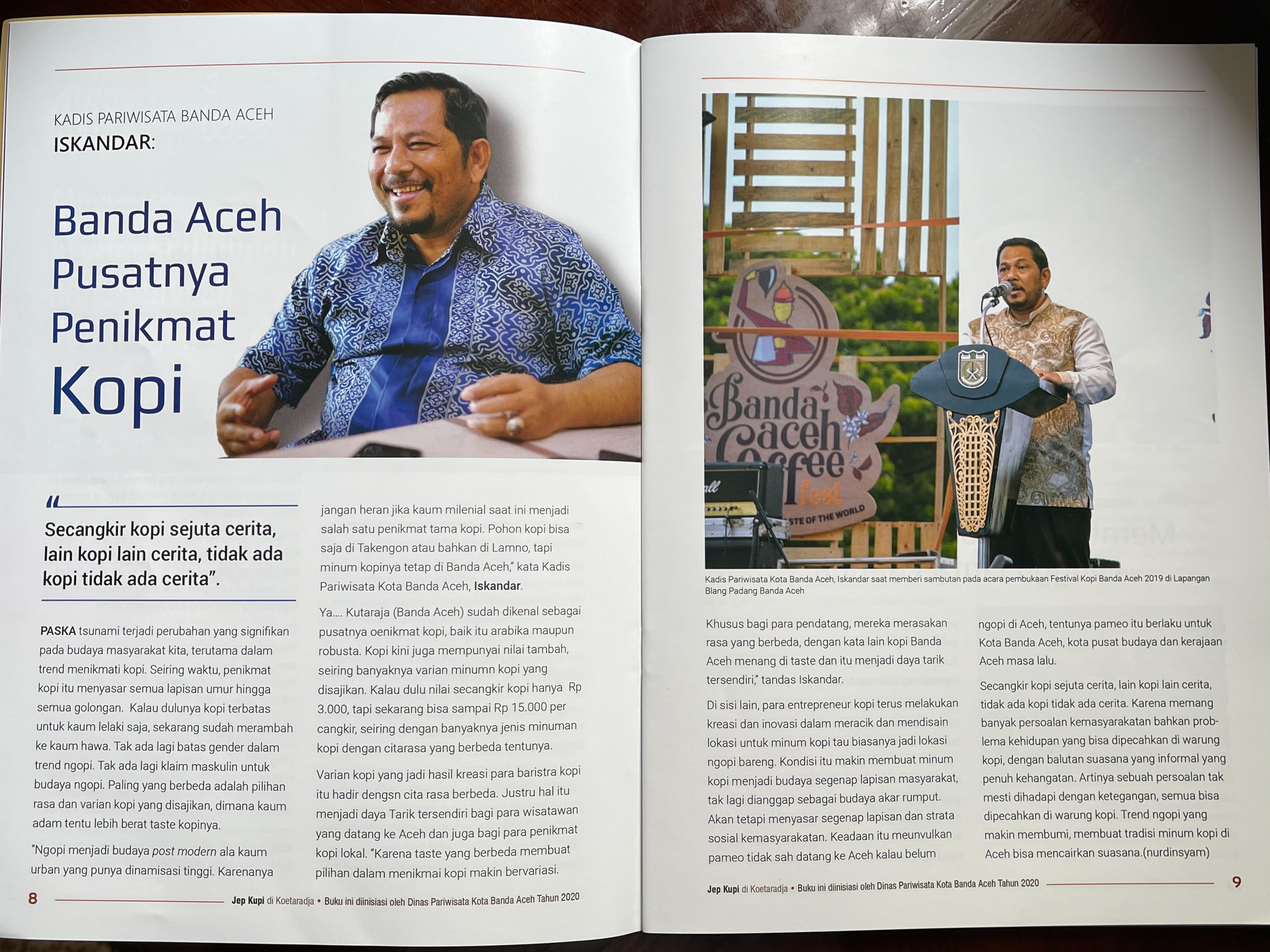 The Head of Tourism Department of Aceh Province said that coffee now is not only for men, but also for women. It's already becoming a modern culture in the province. In the past, coffee was almost only for men since coffee was considered as a masculine drink. However, nowadays women could visit coffee shops to enjoy their coffee.
I think it's really good development of lifestyle for our region. As I have mentioned in my previous post that the coffee lifestyle was getting its growth after mega earthquake and tsunami hit Aceh in 2004. It was then many expatriates came to Aceh to work for rehabilitation and reconstruction of the affected areas in our province. They were surprised to know the quality of Gayo Arabica Coffee and they spread the way of drinking espresso coffee. So now, beside kopi sareng (sareng coffee), we also drink espresso.
From Zero to Hero
We have a lot of success stories on coffee business to tell about. There are many businessmen successful in coffee chain businesses. It could be as coffee plantation owner, coffee processor, roaster, exporters, and even coffee shops owners. One of successful coffee shop owner is Taufik.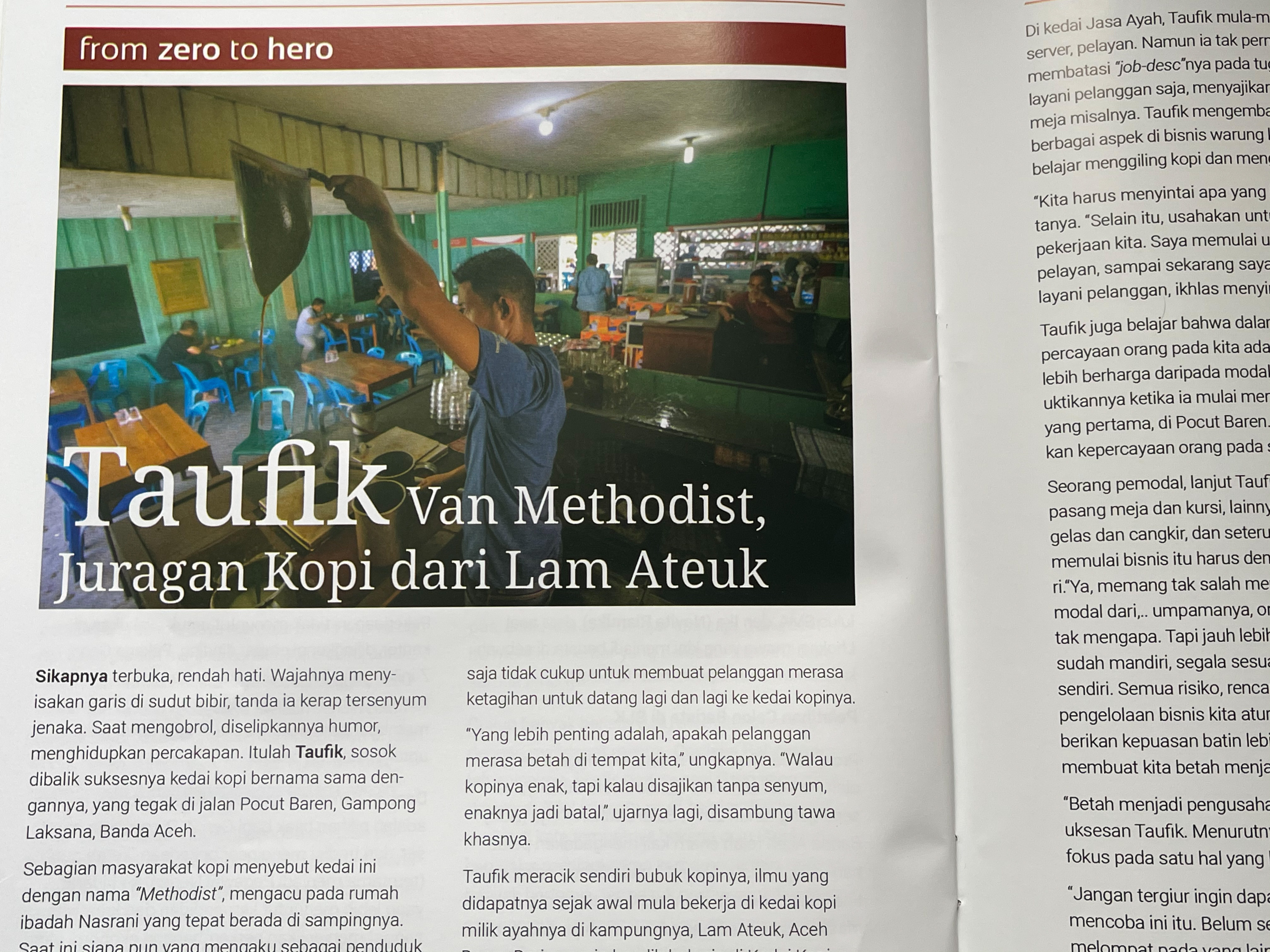 He is running his coffee business next to Methodist Church in Banda Aceh city. Even almost 100% of Aceh people are moslem, minority religions could live peacefully here. A coffee shop is also standing very close to a church. I have visited Taufik Coffee Shop several time months ago, but I don't have any documentation. I would love to visit it again and publish it on this community.
Taufik got some experience when he was working at a coffee sareng producer in Lam Ateuk, a village in Great Aceh regency. After quitting from the producer, then he is producing his own coffee sareng. His coffee shop is only serving kopi sareng, the traditional coffee blend, with some other ingredients added, such as brown sugar, peanut, corn, rice, and others.
Conclusion
After reading this book (Jép Kupi di Koetaradja), I've got more insights about the history, culture, and many coffee related-businesses. Coffee is really a great commodity, which affect the people to have a new lifestyle, new experiences, new stories and new friends as well. The language of coffee is global one. Coffee has no boundaries.
---
---