SOGOGI Shabu & Grill – All You Can Eat
Monday, 2022-09-19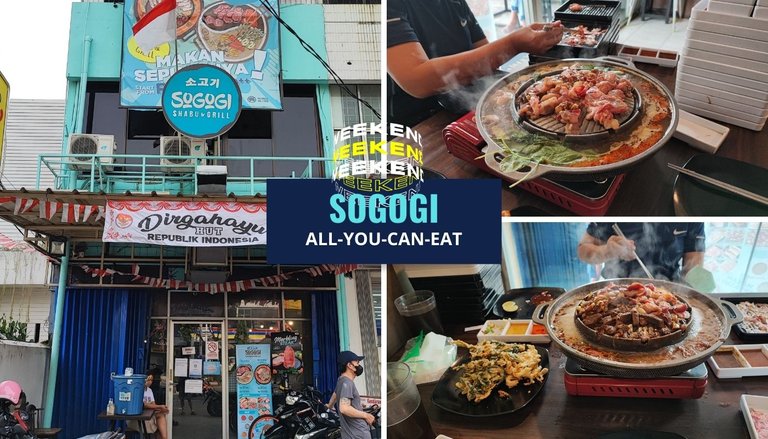 It's been more than three years since we last ate at a restaurant that serves all-you-can-eat shabu-shabu. I could recall the price per person at that time for a mid-range restaurant was around 225,000 IDR (USD 15). Last Sunday, my wife had cravings and asked me to have shabu-shabu for dinner. It looked like she had researched which restaurants were affordable and had good reviews. The favorite restaurant we used to frequent now costs around USD 20 per person and has recently received many unsatisfactory reviews from visitors.
Shabu-shabu (Japanese: しゃぶしゃぶ, romanized: shabushabu) is a Japanese nabemono hotpot dish of thinly sliced meat and vegetables boiled in water and served with dipping sauces. The food is cooked piece by piece by the diner at the table.

Source: Wikipedia
This time my wife found a new restaurant not far from where we live. It got pretty good reviews on Google, and the prices were affordable. Similar restaurants in the Mall range from USD 25 and up. Every all-you-can-eat resto has a 90-minute limit to have your meal, and you have to finish what you take or else you'll be penalized by paying extra. It is good practice to discipline and teach people not to waste food.
We left our house at around 15:30. We deliberately chose to be early so as not to coincide with dinner time. When we arrived around 16:00, we still had to wait about 20 minutes outside. The restaurant was in a small shophouse, and the capacity of diners was limited. When we were finally allowed in, our first impression was that the room was stuffy due to poor air circulation. Even though the room was air-conditioned, the manual main door was not always tightly closed, and the habit of people opening the door but never closing it.
They only offer two packages for their menu (halal), the Standard and Special packages each cost USD 7 and USD 12 per person, respectively. The difference is the addition of higher quality meats to the Special package, which they claimed to be Wagyu quality (Wagyu is so overused these days). What was included were various kinds of vegetables, broth, soft drinks, and tempura (vegetables).
If we opted for the Special package, we could order an additional four kinds of meat (Wagyu) on top of the Standard package from the waiter. For the Standard package, the meats were already available in the chiller, and you can take as much as you like as long as you can finish them.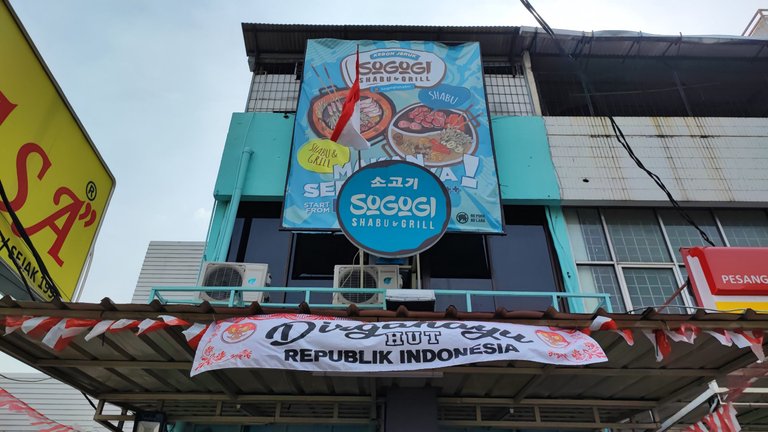 SOGOGI SHABU & GRILL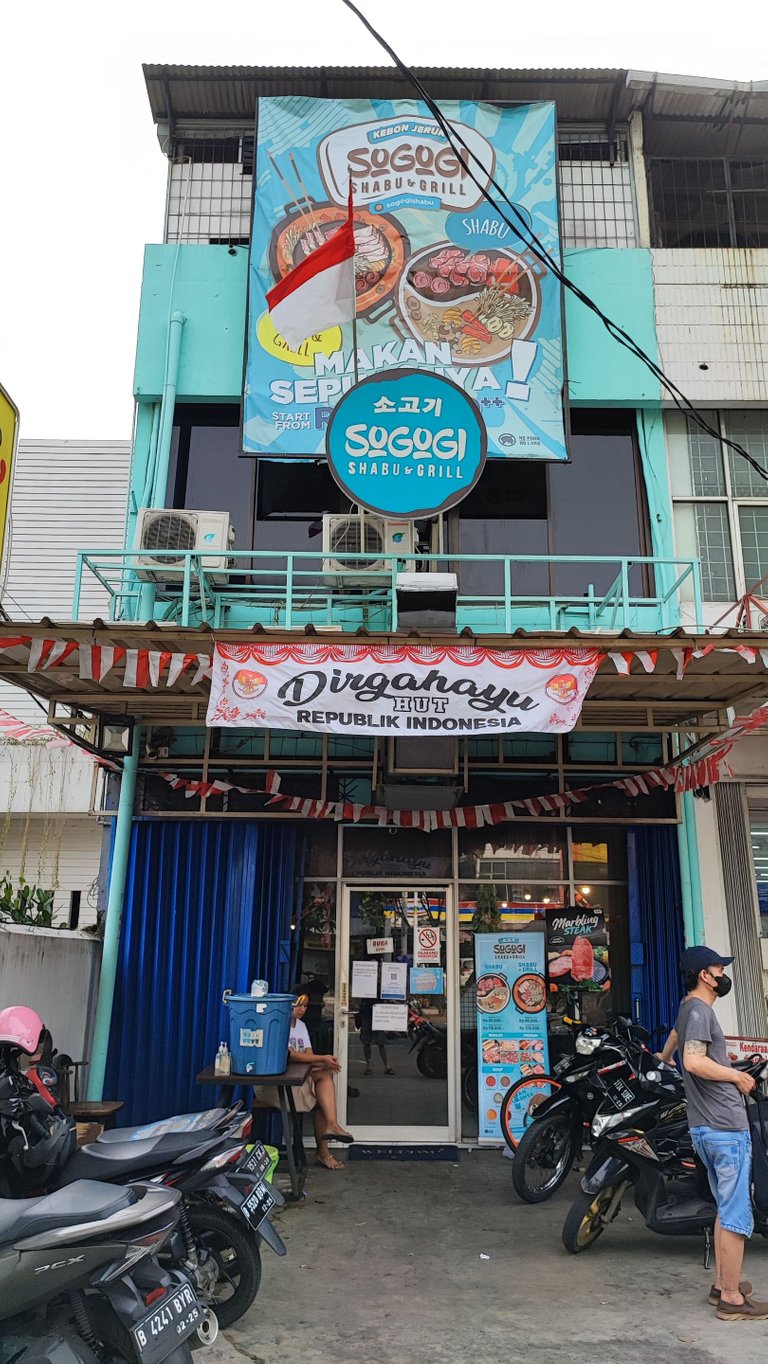 The main entrance to the resto.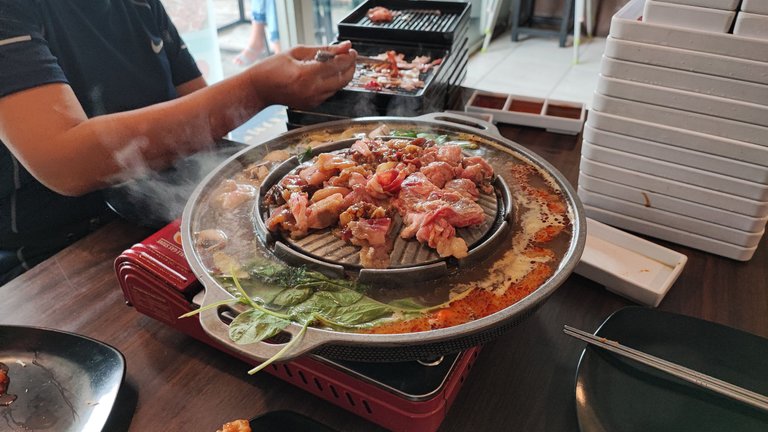 A single gas stove on the table with a hot pot & grill pan on top. Notice the black and white stack plates. The black is the Standard, and the white is the Special package.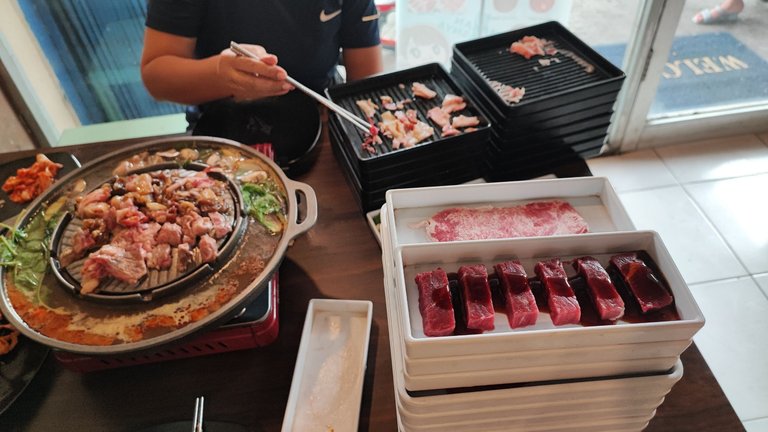 Have a look at the Special package kind of meats.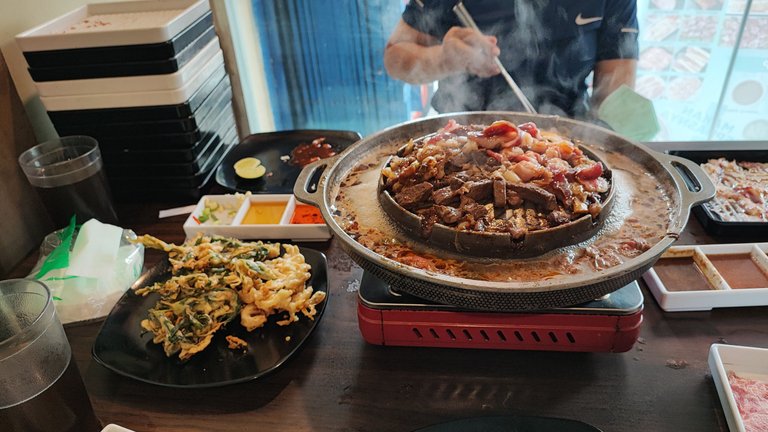 So much meat to eat. On the left, a plate of vegetable tempura for the side dish.
My wife ordered 3 plate each of the four meats offered in the Special package plus she took at least another 15 plates from the standard package. Even though rice was free, I stick to the meat diet and tempura only. When we finished, we almost used up the 90-minutes time limit. The last 30 minutes of eating was a struggle. I was so full and did not want see let alone have meat for the next couple of days.
Would I go back there again if you asked me? NO! The food was acceptable for the price, but for the eating experience, it's definitely a NO for me. The place was hot, stuffy, and very uncomfortable to enjoy a meal. If this is part of the strategy to make you uncomfortable, so you want to leave quickly and eat less, then they have succeeded!
Well, that was our "meat-lovers" weekend, and I'm on a no-meat diet for the next couple of days! burp! 🥩 excuse me... hicup! 😋
---
Thank you for reading and for your support.
---

All images and/or videos in this post are created by me, otherwise, they will be specified. You can also support me by clicking this link or the image on the right. 🙂
---
| | |
| --- | --- |
|                                 | A baby boomer who's trying to embrace and adapt to the new digital world. Worked for over 30 years in the IT industry before retiring and now run an online vegetable delivery and hydroponics equipment business. Enjoy traveling, cooking, writing, playing pool, and all IT-related stuff. You're always welcome to leave a comment or feedback, and an upvote or reblog is also greatly appreciated. |
---
---