Astral Entity Legendary Death Summoner Airdropped! Did you claim Yours ?
Splinterlands has done another airdrop for Legendary Death Summoner in Chaos Legion edition. We all love cards airdrop because this way we are getting free cards however certain criteria will need to meet for eligibility. Splinterlands has done the airdrop for one of the legendary death summoners in Chaos legion edition. These days we are getting these airdrop cards soon because of the ongoing burn activity. Currently, over 13 million packs are sold out and this includes the inventory which is burnt.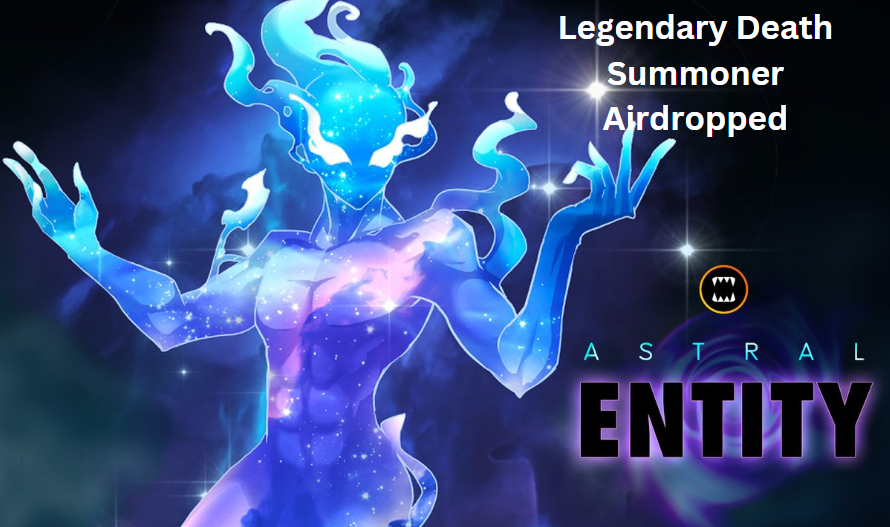 I believe this burn initiative has been doing good so I had more value in the game. The immediate effect is that people are getting these free cards faster. This is called airdrop and it's really good to see these cards coming faster. I know that I am not eligible for this because I did not buy the packs in bigger quantities. I had the option to choose between cards or packs so I continued with cards. I had some money that I invested in cards instead of buying packs because ultimately my goal was to make my gameplay better. We cannot rely on packs to upgrade the Deck and this is why I decided by cards from the market and increase my collection power.

This is one of the strategies that I followed and it work in my favor. As of now, I am not playing the game and all the cards are from my account or put on rental. I even most of the Summoners in level 6 and these are from Chaos legion edition. The recent card is also a good one I would say so instead of buying packs for the card I think it is better to buy from the market and upgrade it. The current price is high but I hope in the next week or so we can see some decline become people will be selling the card in the market which can push the price a little down.
25k Chaos Legion packs are burned every day as a result of the recent SPS governance proposal, so packs eligible for this airdrop are guaranteed to sell out within the next week. Astral Entity will be the 28th Legendary card to be available in Chaos Legion edition booster packs, and each pack purchased up until the 13M mark will have a 0.154% chance of receiving the card, which means that 1 in every 650 packs will receive the card on average.
Talking about the card I think it is one of the most powerful cards in the game. It comes with three abilities and costs 6 mana. In my experience, I can say that cards which cost more Mana are more powerful. This one is the same where we get three abilities and this is not so common with most of the cards in the game. The current price for this card is approx $20 and I hope that they should be dropping for the next couple of weeks so I will wait for that time. As of now, I am not sure how I will be upgrading to what level so it will depend on the situation and at what price I can buy.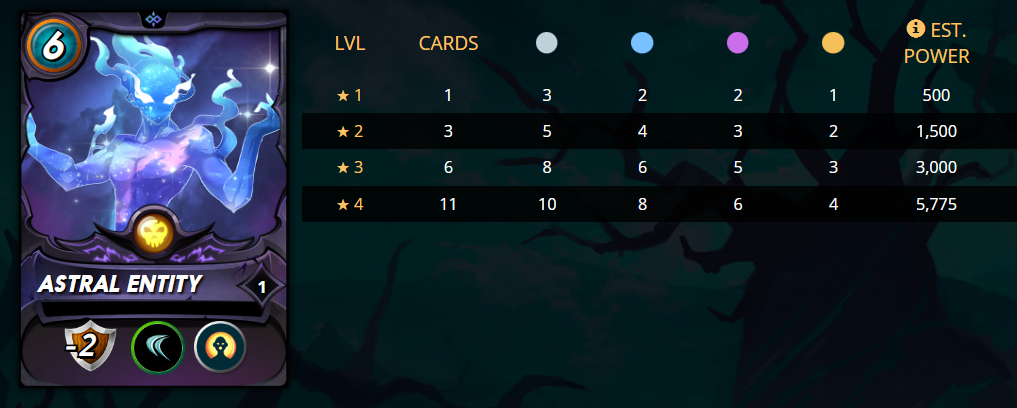 I have seen some posts on Twitter about this new card and players are enjoying whoever has received the card. This is good because it is like a celebration for anyone who has got the card as it is free for anyone eligible. Even though those who are not eligible also have the option to buy it from the market and this way also we can make our game experience better and add more value by adding this card to the account. I am planning to buy some packs before the supply is exhausted as once the supply is ended then the price is expected to rise. We are left with approximately 2 million in total supply and before that ends it is important to buy and grab as much as possible.

Now I'll be waiting for the day when I will be able to buy a couple of cards on market and upgrade them. I would require three cards minimum to move on to level 2 and I do not want to spend $60 for the same how every fight can get some discount on this then I surely buy whenever this price is available in the market. I have some liquid holding which I will be utilizing to buy the car and my tracking time starts now in the time I do not get the deal I am looking forward to.
Thank you so much
Stay Safe
Posted Using LeoFinance Beta
---
---