Hive Market-cap Crossed $1 Billion
Hive has been doing great this week and it has also crossed the total market cap of 1 billion USD and I find it a great achievement. This is just the beginning and I expect if things would grow with this speed then the $5 hive will not be far away. Hive has also crossed the $3 price and made its all-time high with $3.13 which is so good. Here is the snapshot that says it all and we can see that the current price is $2.79 and the market cap is 1.07 billion. Was it expected that it can happen this year? I think- yes because the amount of action is too high on the blockchain and that will surely lead to growth. I have seen Nathan saying that Hive is going to be $2 this Christmas but seems it will be double what he expected so let's see how this person is in the coming days.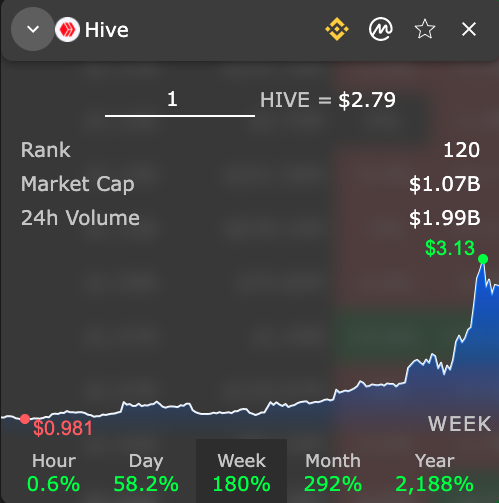 Crossing the 1 billion marketcap itself is a big achievement and now things are heating up. Upcoming SPK airdrop could be one of the reasons behind this but I believe splinterlands are also contributing well to this growth in the hive ecosystem. Hive has turned out to be so strong as one complete ecosystem where we have almost everything like-
NFT
DeFi
Gaming
Staking and Earn
Trading
Social Media
Video Streaming
Content creation
SMT through Hive ENgine
Tribe Tokens
Dapps
I might miss something in the list but what I am trying to share is that the Hive ecosystem is future-ready where we have almost everything and that is too decentralized so we never have to worry about censorship. Usually, some blockchain platforms are built with 1 or 2 things but here we have so many and I don't think that there could be any other platform for these things in one place.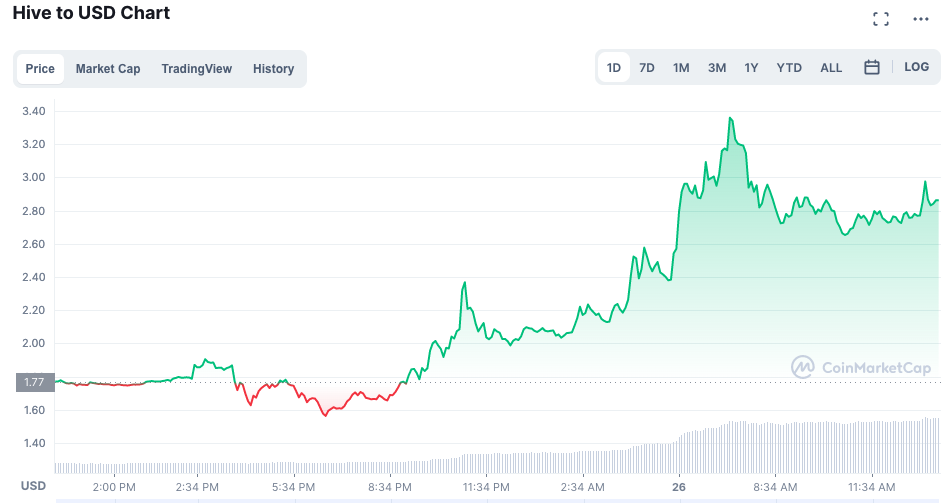 These days NFT and #PlaytoEarn are trending in social media and one of the leading games we have on the hive. Its none other than splinterlands and even on NFT Punks did pretty well. 10k NFTs were sold in 36 hours which is certainly a record and it shows that the project is so strong that has attracted lots of investors and will go a long way.
Splinterlands has been doing a lot of development and recent CL packs sale was a huge success and now there is another official sale is planned which will be starting from 8th December. This official launch will also create the need for a big demand for hive tokens that people will use to buy packs.
As of date, you think of anything in crypto and we have it here on the hive in a decentralized way. This is the beauty of hive blockchain that you will be able to access everything with the same keys and there are no restrictions at all Even HBD staking is highly profitable that pay 10% apr and returns are paid in form of HBD on a monthly frequency.
Look at the below hive stats and you will see the amazing growing figures in terms of token price, market cap, tank, and even dominance.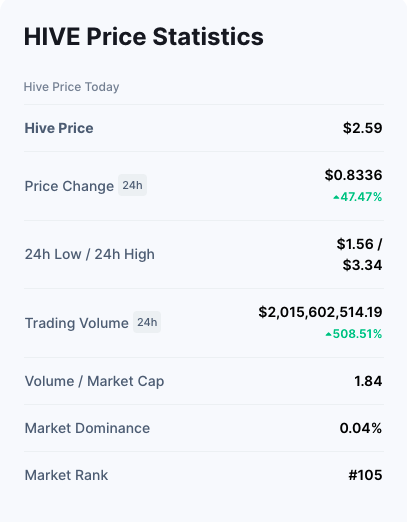 ---
I am super excited about this growth but I am not powering down my hive because I think its not the time to sell tokens instead of HODL so that in the future I can make the most out of it. I am building my future with Hive and short-term gain is something that I am not interested in to.
Thank you so much
Stay Safe
Posted Using LeoFinance Beta
---
---