Lets Talk about "Metaverse"
Metaverse is a new but growing segment in the cryptocurrency and blockchain world. It's in the early stages and not just a concept because things have started growing and many companies are trying to get into this. Even Facebook has rebranded its name to Meta which clearly shows that this is going to be the future. Technology is evolving but it also needs time to grow and bring a lot of people into this because the majority of people are still not aware of the Metaverse. Things are growing so fast and innovation is also happening at a fast pace. It's not easy for everyone to keep themselves updated with all these new happenings in the crypto market and even in the blockchain world. We are in the 21st century and technology is going to make things amazing in this decade. Sometimes I think that we are so lucky to be part of this era where the revolution of technology has been making everything smarter and we are the ones who are witnessing this transformation.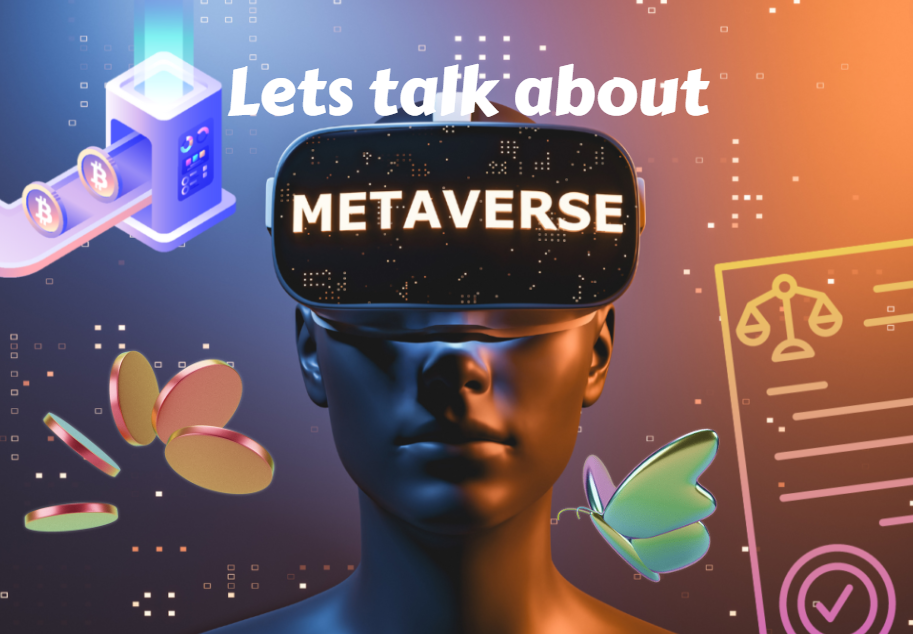 (srcEdited with Canva)
What is Metaverse?
It's more of virtual reality but it a highly advanced that we experience it like real. Many companies are even have created offices and they are selling land over there which can be utilized for multiple purposes. As of now, more details are still not available but it is highly expected that things will bring a next-level experience for us and it is built on the blockchain. Crypto will be used to buy assets in the metaverse. Even some companies have their offices in the metaverse. As the name says Virtual reality is where we can experience reality virtually. We need not move anywhere but we can access the information or data and even can be present through the virtual option.
Metaverse Utilities
It's a digital world where we can do multiple real-world activities. We can connect with people socially and this also gives a next-level experience. Companies can have their business meetings in the metaverse where people can connect from anywhere in the world. Some celebrities have entered the metaverse and they are selling real estate here. Many other assets like NFTs have better use cases in the metaverse.
Future
The world is getting transformed into digital and with Metaverse get another world that provides us with so many options. People can have various digital assets, NFTs, Tokens, and even lands. All this will come with unique ownership and it all will be available to verify through blockchain technology. Like with NFT we get unique ownership so in similar ways we can own the assets here.
Some Metaverse Projects
I had gone through some of the projects working on metaverse and here is the list of these names. Even on the coinmarketcap website, we can see a tab for metaverse, and here we can see the projects list and details. It's a good option to learn and explore more about this.
THE SANDBOX (SAND)
DECENTRALAND (MANA)
AXIE INFINITY (AXS)
WAX (WAXP)
APECOIN (APE)

---
I am not well versed with Metaverse and this is why I have not invested in any of these projects. There is always room for learning and I am going through the learning curve in this segment. I am not sure how it will work for any individual and what the possible use case can be possible. I believe that this will be driven more by the big companies and even celebrities. I read the news sometime back that Dubai is working on building a metaverse city there. With such innovation and development, I expect that in the next few years we can see much more about the metaverse.
Overall this looks promising but seems in the early stage however investing in technology is always good if the potential is high. There is no financial advice and if you are planning to invest then please do your research. I am also not sure when I may invest but one thins is for sure that I will not invest unless I do my study.
Thank you so much
Stay Safe
Posted Using LeoFinance Beta
---
---