More Engagement on Hive through Threads

Microblogging is a new way to interact with people and also to share our thoughts or updates whatever we like with the community. We have got the alternative for the long video as well as long articles in the form of shorts and tweets etc. We need to understand that not everyone is so good in writing that they can write an article for 1000 words but most of us are familiar with microblogging and we are OK to write in limited words. Twitter is more popular because it is easy to use and we need not write lengthy articles but with limited words, we can express ourselves.
Threads is easy to use
LeoFinance team understood the trend and they have launched threads which is a microblogging platform on Hive. I can see a lot of people who are not writing articles but they are active on the micro-blogging here on this platform and this is how this new application is making a difference. This is good because it is easy to use and we need not write long articles instead with just 240 characters we can share whatever we want. There is an option to connect one thread to another if needed based on updates we have with us. we often prefer to use something easy to use and we need not follow multiple rules and guidelines I'm glad to share that with this application there are no such criteria to follow and we can share anything that we like.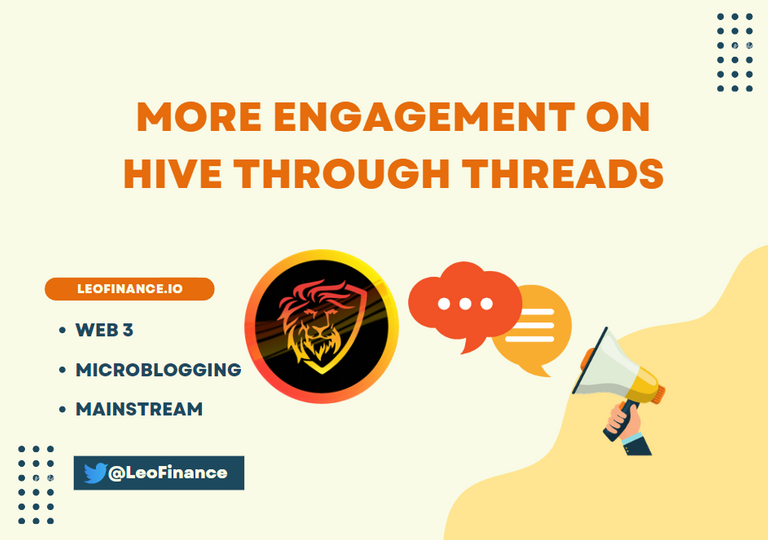 Engagement with Fun
With threads, we have got engagement with fun because it is easy to use and we can share anything faster. Even in limited words, we can express whatever we want to share. We can create a threadstorm and this is another way to create threads and engage. Some amazing people are so active and they bring the next level of Engagement to this platform I believe we all should follow the same pattern to try adding more fun while connecting with other people on the platform
Why do I use Threads?
I started using Twitter just because of this platform and now since we have the alternative on the blockchain itself then I am trying to utilize it more than Twitter. I'm not saying that we should not use Twitter anymore because if we stop it then it is not going to help us rather we should utilize the platform to bring more attention to Leofinance. Web 3.0 is in the initial phase but web 2.0 is bigger so the best strategy would be to utilize web 2 and bring more adoption to web 3. I still use Twitter but I prefer to use threads because it is fun and I also can earn some reward whereas with Twitter it is not possible for me. I know that there is some way that one can follow to monetize the content but it is not that easy and I know that I will not be eligible to apply for that so it is better to spend time on something which can bring some value back and this is why threads is better for me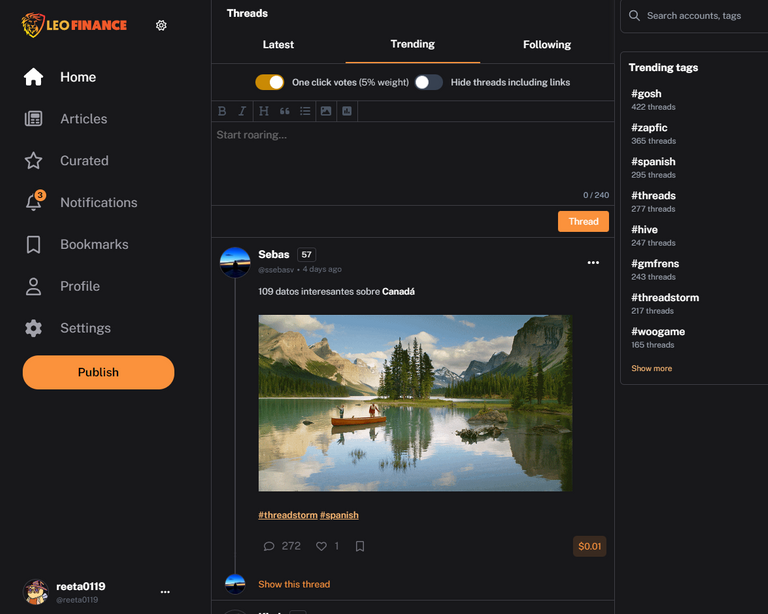 I share all my posts on threads and also engage with the community whenever I get time. Sometimes the topic can be interesting and sometimes it is just fun to share some thoughts and reply to some of the threads which are quite interesting. the thing I like about this platform is that I get the freedom to share anything I want and I'm not worried about the account ban or something which often happens on traditional social media platforms. If we do not follow their guidelines then our account is at risk and the side part is that they do not share the reason or notify us before taking action but on this platform, there is nothing like this.
LeoFinance is Future Ready
I am amazed by the way LeoFinance team works because they are the ones who build in advance whatever is needed. They are following the proactive approach on the development side which is very good because this is how they are leading the segment and I am sure we will see it growing even more in the coming years. The team is trying to build an ecosystem that is capable of managing users on a scale along with providing almost everything under one roof that is required to experience the next level of Web 3. If you think about anything including decentralized financing or the micro-blogging along with long-form content etc, it's already there at leofinance.
---
We have the adoption campaign ongoing by the Leo Finance team and because of this campaign things are on fire. The community is trying its best to add more value and at the same time, they are also trying to bring more engagement to the platform. We have recently seen how the discard server was compromised but we turn out to be a stronger community as we did not lose anything by falling into the trap. As far as I'm aware then only one person lost almost $40 which is nothing because this could have been a very big amount but I'm glad that we are aware of the required information and we do not rely on something which seems fishy.
Thank you so much
Stay Safe
Posted Using LeoFinance Alpha
---
---