My thoughts about Splinterlands Cards rental
I have been playing battles in the Splinterlands game and this is always full of entertaining activities. I never thought that I will ever start renting out my collection but because of my busy schedule I had to choose this option and now I enjoy it because I'm able to generate passive income even when I'm not doing anything in the game. This is a very good option provided by the project I believe because this way people who are not good at gaming or even do not have the time to play can also be part of the ecosystem. This is like a passive income that we can generate by investing and the returns will continue to be paid out in the market.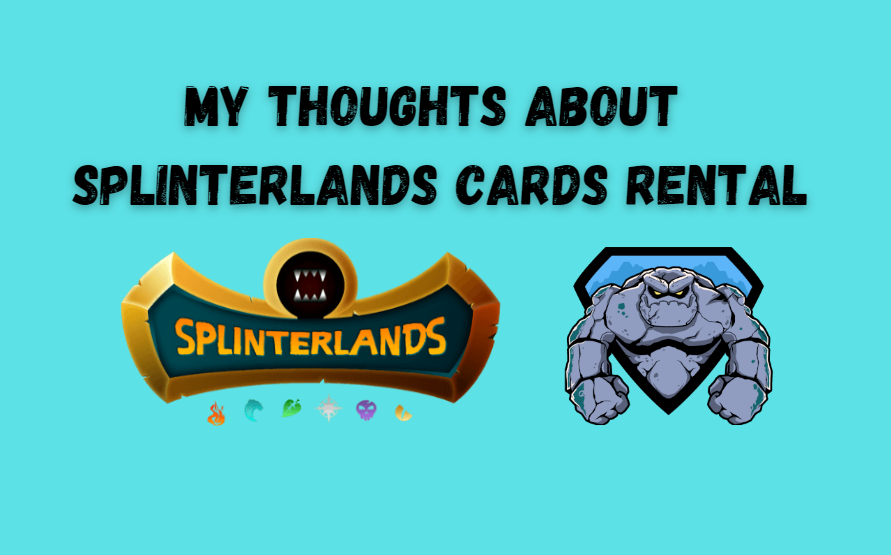 It's been more than two months since when I started my rental journey on the game and so far I have been very happy with my decision. I have control that how I want to proceed further so at any moment I can make the change in my strategy in terms of battle play. Once I realised that I have enough time to play every day then I will cancel the gentle and start playing in the game. In the meantime, I'm able to earn decs tokens every day through the rental which I think is a good source of passive income. I used 100K DEC tokens to buy tower defense bags a few weeks back and again if I see a good balance in the next month then we'll think of reinvesting in something which can be a good investment for me.
Rental is automated
I use Splex to manage my rental and so far this is the only service I have come across which is automated and there is no manual intervention to keep the process ongoing. Every day I receive the invoice for the payment which is just the 10% of whatever I earned in the last 24 hours. They provide enough time to pay off the outstanding and as far as I'm aware then this can be paid in five days. Even with all the adjustments in the market, he's also done by the platform and every day I notice the change in different pay-out which I think is because of the market fluctuation. The tool is so advanced that it does everything once the setup is done and there is something that makes it a great product for anyone who is looking for renting out the cards in the game. This service charge 10% on the earning and I think this is a fair amount as what they offer helps to save a lot of time.
Rental DEC Earning
Below is the snapshot of my token earnings he lost five days and maybe you can call it that it is not high. But we need to understand that every day I'm getting these tokens without doing anything in the game in terms of playing the battle. I have paid the outstanding for four days and on the last day, it is still pending whereas I need to pay 124 tokens as per the 10% service charge. We only receive DEC tokens for rental pay-out I think this is a nice way to earn more tokens because now we have very limited options to earn DEC.

---
Currently, I'm happy to use this service and hopefully, I will continue to use it for the next few moments or maybe at the year-end. I want to accumulate more tokens so that later on I can plan buy some packs in the game or even some cards that are available at discount. The reason why I'm liking this service because united scenario if there is no rental market and I'm not able to play the game then there is no earning for me. The rental has given me the opportunity to earn something even when I'm not active in the game and because of this region I believe so many players are benefited this way. Once I feel like that I have enough time to play the game then I will cancel the service and will start playing the battles again.
Thank you so much
Stay Safe
.
Posted Using LeoFinance Beta
---
---