Revisiting Hive Goal 2021 after Some time
I believe that it's very important to set up a goal and then keep on chasing it unless we achieve it. This also helps us to realize if in case there is room for improvement or any changes are required to move towards a team and I am same I follow in my life. Here on this platform also I had set up a goal at the beginning of this year that I wanted to have 15,000 Hive Power in my account and I am on it to achieve by end of this year. Its been a long time when I visited my hive goal so I thought of doing it today.
I have been consistent with my account growth and in the graph, this bar is clearly showing it. I am focused on this and there is nothing that can stop me because here I am building something or long term and my vision is clear. In this graph, we can see the growth last 1 month and trust I like this bar strong upside which is proof that my account worth on Hive is going in the right direction. People want to become Orca or whales but I am a dolphin and I have a long way to reach orca status. Probably I will need 5 more years to be there but I am sure this will be possible one day for sure.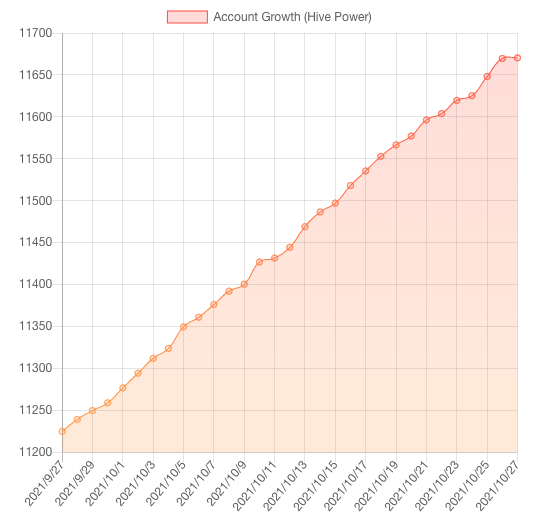 I currently have 11670 HP.
Goal= 15000
Reached= 11670
Balance= 3330


src
Now almost 64 days left for this year and in this period I need to achieve the goal and to make it happen I need to have almost 50 HP in a day. This seems a bit high but I am not giving up because I have a backup plan for the same. I will review my HP in mid-December and see howmuch is left. If I get a better price opportunity with SPS the I might think of doing some swap with SPS and Hive.
Even in the normal scenario, I will keep on working at the same pace and I think that I will surely be pretty close to 15k Mark. Few things are decided already and I will strictly follow-
No power down in 2021
Wil explore the alternate option to add more HP if there is an opportunity
A better HBD price can also help me get more HIVE and I am waiting to see if I can get multiple HIVE in HBD and for tha I am keeping some HBD aside.
---
I am consistent on the platform and try to stay active as much as I can because I believe in anything we must give our 100% and the same I am trying to give. Its also about belief so if you believe in something then we must do our best in this. I believe in Hive and I easily expect a $5 hive by 2025 which s 4 year time. It will be amazing once hive reaches that mark and looking at the current growth it will not be a surprise if it does happen even earlier.
---
I was now able to revisit my hive goal but now since we are heading towards the end of the year so I will continue to visit it quite frequently so that I can focus more on this and take it forward and closer to achieving my Hive 2021 Gaol.
Thank you so much
Stay Safe
Posted Using LeoFinance Beta
---
---