The best time to build with Splintershards (SPS) is Now!
Splintershards (SPS) is the governance coin of splinterlands and this means that there will be multiple benefits for the holders in the long run. We have seen some in the past but there will be much more so we should not miss this opportunity. Yes, I call it an opportunity because I don't think the current price will stay here for long and even this price was not expected. I have been buying SPS since the time it was valued at approximately 20 cents and at that time I used to think that this is the bottom. I never thought that it can touch the price of 3 cents or even lower.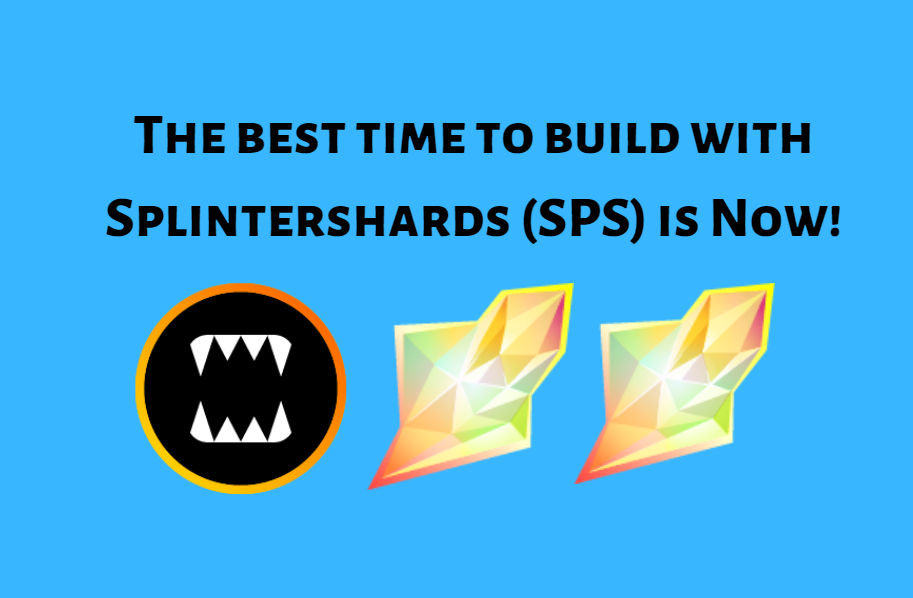 SPS Price below $0.03
SPS is the same coin that was almost $1 after its launch in 2020 one and now in 2023, the price is less than 3 cents. Does it mean that this coin has lost its value or this is it just because of the market situation? In my opinion, it is because of the market sentiment as we are in the beer market. This situation might stay for some more time but for sure it will not be here always because if you look at the game ecosystem then it is growing. I have seen multiple coins at the lowest price but when the growth was seen then it was so good and the same effect we have also seen with the hive. It was less than 10 cents for some time but then it went to more than $3.
SPS is undervalued
This coin is highly undervalued in my opinion because the project is growing but still, the value is much lower. Once the market recovers and we see some positive momentum in the prices then I am sure that SPS will be moving toward a better price range and it will not be a surprise if it moves toward the range of half a dollar. I am very much confident that it will go back to its high value which was almost $1 but it might take time.
My SPS goal
My goal with this coin is a long term and I have no thought to sell it in the next few years. I am focusing to grow my holding and will continue to do the same for the next 2 years. If the market remains the same then hopefully it will work in my favor because I would be able to build a decent holding for SPS. I am not sure how much that would be but all I can say is that I will continue to build every day and in the long run this will surely be something that can make me happy.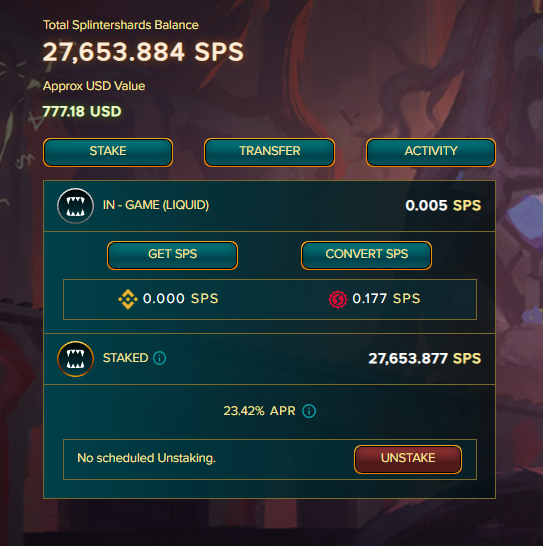 SPS staking APR is high
This is one of the aspects that we cannot ignore because currently, we can earn approximately 24% of apr. This is a high percentage and I am sure this is not available it's where other than SPS. Whoever buys the coin now and deposits all the coins in the game account then the holding itself will generate revenue of 24% approximately however this percentage will fluctuate a bit. Despite all these situations, I have not seen it go down below 20% so I am sure this will be staying between 20 to 25% which is very good.

I build every day because whatever I earn through the holding reward is reinvested as well as certain assets pay me back in form of SPS and which is also invested in the game. There is no point in selling this high-value coin as of now because the price is at the bottom almost and as I have already mentioned that my goals for the long term so I will not be selling it before 2025. I believe in the game and project so I am very much confident that things will be grown amazingly provided behave with patience and hold power for the next couple of years. Play to earn segment in cryptocurrency is still growing and hopefully, in the next bull run, we can see real movement and growth.
(Splinterlands is a fantastic play-to-earn game and if you like to join then do it through my affiliate link shared below-)
https://splinterlands.com?ref=reeta0119
Thank you so much
Stay Safe
Posted Using LeoFinance Beta
---
---